|
Weekly Newspaper and Travel Guide
for Pecos Country of West Texas
Opinion
Tuesday, November 20, 2007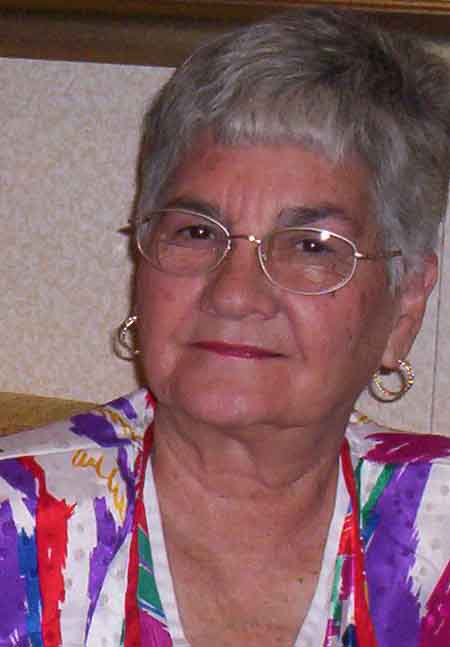 Squarely Pegged
By Peggy McCracken
<!=====paste copy here==========================>
Easter photo evokes
tears of pain, sorrow
An out-of-focus snapshot of my family on Easter Sunday, 1946, has held me almost spellbound for the past week or so.
For one thing, it is a rare photo of the seven of us together. For another, it was taken at a time and place where I stored lots of memories.
Most of my memories of the Turner place where we lived when I turned 11 are good. What the photo reveals is a skinny bunch of kids in hand-me-downs trying to look our Easter best.
Big sister Mary has a bandage on her right shin, the result of jumping high to catch a fly ball and landing on the sharp edge of a homemade bucket. The bucket gouged out a two-inch flap of skin and muscle that should have been sewn together, but for lack of a nearby doctor was treated with the usual kerosene antiseptic and bandaged with a clean rag. It took months to heal and left an ugly scar.
She is wearing a flowered dress that hits her above the knee and lace-up shoes.
Baby sister Gail proudly sports her red Sunday shoes with ankle strap. They donÕt match the front-buttoned dress that hangs off her shoulders.
My dress has a broad, elasticized band around the waist, and the gathered skirt strikes me just below the knees. White socks are visible above the dark, sensible shoes. My long hair is gathered into a scarf to hide the fact that it is dirty and unkempt.
Walter and Jerry appear to have store-bought clothes that fit pretty well. At age 15, Walter looks more like 12. Each of us holds an egg.
Aunt Nevia Graves, her daughter and family often spent Easter Sunday with us, and we boiled, colored and hid hen eggs for the 10 or so kids to gather. The photo is from Aunt NeviaÕs collection.
As IÕve studied the photo and tried to recall dates for the book of columns and memoirs I am putting together, memories surfaced that are so painful, I cried.
ItÕs probably helped to heal some deep wounds that I had suppressed, and for that I am thankful. My psychology prof said that most people work through their childhood traumas at about age 30. I am 40 years behind the times.
ŌBlessed are those who mourn, for they will be comforted.Ķ Matt 5:4, NIV
EDITORÕS NOTE: Peggy McCracken is Enterprise business manager. Contact her at HYPERLINK "mailto:peg2@pecos.net" peg2@pecos.net. <!==========end copy==================>
---
Pecos Enterprise
York M. "Smokey" Briggs, Publisher
324 S. Cedar St., Pecos, TX 79772
Phone 432-445-5475, FAX 432-445-4321
e-mail news@pecos.net
Associated Press text, photo, graphic, audio and/or video material shall not be published, broadcast, rewritten for broadcast or publication or redistributed directly or indirectly in any medium.
Copyright 2003-04 by Pecos Enterprise
---