|
Weekly Newspaper and Travel Guide
for Pecos Country of West Texas
Opinion
Thursday, June 10, 2004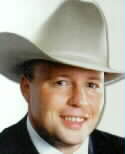 Sage Views
By Smokey Briggs
<!=====paste copy here==========================>
Gay marriage sounds
pretty cool
Hot diggity, I cannot wait for gay marriage to get to Texas.
Now, I said those very words over coffee in a local eatery a few days back and within moments I had plenty of elbowroom.
No one but my somewhat embarrassed coffee drinking partner stuck around to hear the why of it all.
So, before the rumor starts that I'm no longer looking at She-who-must-be-obeyed like a hound dog looks at a ham bone, I would like to explain.
It is not the actual idea of gay marriage that makes me smile. It is all the other laws and ordinances that go out the window with it.
You see, I have never been keen on authority of most sorts. I studied history for too long to have much faith in government at any level and to some degree it is probably genetic. I have kin in the Carolinas who have spent generations resisting government intrusion into their private lives as God-fearing free men and distillers of semi-premium liquor.
So, I am probably predisposed to support anything that forces the government out of my life, even if just a bit.
But, Smokey, you're thinking, legalizing gay marriage will certainly not lesson your regular contact with government licensing and such. Shoot, it might even increase it.
Yeah, but only at first. In the long run, the legal precedent we set with legalized gay marriage will push Uncle Sam a few steps away from my backyard fence.
While there are more than a few arguments as to why gay marriage must be legalized the one I like best is that the prohibition on gay marriage is actually an extension of Christian taboos concerning that sort of thing.
Of course, according to the current interpretation of the First Amendment, a government employee cannot say "God Bless You" when you sneeze in the courthouse, much less enforce a law that somehow associates government with Christianity.
So, the argument goes that failure to license gay marriage is nothing more than the state enforcing Christian theology on the masses.
Cool. At first I balked at this conclusion. It seemed a bit convoluted to me, not to mention the fact that I find the constitutional reasoning that got us to this point a bit with the twisted to say the least.
But not now. Now, I embrace the legal ease of our Supreme Court.
You see there are a few other prohibitions and laws that I am pretty sure I can show are similar legal expressions of Christian thought, and as such we need to get them off the books.
Ordinances like those outlawing prostitution. I have never understood how prohibiting a woman from making a buck with what she was born with made a lot of sense outside the walls of a church.
Or, just about every ordinance every passed concerning the sale of booze. Now there will be no more Sunday morning fishing trips spoiled by a silly prohibition on buying a six-pack on Sunday.
Or bigamy. Now, I cannot fathom why you would want more than one wife is beyond me but obviously some men think the idea is keen. (Personally SWMBO is such a perfect partner that any change in our relationship would only be a step backward). Maybe some women like the idea too. Either way, if gay marriage is legal, bigamy has to be.
And then there is gambling. Without the tenets of Christianity looming into the picture shooting dice for paychecks is just good fun. Better yet, I won't have to do it in the alley behind the newspaper anymore.
Think of the potential boom in our economy when we repeal all this religious thought disguised as laws. Think of the tax base.
Of course, my kin in the hills will not be pleased. Prohibition was the last time any of them had a decent cash crop and a total relaxation on running hooch will drive prices into the basement.
Well, maybe the innovative ones will figure out a way to cash in on the trend.
I wonder if you could market a quaint bottle of homemade as the perfect addition to the joining of two fellows in holy matrimony?
I will let you know how it works out.
Perry declares a day of mourning for President Reagan
Dear Editor:
AUSTIN - Gov. Rick Perry today declared Friday, June 11, as an official day of mourning in remembrance of President Ronald Reagan and ordered that flags on all state buildings be flown at half staff for 30 days. "The United States has lost one of its greatest presidents and Texas has lost one of its greatest friends with the passing of President Ronald W. Reagan," Perry said in an executive order honoring the memory of the 40th president.
Perry also encouraged Texans to pay their respects to the memory of Ronald Reagan on Friday through appropriate ceremonies in homes, businesses, public buildings, schools, places of worship or other suitable places for public expression of grief and remembrance.
To allow state employees to attend such observances, Perry directed state agencies, offices and departments to close on Friday and general government operations and services be maintained by a skeleton crew. Perry said his order directing flags be flown at half staff would remain in effect until Monday, July 5 - 30 days after Reagan's death.
Perry described Reagan as "a man of principle (who) changed the course of America and the world forever by reviving our economy, by renewing our national confidence, and by tearing down barriers to freedom throughout the globe."
GOV. RICK PERRY
Officials dishonest in their published statements
Dear Editor:
I smell chicanery when city officials tell us that a late fee on water bills is merely intended to help collect delinquent accounts. Government at all levels is looking to "fees", rather than taxes, to fill its coffers. Stripped of semantics, a fee collected by government is a tax. Raising income with fees is politically safer than proposing a property tax increase to fund waste and pet projects.
Credit card issuers rely extensively on fees as a source of income. Late fees and over-limit fees yield card issuers greater income than a credit card's abusive interest rate. It's tempting for the city to conduct business in a similar fashion. The real motive for the city appears more toward raising revenue than enforcing bill payment.
Let's do some simple math to show why.
According to a May 28th article in the Pecos Enterprise, there are 1100 delinquent water accounts per month. Around 10% of these accounts are owed by the truly poor who, even if you threatened bodily harm to their children, could not pay the bill. Adding a punitive fee to these accounts is futile. But, if the delinquency rate remains constant for the remaining delinquent accounts, a $15 fee added to those late accounts will net nearly $180,000.00, annually, for city coffers; an amount equal to raising taxes on every Pecos homeowner by about $100 annually. Even if the fee lowers the current delinquency rate by an unlikely 50%, a late fee will still generate $90K in city rcvenues. Unmistakably, the real intent is to help bankroll the city through a benign-appearing fee scheme instead of a politically suicidal tax increase. It's become a favored government fund-raising technique for small governrnent and has finally made its way to Pecos.
You retort, "Doc, only the late-payers will pay more. It won't affect the rest of us."Consider that late fees can be used to defraud consumers. It's a simple matter to delay posting timely payments to generate unearned late fees. Doubt this? A major credit card issuer recently made a class-action settlement to borrowers because the company was using late-posting tactics. Consumers are also charged late fees when a payment is lost in the mail. According to the biller, the consumer is liable for the past due amount and the late fee for a payment "not made". The consumer can rarely prove otherwise. Even if the biller "finds" your payment or it "arrived late", they keep the late fee. So, it's beneficial to "lose" a customer's payment. It's probably happened to some readers. Would our cash-strapped local commissars do that to us? Ask Yourself if they would mislead us about their reasons for adding a late payment fee?
The best solution is to shut off a deadbeat's water five days after the past-due date. A re-connect fee becomes the past-due fee. It's simple and effective. Unlike virtually all other businesses, the city has debt enforcement leverage without late fees.
If you want more water, you'll pay the bill. The late payment fee is simply a revenue-generating scheme by city officials.
In my view, city officials are being dishonest in their published statements as to why they want a water bill late fee. Sincerely,
DR. JOHN LIBBIE, DPM
Retired Podiatrist <!==========end copy==================>
---
---
Pecos Enterprise
York M. "Smokey" Briggs, Publisher
324 S. Cedar St., Pecos, TX 79772
Phone 432-445-5475, FAX 432-445-4321
e-mail news@pecos.net
Associated Press text, photo, graphic, audio and/or video material shall not be published, broadcast, rewritten for broadcast or publication or redistributed directly or indirectly in any medium.
Copyright 2003-04 by Pecos Enterprise
---