|
Weekly Newspaper and Travel Guide
for Pecos Country of West Texas
Opinion
Thursday, June 3, 2004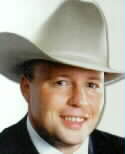 Sage Views
By Smokey Briggs
<!=====paste copy here==========================>
How about a little
patriotism at the polls?
This coming Sunday we will mark the 60th anniversary of the Allied invasion of the Normandy coast of France - most commonly known as D-Day.
It was a day marked by terrible losses for America. It was a victory at a terrible price and that beachhead on the western coast of Europe signaled the beginning of the end for Hitlerís Third Reich.
Thousands and thousands of American men were slaughtered on that battlefield which included drop zones far inland, the skies above, and the cold waters of the English Channel.
This last weekend we celebrated Memorial Day where we are supposed to mark the ultimate sacrifice made by our servicemen throughout our countryís history - men who died so that we could live free.
This is a week when everyone wraps themselves in the flag.
The patriotic, the brave, and the gutless weenies that think that freedom is free.
The pride of Hollywood, people who normally would not bother to spit on those silly enough or poor enough to enlist in our armed forces, will host specials and interview old men to mark the day.
These are the ones that torque my jaws the tightest.
These are the ones that year after year vote for politicians who would rather hand out tax money for votes in the form of social programs rather than spend it on weapons and training and manpower for our soldiers and sailors.
In the early months of World War II hundreds of American sailors died because their torpedoes malfunctioned. They were supposed to be the best in the world. They might have been if they had been tested properly. But Congress spent the money on more popular budget items and torpedo testing fell by the wayside.
The detonators on the torpedoes were faulty. Sailors died who would have lived if their weapons had worked. Politicians went on about their lives.
Today it is easy to despise those long-dead congressmen who spent those dollars on pork-barrel projects instead of torpedo testing.
Unfortunately, in the same breath many Americans will vote for the philosophical descendents of those same politicians - men and women who pay lip service to the military and the freedom it protects and send the money home to us, their constituents.
And we smile and feel good about ourselves because we get to have our cake and eat it too.
We will take our handouts from the public treasury of tax moneys and we will wrap ourselves in the flag on Memorial Day and nod grimly as we watch some brainless twit like Alec Baldwin tell us about D-Day. In the same breath we will vote for a politician who is willing to lie to us and tell us freedom is cheap. One that will tell us that we can have social programs that make us feel good about ourselves until they run out our ears and that the budgets that buy the weapons and fund the training that keep our boys safe in wartime are good enough.
Freedom is not cheap.
It certainly was not cheap for the crews of the many submarines that were sunk after their torpedoes failed to explode after hitting their targets.
Talk, however, is cheap. It is easy to cheer during a Memorial Day event or while Alec and company narrate heart-rending versions of D-Day.
It is harder to vote for a politician who promises to spend your tax money on military readiness rather than the latest and greatest social program.
But such a vote would be a far greater tribute to the memory of our fallen countrymen than any ceremony.
This November we will elect a president and no small number of representatives and senators.
I think I will save my patriotic tribute to the fallen for Election Day. I think Alec and his brethren will be done Sunday night. <!==========end copy==================>
---
---
Pecos Enterprise
York M. "Smokey" Briggs, Publisher
324 S. Cedar St., Pecos, TX 79772
Phone 432-445-5475, FAX 432-445-4321
e-mail news@pecos.net
Associated Press text, photo, graphic, audio and/or video material shall not be published, broadcast, rewritten for broadcast or publication or redistributed directly or indirectly in any medium.
Copyright 2003-04 by Pecos Enterprise
---