|
Weekly Newspaper and Travel Guide
for Pecos Country of West Texas
Opinion
Friday, June 30, 2006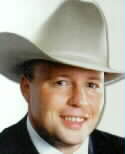 Sage Views
By Smokey Briggs
<!=====paste copy here==========================>
July 4th, listen to the words,
then watch what we do
As July 4th approaches it seems like a great time to pay homage to our founding fathers.
Now, Granny always said, "Watch what a person does, not what he says."
I know, you cannot actually watch what a person says, but it made sense to Granny, and it made sense to me. Actions are more important that words.
July 4th 2006 marks the 235th anniversary of the ratification of the Declaration of Independence by the Continental Congress.
If you have never read it, you should. I try to take time and read it at least once each year.
It is an excellent and compact explanation of what free men can tolerate from a government, and what they cannot.
So, last night I pulled it out and gave it a read.
As you read it you may find it hard to believe that our United States is the direct result of this bold declaration of free men.
When you honestly compare the 27 indictments of King George III and his government with our current society, the complaints of Jefferson and company seem like the petty whining of well-to-do three-year-olds.
The government they committed treason to be rid of - the government they risked life and limb to abolish - is but a shadow of our own, self-created Federal Leviathan.
The taxes the Colonials paid are spare change compared to the approximately 50-percent of every dollar working Americans pay today in direct and indirect taxation.
King Georgeís attempt to collect taxes with a couple hundred tax collectors now seems childís play compared to our IRS, Treasury Department, ATF and property tax systems, to name but a few.
In 1775, a colonial American could virtually live his or her entire life with only rarely coming into contact with their government, or its officials. Taxes were, comparatively, non-existent.
Government intrusion into private life, virtually, did not exist.
And still, our founding fathers found King George and company so oppressive that they were willing to risk life and fortune to be rid of him. So, as you read through our historic Declaration of Independence, ask yourself a question - "What would the men who signed that document think of American today?"
For their sake, I hope they cannot see what we have made of it.
Next Tuesday, we will make a great celebration of the anniversary of this documentís ratification.
We will take the day off, fly flags, and make great speeches about freedom and the evils of tyranny.
But, like Granny advised, I suggest that after you listen to all the great words, you watch what we do during the other 364 days of the year, and judge for yourself whether we really believe in the ideals of the Declaration of Independence. <!==========end copy==================>
---
Pecos Enterprise
York M. "Smokey" Briggs, Publisher
324 S. Cedar St., Pecos, TX 79772
Phone 432-445-5475, FAX 432-445-4321
e-mail news@pecos.net
Associated Press text, photo, graphic, audio and/or video material shall not be published, broadcast, rewritten for broadcast or publication or redistributed directly or indirectly in any medium.
Copyright 2003-04 by Pecos Enterprise
---