NEWS PAGES

Obituaries
Archive
Photos

ADVERTISING
Commerce
Classified
Economic Development
TRAVEL
Area Papers
West Texas
STAFF
Smokey Briggs
Jon Fulbright
Peggy McCracken
Rosie Flores

LINKS
Other Sites
|
Weekly Newspaper and Travel Guide
for Pecos Country of West Texas
Opinion
Tuesday, June 20, 2006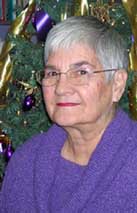 Squarely Pegged
By Peggy McCracken
<!=====paste copy here==========================>
Coyote sneaks drink
on fairway at #7
Davie Morelan and I were duffing our way down the #7 fairway at Reeves County Golf Course Friday morning, when a big coyote emerged from the brushy pasture to the east, crossed the fairway and took a drink of water on #6.
I think that is the right numbers. Since they have recently opened up two new holes and re-numbered some of the old ones, I am a little lost out there. Walking and carrying three clubs apiece, we usually play #1 and #2 twice to save walking all over kingdom come hunting the next tee.
This time we skipped the first four holes and started on #5, one of the newer holes, which functioned as #3 while the two new holes were under construction. Years ago, the layout was easy to follow. When I lived at the airbase apartments, #3 ran east and west along the fence between the course and our row of apartment buildings. Many an afternoon I watched as golf balls flew along the fairway or hooked left into the brush. My son, David, picked up lots of stray balls from that little pasture.
We may have used some of them when we took up golf. In those days, the Pecos Housing Authority operated the golf course, and tenants were allowed to play free of charge. David loved to play, and still does, though he spends most of his money these days on motorcycles.
Davie and I meet every Friday about 8:30 a.m. and tackle the course. Our first scores were in the teens, but we have steadily improved, and have even bogeyed a hole or two. Usually we can see Ben Meek and Jimmy Toone playing ahead of us, as they go out at 7 every morning. When they start a new round, we let them play through because we have to stop every few feet to hit our balls again and again.
It is so nice to be out in the early morning, especially on a course where shade trees abound, and there is usually a cool breeze. By the time we have completed four holes, our shirts are wet and the breeze is really cool.
Like that coyote, we work up quite a thirst. Those little bottles of water that fit in a pocket keep us from having to lap up water from the fairways.
"Watch yourselves! Don't let yourselves become occupied with too much feasting and strong drink, and the worries of this life, or that Day may come on you suddenly." Luke 21:34, TEV
EDITOR'S NOTE: Peggy McCracken is Enterprise business manager. Contact her at peg2@pecos.net
Your View
Vejil thanks Pecos family for support
To the Editor:
Dear Pecos Family:

Warmest regard and all my love to you from Houston! I miss you all.

Just to let you all know I'm doing as well as to be expected. I'm getting treatment through M.D. Anderson Hospital. I'm so sure and positive the Lord is using this illness for His purpose.

Please continue to lift my family and I in your prayers.

I sincerely thank you for all the rich acts of kindness.

Now: "Grace be unto you, and peace, from God our Father, and from the Lord Jesus Christ."

With much affection,
Love, GILDA VEJIL
Toyah citizens thank ex-mayor
Dear Editor:

Our many thanks for the food and fellowship they gave our wonderful ex-mayor, Sandra Terry on June 3, 2006.

Thanks Sandy for all the wonderful jobs you did for our little town.

We wish there were many people that care like you do.

Thanks also for being a truthful and honest mayor. Town of Toyah
and Citizens <!==========end copy==================>
---



Pecos Enterprise
York M. "Smokey" Briggs, Publisher
324 S. Cedar St., Pecos, TX 79772
Phone 432-445-5475, FAX 432-445-4321
e-mail news@pecos.net

Associated Press text, photo, graphic, audio and/or video material shall not be published, broadcast, rewritten for broadcast or publication or redistributed directly or indirectly in any medium.
Copyright 2003-04 by Pecos Enterprise
---