|
Weekly Newspaper and Travel Guide
for Pecos Country of West Texas
Opinion
Friday, June 16, 2006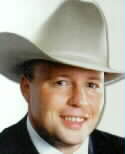 Sage Views
By Smokey Briggs
<!=====paste copy here==========================>
Move over Mr. Trump,
the Barstow tycoons
are coming through
ďWanted: Property Value Appraiser to work for Pecos-Barstow-Toyah Independent School District.
Qualifications: Blind or damn near.
Must not have passed third grade. IQ below room temperature on a December day in a drafty room helpful.Ē
I cannot prove it, but I am pretty sure that is how the advertisement must have read.
Here is the scoop. It turns out that I, and She Who Must Be Obeyed, are two of the most savvy real estate investors in the history of man.
Donald Trump ainít got nothing on us suburbanite Barstownians.
Now, when we moved to Pecos in 1999, we were leery of plunging into the housing market. We did not have a lot of capital and the market looked a bit queasy. The fact that the house we took for rent had been on the market for several years seemed to be a warning.
We certainly were not in a position to bet on being here for a long period of time, or risking having to make two house payments in case my big mouth made this a short-term assignment.
So, we rented a nice home, and hunkered down.
A few years of hunkering and our rental finally sold. With 30 days to find new lodging we scrambled and happened upon what we now happily refer to as Chez Barstow.
Now, we like our home. It suits us. There is room for chickens and dogs and kids and spare trucks and spare truck parts.
When we bought Chez Barstow it was in need of some TLC. SWMBO supplied that. Me, I hauled off 14 trailer loads of used pumping equipment and slightly used tires.
But, we did not rare back and start making wholesale improvements. We painted the house. We also moved in our aging Sears tin shed that you have to stoop to walk into and that leaked when it was new back in the 90s.
Over the past few years, SWMBO has somehow coaxed grass to grow where the good Lord forbids such, and revitalized the flowerbeds.
I even put up a t-post and hog-wire fence around our couple of lots to keep the kids in, and the Barstow dog packs out of the chicken yard.
Then SWMBO went and really started making improvements. What she did was erect a shade over the girlsí sandbox consisting of six 4x4 posts and some sheet iron tied to old sucker rod. Now the girls can play outside in the summer without wearing their fireproof suits.
Then, really going whole hog, she went and built a chicken coop that stands 10x10 feet with some more sheet iron for a roof.
Oh, I forgot one thing; we also planted a half-dozen stunted trees so that movie companies would quit asking to use our yard as a movie set for scenes set on the surface of the moon.
So, in the past three years we made grass grow, painted the walls, hauled in a used Sears tin building that leaks, built a shade over the sand box and built a chicken coop.
I told SWMBO when she built that chicken coop she would raise property values.
At the time I was joking.
Today, it is no joke.
We got our new appraisal from the PBT-ISD last week (Barstow is in Ward County but is in the Pecos-Barstow-Toyah school district).
Apparently, we are real estate investors extraordinaire. HGTV ought to give us our own television show on how to buy and turn real estate for a profit.
A big profit.
We purchased our humble abode for what I thought was a fair price of $20,000.
The school district, at the time, valued it at $24,000 - a valuation I figured was left over from when Barstow was the economic giant in the Trans Pecos - say about 1935.
Today, with the addition of a chicken coop, a leaky Sears shed, a hog-wire fence and some used sheet iron shade over a sand box, it is worth a little more than $30,000 - or at least so the appraiser for the PBT-ISD seems to think.
By my feeble calculations that is a 24 percent gain in value in just three years mostly attributable to the building of a chicken coop and soaring demand for property in the Greater Barstow Metroplex.
Donald Trump would be impressed. As a matter of fact, I think Iíll give Mr. Trump a call and suggest we go partners. Apparently Iím sitting smack dab in the middle of some of the hottest real estate in America.
Now you know why Iím pretty sure the advertisement for an appraiser read like I said it did.
EDITORíS NOTE: Smokey Briggs is the editor and publisher of the Pecos Enterprise. He can be emailed at: smokey@pecos.net <!==========end copy==================>
---
Pecos Enterprise
York M. "Smokey" Briggs, Publisher
324 S. Cedar St., Pecos, TX 79772
Phone 432-445-5475, FAX 432-445-4321
e-mail news@pecos.net
Associated Press text, photo, graphic, audio and/or video material shall not be published, broadcast, rewritten for broadcast or publication or redistributed directly or indirectly in any medium.
Copyright 2003-04 by Pecos Enterprise
---