|
Weekly Newspaper and Travel Guide
for Pecos Country of West Texas
Opinion
Friday, June 9, 2006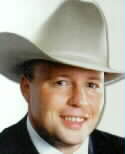 Sage Views
By Smokey Briggs
<!=====paste copy here==========================>
Even when I win,
I lose
I have come to the conclusion that marriage is a lose-lose proposition for the man involved.
Case in point - I am currently so far in the doghouse I could not tell you if it was night or day.
And, I am innocent. I had no control, whatsoever, over the events that led to my moving to the back of Cooter and Pepper's outdoor abode.
Cooter and Pepper, the family watchpuppies, now shun me - probably for fear the evil that has befallen me will wear off on them.
I cannot even start this tale from the beginning, because, when it began, I did not know it.
Here are the facts I've gathered:
Apparently, She-who-must-be-obeyed came to the conclusion that our eldest daughters, Ruby age eight, and Carson age 5, and their dad, do not do enough around the family cave.
This was all related to me after the fact, after I was already deep in the bowels of the doghouse.
Apparently, some weeks back, she decided that she was tired of doing all the work to keep our lovely home lovely, and started slacking.
Now, I would protest that fact. It seems like I spend my waking moments working or washing dishes and removing the contents of the trashcan.
Anyway, she apparently went on strike without notifying the rest of us.
I think the reason I am really in trouble is that I did not immediately notice.
Actually, it was some weeks before I noticed.
Being the kind and considerate husband that I am, I eventually mentioned to her that she might have bitten off more than she can chew, and if she wanted me to help her get her priorities in order, I would be glad to help.
I left it at that - she has been busy, busy and sometimes we all get behind.
No big deal.
So, the house was a little less than spotless but it was far from dirty by my standards - it just was not the usual SWMBO's spotless.
So, the other day, I look up from my desk and there is an old sailor who I served with many years back, and whom I had not seen in a decade.
Mom was at the shop that day, as were the girls. My friend was passing through. Of course I invited him to spend the night.
Now, some of SWMBO's friends at the shop knew about the little strike SWMBO was putting on, even if I did not. They had advised her early on that this was a battle she would lose.
"Nope. I can live just as nasty as they can," SWMBO had replied.
The older women just smiled and shook their heads.
So, SWMBO puts two and two together and realizes that she has a houseguest and her home is not within her operational parameters.
The conversation reportedly sounded like this:
"Damn him. He is going to win. He is going to sit up here and drink beer with his buddy and not only do I have to go home and G.I. my house, I have to do it in 45 minutes."
Apparently there were also some words that would have brought a blush to my friend's face - not an easy thing to do to a retired boatswains mate.
"I told you, you would lose," one of the older and wiser friends told her. "Men are pigs."
Of course, I did not know we were in a contest, which I find patently unfair, and I think pig is a pretty strong adjective.
No, I am not a neatnik, but I am no pig.
Anyway, a guy should at least get some kind of notice in a deal like this, or SWMBO should have to blow a whistle, or start a clock - something.
"I've got to go clean up the house," SWMBO whispered in my ear.
"It's fine," I said. "It's just lived in. Don't worry about it."
"You stay here and visit for awhile. Give me an hour," she ordered and then whisked my children into the Suburban and burned rubber. I think she said, "Pig," as she left, but I figured she was just mumbling and really said, "I love you, my ruggedly handsome husband."
Sounds close.
What could I do? As a good and dutiful husband I followed orders.
"Let's get a six-pack," I suggested.
Later we arrived at Chez Barstow. The house looked nice, but it always looks nice to me.
We played with the girls. They had to go to bed. Then we chatted with SWMBO. Then, as usual, the conversation turned to guns, motorcycles, politics and sea stories.
At some point I realized that SWMBO had decided to leave us to our own devices and that the sun would be coming up soon.
The next day, there was a chill in the air at Chez Barstow.
"What gives," I ask innocently.
Slowly, painfully, and not very nicely, the rest of the story comes out.
"You weren't cleaning the house?" I asked.
Then she walked off. I guess the conversation was over.
I chased after her. When something is wrong in my marriage I do not sit idly by. I try to fix the problem.
"What do you want to have for supper," I asked, trying to make conversation.
'Ooooohhhhhhhh," was all SWMBO said, and then she walked out the door.
So, here I am, living with Cooter and Pepper, and just now figuring out why.
All I know is, I won the contest I did not know we were having, and in doing so, I lost. <!==========end copy==================>
---
Pecos Enterprise
York M. "Smokey" Briggs, Publisher
324 S. Cedar St., Pecos, TX 79772
Phone 432-445-5475, FAX 432-445-4321
e-mail news@pecos.net
Associated Press text, photo, graphic, audio and/or video material shall not be published, broadcast, rewritten for broadcast or publication or redistributed directly or indirectly in any medium.
Copyright 2003-04 by Pecos Enterprise
---