|
Weekly Newspaper and Travel Guide
for Pecos Country of West Texas
Opinion
Friday, January 6, 2006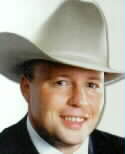 Sage Views
By Smokey Briggs
<!=====paste copy here==========================>
Slack probably cannot
remain on the Red Bluff board
I hope the Red Bluff Water Power Control District Board is not holding its collective breath waiting on the Texas Attorney General's Office.
Last month the Board decided to ask the Attorney General whether board member Dick Slack could remain on the board, given his recent appointment as County Attorney after Luis Carrasco's resignation.
My experience with the Attorney General's office is that it is slower than Christmas. Numerous times The Enterprise has reported problems with Open Records requests only to find that the AG's office moves at the pace of dead slugs.
Now, Slack's ability to hold the office hinges on Article 16, Section 40 of the Texas Constitution that says, "No person shall hold or exercise at the same time, more than one civil office of emolument."
An office of emolument is basically any office you get paid to hold, and while Red Bluff Board members don't get paid much, there is little doubt that the position does count as an "office of emolument."
Of course the County Attorney's office qualifies as such as well.
Cut and dried right?
Well, at first glance it seems so.
Not being the patient sort, I decided to do a bit of research on my own. You have to love the Internet.
Ten years ago the research I did would have taken a law library, a researcher well versed in legal research and several hours.
With the Internet, at least regarding Attorney General opinions, it's all right there at your fingertips, and no special knowledge of legal research is required. A quick search revealed a document devoted to the exact subject of "Dual Office Holding."
In this text there is a section titled "Exemptions."
One of the exemptions listed to the Constitutional prohibition on holding two offices is for, "officers and directors of a soil and water conservation district."
However the AG's office goes on to say that this exemption is a narrow one and only applies to those districts created in accordance with a 1925 statute authorizing such districts.
From what I can tell, Red Bluff is not such a district.
The Attorney General's document does state that the consequence for taking a second office is "automatic resignation from the first office."
I would bet money that, in the end, we will find out that Mr. Slack "automatically resigned" from the Red Bluff board the day he took the oath as County Attorney. <!==========end copy==================>
---
Pecos Enterprise
York M. "Smokey" Briggs, Publisher
324 S. Cedar St., Pecos, TX 79772
Phone 432-445-5475, FAX 432-445-4321
e-mail news@pecos.net
Associated Press text, photo, graphic, audio and/or video material shall not be published, broadcast, rewritten for broadcast or publication or redistributed directly or indirectly in any medium.
Copyright 2003-04 by Pecos Enterprise
---