|
Daily Newspaper and Travel Guide
for Pecos Country of West Texas
Opinion
Tuesday, June 17, 2003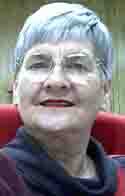 Squarely Pegged
By Peggy McCracken
<!=====paste copy here==========================>
Where's God
when trouble knocks
Barb Lientz of West Plains, Missouri sent us a poem titled, "Where's God?" based on a comment made by Ann Graham Lotz, daughter of Billy Graham, after the World Trade Center bombing.
Asked, "Where's God, when things like Sept. 11 happen?" Lotz replied that it is sad that we push God aside until trouble knocks at our door, then wonder why he's not there.
I have experienced the presence and love of God during a difficult time, and I can tell you exactly where He is. He is in the hearts of his people.
People who stood beside me in the emergency room while my husband of 52 years was breathing his last and helped me to fulfill Leon's request that he be baptized before he died.
People who came to my house to comfort me and help smooth the way for a houseful of family and a funeral. Cooking, cleaning, making telephone calls. Installing an answering machine, answering the phone and the door. Co-workers willing to wait for their paycheck until I returned to the office.
Pastor, deacon, soloist, friends and family who carried him those last few yards; those offering condolences through their presence, through telephone calls, cards and flowers. These are common actions, you may say. Yes, they happen to somebody every time a loved one dies. But this happened to me, and in direct response to prayer.
You see, I had not felt the love of God recently, and had prayed that He would reveal himself to me. I believe He sent all those people to show me that He was there all the time; I just hadn't been tuned in.
The funeral is over, and family members have returned to their homes and jobs. Now comes another angel to clean my house from stem to stern and fill it with praise to God.
Yes, I know where God is. I join Lotz and Lientz in this:
"He's either here, and a part of your life; Or, nowhere on earth to be found.
"Either hate him, or love him! But, make up your mind! For with God, there's no middle ground."
EDITOR'S NOTE: Peggy McCracken is Enterprise business manager and webmaster. Contact her at peg2@pecos.net
Your View
Abortion may stop a devil's seed
Dear Editor:
Ever wonder about the great out-cry (including murders and bombings) against abortion in the time of such high sexual promiscuity amongst our youth? It's a two-pronged attack of the devil.

Little devils impregnate our young girls at school, in the streets, etc. Then the older devils scream to high heaven from the pulpits and elsewhere (claiming they express a Christian view); "For God's sake, don't abort! we need more little devils! We need more wicked amongst us!"

Wicked in the womb? Yes, Psalm 58: 3,4 says, "The wicked are estranged from the womb: they go astray as soon as they be born, speaking lies. Their poison is like the poison of a serpent: they are like the deaf adder stoppeth her ear;..."

Abortion is also not murder, because our bible shows plainly that there is no life without the breath of life to wit.

Genesis 2:7 "and the Lord God formed man of the dust of the ground," at this point man (Adam) was not alive, just as the fetus is formed but not alive. For then the Bible says: "and breathed into his nostrils the breath of life and man became a living soul." The breath of life is shown too in Ezekiel 37. Adam without the breath of life would have been only a formed thing like a statue with no life. Just as the fetus has no breath of life; it is not alive.

And, too, does anybody believe that anything even slightly human can be alive for nine months in a sac filled with ammonia-water?

The devil is subtle, as are the little devils who do his work, and the big devils who do his work, but don't be fooled. Our (King James) Bible has the truth, if we will only look for it, study it.

With all due respect,
W.M. KENNEDY

<!==========end copy==================>
---
---
Pecos Enterprise
York M. "Smokey" Briggs, Publisher
Division of Buckner News Alliance, Inc.
324 S. Cedar St., Pecos, TX 79772
Phone 915-445-5475, FAX 915-445-4321
e-mail news@pecos.net
Associated Press text, photo, graphic, audio and/or video material shall not be published, broadcast, rewritten for broadcast or publication or redistributed directly or indirectly in any medium.
We support Newspapers in Education
Copyright 2003 by Pecos Enterprise
---