|
Daily Newspaper and Travel Guide
for Pecos Country of West Texas
Opinion
Tuesday, May 27, 2003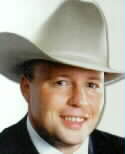 Sage Views
By Smokey Briggs
<!=====paste copy here==========================>
Vijay Singh
is my hero
Let's hear it for Vijay Singh - a man walking upright in a world of stoop-shouldered, line-toeing, eunuchs.
I am proud of the boy.
First, for speaking the truth.
Second, for not whining like the Dixie Chicks about his First Amendment rights being trounced on when he was criticized.
Third, for not backing down when the fire got hot.
Two weeks ago if I had been told that I could feel such camaraderie and admiration for a guy who makes his living playing what may be the stupidest game ever invented I would have laughed.
In case you have not guessed, golf has not climbed very high on Smokey's worthy-ways-to-pass-time list. It still flounders down near the bottom just above getting a root canal, and just below getting a root canal if the dental assistant is cute.
It is not a fun game to play and the only thing less entertaining to watch on television combines ways to spend money and work like a rented mule while decorating your house and is hosted by a guy whose manhood is somewhat suspect.
I bet Vijay does not watch shows like that - even if he does play golf.
A couple of weeks ago Vijay was almost unknown to me - nothing more than a name that popped up in the sports section every now and then.
Today, he is the latest sacrificial lamb to be crucified in homage to the Women-are-the-same-as-men-and-should-be-called-men club.
He was crucified for speaking his mind when Annika Sorenstam was allowed to sign up for the Colonial.
The Colonial apparently is a big golf tournament and part of the PGA Tour.
The PGA is the men's tour. The LPGA is the women's tour. Sorenstam is a heavy hitter in the LPGA and got some kind of a sponsor's exemption to play at the Colonial.
Vijay said she should not be allowed to play because she is...
...shock, gasp, arhhhggg,...
a woman!
He is right of course. She is a woman. And, she should not have been allowed to play. By allowing her to play some guy who is trying to make a living on the PGA tour did not get a shot at competing in the Colonial.
This guy makes his living playing golf - as hard as that is for me to believe - and playing in tournaments is how he does it.
More importantly, he worked hard and qualified to be on the tour.
Ms. Sorenstam has not.
Even so, not really the end of the world you say?
No. It is not. But Vijay is right.
It is not right, nor fair. As a matter of principal Sorenstam should not be allowed to play.
Apparently Vijay is a man of principal.
But the women's lib crowd never gave a hoot about such out of date and chauvinistic concerns as fair or right.
Their only concern seems to be eliminating the perceived differences between men and women.
Notice I say perceived.
Because there are differences.
Big differences.
Physical and mental.
And it is a disservice to men and women alike to pretend these differences do not exist.
In the past few decades we, as a culture, have committed this disservice again and again - imposing unrealistic and silly expectation on everything from our armed forces, to dating - all in the name of politically correct gender neutrality. In the process we have lowered the bar, the moral and most importantly the effectiveness of many of our institutions and professions.
Last week we did it to golf, although briefly.
Except for a two-day boost in ratings the Sorenstam story did nothing for the PGA.
On the other hand the casualty list ranges from the guy who should have played at the Colonial but did not get an invitation, to the LPGA which gender neutrality relegates to a second-class tour, to the elemental value of fairness.
So, Vijay, here's to you - for your views and for your willingness to state them publicly and take the heat.
Even though you play golf for a living, you are man, and that is no small statement even in today's world.
EDITOR'S NOTE: Smokey Briggs is the editor and publisher of the Pecos Enterprise who's column appears on Tuesdays. He can be e-mailed at: smokey@pecos.net
Our View
Pecos kids should not be in school on Memorial Day
Yesterday was Memorial Day.

The day that we as a nation take to remember and celebrate the thousands and thousands of men, and no small number of women, who have paid the ultimate sacrifice so that we could be free.

We raise the flag, fire salutes, decorate graves and give speeches. Mostly, we silently remember.

Part of the day really is for the dead. We do what we do for them - in appreciation of their sacrifice for us.

I do not know if they can hear us from beyond the grave. I hope they can.

But there is another audience out there that needs to hear this message even more so than those who we honor.

That audience is our children.

There is a lot for a child to learn on Memorial Day whether it is spent fishing with a grandfather who served and listening to his thoughts, or being still for five minutes in between barbeque and sandlot baseball as Taps sound and the salutes are fired.

Every Memorial Day kids of all ages learn something new about themselves and their country and their history.

Or they should.

They should at least have the opportunity.

Yesterday Pecos kids may have learned a little more English, or mathematics while attending school, but they missed out on one of the more valuable educational experiences of the year.

What a shame.

<!==========end copy==================>
---
---
Pecos Enterprise
York M. "Smokey" Briggs, Publisher
Division of Buckner News Alliance, Inc.
324 S. Cedar St., Pecos, TX 79772
Phone 432-445-5475, FAX 432-445-4321
e-mail news@pecos.net
Associated Press text, photo, graphic, audio and/or video material shall not be published, broadcast, rewritten for broadcast or publication or redistributed directly or indirectly in any medium.
We support Newspapers in Education
Copyright 2003 by Pecos Enterprise
---