|
Daily Newspaper and Travel Guide
for Pecos Country of West Texas
Opinion
Tuesday, May 20, 2003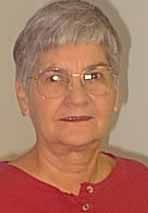 Squarely Pegged
By Peggy McCracken
<!=====paste copy here==========================>
Bronc rider wins
sister's adoration
Big brother Walter was little and said little, but rode tall in the saddle in the eyes of this girl would-be cowboy. He chronicles some rodeo rides and his induction into the U.S. Air Force in these memoirs:
The Silverton Rodeo:
"I decided I was ready for the big time and entered the rodeo at Silverton. I suppose I was a little nervous when I rode the other horses but when I was on the chute over my horse I was near petrified as I knew there would be lots of people there that knew me and I didn't want to make a fool of myself. Anyway I've never had butterflies like that before or since. When they opened the gate the horse bucked straight down the arena and my hat flew off about half way down. I rode him to the whistle and jumped off. I started back up the arena to get my hat and feeling about nine feet tall, real proud of myself. I remember Putt Gilbert yelled, 'Hey Gunn, where's your hat?' I said 'Beats the hell out of me.' The next night I drew a bad horse to ride and he threw me real quick, somewhat breaking my bubble."
The Dripping Springs Rodeo:
"I had bought this mare that had never been broke. Apparently Daddy broke her after I got in the service, and someone named her Sugar. This mare could really buck and was hard to ride. I think I finally rode her once. When they had the annual rodeo at the (Motley County) Old Settlers Reunion they wanted to know if they could use her in the rodeo and I said OK.
"I entered the rodeo and ironically at the drawing I drew her but thought someone might complain so I got another horse. Sugar threw her rider off real quick. They announced that the horse belonged to me. I then came out on my horse and he was real hard to ride. At one time I was almost off but managed to get back up. I remember when we got to the far end of the arena he came to the fence, a wooden one. There were some guys hanging on the outside of the fence and I jumped off onto the fence and said, 'I think I'll get off right here.'
"After that I went into the service and that ended my rodeo days."
The Credit Card:
"In the summer of 1950 the Korean Conflict was in full bloom. Ben and Riley Turner and I had registered for the draft and were classified as 1A. Ben and I decided we had better volunteer for the Air Force before we were drafted into the army. We went to the recruiting office in Plainview to sign up. About everyone else had the same idea and there was a deluge of people trying to get into the Air Force or Navy. The recruiter said there was a waiting list and he would put us on it. He was able to send two or three a day. Periodically we would check on our status and were moving up the list, but slowly.
"Finally about Jan 15, we got our notice to report for the Army Jan 23. As the 23rd got closer we were still a ways from the top of the list. Ben and Riley ran a Gulf service station there in Plainview. Apparently credit cards were few and far between in those days. The only credit cards I had ever heard of was Gulf and maybe Texaco. Anyway the recruiting sergeant wanted a Gulf credit card and Ben said he would help him get one if he could get us into the Air Force. The recruiter said 'OK,' and he put us ahead of the other people and said to be in Plainview the 21st to go to Amarillo (two days before having to report for the Army).
"The day before we left there was some news on the radio about the war and Momma asked when I would have to go. I said 'I'm leaving in the morning.'"
*****
That's Walter. He never volunteered any information, and gave little when questioned about his business. I am learning more about him from these memoirs he shares by e-mail than I did in 16 years living in the same house with him.
He'll turn 72 on May 26. Happy birthday, big brother.
""The purposes of a man's heart are deep waters, but a man of understanding draws them out." Proverbs 20:5, NIV
EDITOR'S NOTE: Peggy McCracken is Enterprise business manager and webmaster. Contact her at peg2@pecos.net.
Our View
Lest we forget...
Memorial day officially began as a holiday in 1868. President James Garfield presided over a ceremony at Arlington Cemetery that year honoring those who died during the Civil War. The holiday was called "Decoration Day" at the time.
Although the exact origin of the holiday is disputed, it is generally accepted that it began with Southern women decorating the graves of dead Confederate soldiers with flowers.
One of the first "Confederate Decoration Days" was celebrated in the spring of 1866 in Columbus, Georgia.
In 1868 General John A. Logan, commander of the Grand Army of the Republic that was occupying the defeated Confederate states, ordered that May 30th be set aside to honor the dead of the Civil War.
Over the years the name has changed to "Memorial Day," and all of America's dead heroes are honored.
It is easy to forget why we have a Memorial Day.
Taking a day off from work makes us feel good. It's the beginning of summer. Lake waters are warm and the fish are biting. It's the first break most of us have had since Christmas. A three-day weekend sounds good.
All those feelings run contrary to the somber fact that we're taking the day off to honor those who died so that we might live free and enjoy a weekend at the lake.
Death and celebration are not natural companions.
The combination of the two makes for an uncomfortable feeling.
Being human, it is natural that we might ignore the uncomfortable, somber side of this holiday and concentrate on the festive.
But sometime in between the hotdogs, water skiing, and stockcar racing, we need to take a moment and remember in our hearts all those who made the ultimate sacrifice for us.
On most of the inhabited continents on this earth there are huge fields of white crosses that stretch as far as the eye can see.
They stretch for miles across the countryside of Europe, on little islands in the Pacific Ocean, across our homeland, in Asia, and in Australia.
Each cross marks the final resting place of a man who answered his country's call and paid the ultimate price. A man who never saw another Memorial Day, never went on another picnic, and never came home to his family.
If these men had not answered that call, we would not enjoy the freedom and prosperity that we do today.
So sometime this coming weekend, as you go about your affairs take a minute and remember these fallen countrymen of ours. Remember the sacrifice they made, and celebrate the freedom they died for.
Your View
Pecos' support made benefit a success
Dear Editor:
Pecos may not be the prettiest, coolest town in Texas, but Pecos has done it again. It has proven that "the most wonderful, supportive and compassionate people live in Pecos".
We would like to take this opportunity to thanks the PBT-ISD school personnel that contributed to the "money tree"; to all the Thursday afternoon golfers that participated in the golf tournament; to all of "Anita Baeza's" hard-working women that volunteered their time in the "enchilada plate" benefit plus numerous other individuals that contributed to Neddie Molina's medical expenses.
Here is a young unselfish woman that even from her hospital bed, she was more worried about the "Sports Banquet" than her health. She has given a hundred percent of her time and effort in helping out with school activities; all school children are her children.
What a marvelous way for the community to show their support for Neddie. But no amount of money can replace all the prayers you have been offering in her name. With God everything is possible. So, we have faith everything will turn out fine in Houston.
Thanks a million from the bottom of our heart to each and every one of you. Keep praying for her and us. With God, with your prayers and support, we can make it.
Mike, Crisha, Dee Dee Molinar
Raul & Delma Molinar
Monette Molinar & Frank Hernandez
Rene & Belinda Molinar & family
Drive in fan looking for information
Dear Editor:
I am working on a project regarding the Texas Drive In Movie Theaters. My intentions with this project are to chronicle as much history about our Drive In Theaters, before much is forgotten. This has been an ongoing process for the last four years. I now need help from people who remember the drive ins from their towns.
I would appreciate any history on the local drive in, pictures, old advertising, memories or stories from their drive in days as a youth or adult. Maybe you were the owner or worked at the local drive in your input would be greatly appreciated!
Credit for your input will be given in the book project when it is finished.
Thank you for your interest in this project!
D. PERRY
659 S. Madison
Giddings, Texas 78942
driveinfan@totalaccess.net
The beer bottle issue & problems with County Attorney's Office
Dear Editor:
Several weeks ago I attended a city council meeting, the first I have been to in many years. The main issue of this council meeting was the severe problem we are having in Pecos, Texas with beer bottles. I listened to Mayor Stafford, Jim Breese, the council members and Scott Johnson. I got up, looked at the stunned faces of almost everyone there and walked out shaking my head thinking surely these people are more informed about what's going on in our community than this!

Perhaps what was most interesting about this particular city council meeting is not what I heard, but what I did not hear! I heard no mention of the trash, plastic bags, junk and weeds along the streets, in the alleys, vacant lots and some houses in our community. No mention of the houses and buildings that have been vandalized beyond repair. No mention of the burnt houses that should have been torn down a long time ago. Do we have a city ordinance that states you must as a property owner keep your property free of trash, plastic bags, junk and weeds or be cited and penalized by the city? Do we have a city ordinance that states you have 10 days to remove a structure if condemned? Yes we do! Then why doesn't the city enforce these ordinances? This is a problem of intellect or friendship?

I believe that majority of our citizen's care about the appearance of our city and then homes. Drive around our city and look! I have seen a great change recently in the way the houses look in Pecos. Even with the changes, we as a community along with every city in America have a few morons (an adult with the intellect of a child 6 to 12 years of age) and juvenile delinquents that care nothing about the appearance of our city and county. These people have no P&R! No pride in our community and no respect for the property of others! You will also be surprised to find out that the majority of the property I have described in the second paragraph that looks no better than our city dump belongs to the city! We live by example and leadership! What kind of example is this? No wonder the morons and juvenile delinquents have gotten away with this! Where is the leadership?

There is now a real possibility, with the help of all citizens that the city leadership will read the city ordinances! These people will find out that the maximum penalty for throwing trash and beer bottles in streets along the frontage roads and vacant lots is $1,000.00. They should have this law printed on posters and signs! They should seek the help of all merchants in our community that sell beer in bottles. I'm sure these merchants will volunteer to put these posters on all doors that enter and exit these businesses. Perhaps then morons and juvenile delinquents will read these posters and signs and understand that there will be a severe penalty for breaking this law. Perhaps the city should put trashcans where they find the majority of these beer bottles!

I drove through several small cities last weekend and I noticed a sign that stated the maximum penalty for littering was $1,000.00. What got my attention here was that these were not state signs; they were city police department signs! I have never seen one of these in Pecos.

This leads me to talk about our city Police Department. The Police Department that is real good at writing speeding tickets, arresting people for P.I., open containers and family violence. But, has not figured out how to stop the stealing and destruction of private property in our community. I wrote Mr. McKinney a nice letter last year demanding a copy of a report on the minors that destroyed my property and ask that the parents pay the damage. If your would like to read this letter, the pitiful response from Mr. McKinney and the blacked out report that took the Police Department 5 months to write, please come by either liquor store. I'll give you a copy! Where is the leadership? Anyone can be replaced! Perhaps Mr. McKinney will become a firm manager of his department instead of his department managing him! Time will now tell!

Although not related to the beer bottle issue, there is another office in our county that has become a severe problem. There is the county attorneys office. Since Mr. Carrasco was elected to this office, I have first hand knowledge of his total disrespect for the citizens he represents, no respect for the other lawyers that practice law in the County Court and Law and is a total embarrassment to the Judge of this court. I admire Judge Holcombe, Judge Green for their patience and I feel for the ladies in this office that take the heat for him and his attitude. I was involved in a docket call where all cases on hot checks were dismissed because Mr. Carrasco failed to show up for court. He scheduled a divorce hearing in the District Court at the same time totally ignoring the call form the Judge of this court. This Judge had no alternative but to dismiss all cases on this docket. This cost me and other merchants in our community a lot of money. Mr. Carrasco even today continues this behaving by showing up last for court, is never available when needed and has shown very poor judgment especially when it comes to protecting the women in our community. Since Christmas 2002, I've had three adult women and the mother of a minor female in High School talk to me about Mr. Carrasco's refusal to issue protective orders in their cases. The first woman is one of my good friends and a lady that helped me during the Christmas Holidays. She was having serious problems with her husband and wanted no problem during Christmas and New Years. She went to Mr. Carrasco's office and was told that his would take two weeks for the order to go into effect. I called 2 lawyers that work in our system and both told me that his was incorrect and ridiculous. At that time Judge Holcombe was leaving town so with the help of Sheriff Andy Gomez and Retiring Judge Lee Green, the order was written, signed and served, for the next two weeks Mr. Carrasco tried his best to have this order cancelled. He stated that the Sheriff and Judge Green had not authority in this matter. (We found out later that J. P.'s can write protective orders) The severe problem we have here is Mr. Carrasco was representing this woman's ex-husband during all of this! This ex-husband made this statement to this lady, "If I cannot have you, no one will!" This is about as close as you can get in telling someone you intend to take them out permanently. This was a conflict of interest on Mr. Carrasco's part. This behavior could have cost someone their life. This should be reported to the State Bar. And this is not all! There is a high school minor female that was beaten by a high school minor male. The mother of this minor female sought protection by their county attorney but was denied because no one saw the incident. I happen to know this young lady. Although I believe she can take care of herself in certain situations, she is tiny and no match for this minor male! And it gets worse! Our brilliant District Attorney issued a restraining order against this minor female in favor of the minor male and his parents. This is pathetic! Where is the intelligence? Where is the leadership? Anyone can be replaced!

We have many problems in our community and they all need to be dealt with. If you are having problems with the city or council government, law enforcement or politicians, speak up. It's your right! There is help if you need it!

ROBERT L. HANKS

<!==========end copy==================>
---
---
Pecos Enterprise
York M. "Smokey" Briggs, Publisher
Division of Buckner News Alliance, Inc.
324 S. Cedar St., Pecos, TX 79772
Phone 915-445-5475, FAX 915-445-4321
e-mail news@pecos.net
Associated Press text, photo, graphic, audio and/or video material shall not be published, broadcast, rewritten for broadcast or publication or redistributed directly or indirectly in any medium.
We support Newspapers in Education
Copyright 2003 by Pecos Enterprise
---