|
Daily Newspaper and Travel Guide
for Pecos Country of West Texas
Opinion
Tuesday, May 6, 2003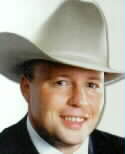 Sage Views
By Smokey Briggs
<!=====paste copy here==========================>
The groom
with a plan
"More men want a say in wedding planning," the headline read.
I did a double-take, read the headline again, and then began to read the accompanying article. I was sure that some tired kid at the copy desk had either goofed or pulled a fast one for a little humor.
It never occurred to me that the headline's proclamation might be true.
According to the Wall Street Journal, it is true. The more I read, the more I wanted to cry.
Not for me. I am married and She-who-must-be-obeyed had a very intent look in her eye as we recited that "until death do us part" thing. I am hitched for life no matter when mine ends.
But I felt for the poor schleps that were reportedly falling into this trap.
My first thought was, "yuck." The example groom-to-be was miffed that the wedding planners gravitated to the bride and left him out, so he designed the program on rice paper and tied some fluffy twine around them and did a whole lot of other things that called his masculinity into question.
Really, I went back and re-read the first part just to make sure the bride was not named Steve.
She was not, but they did live in New York so I had to check.
Supposedly modern males "have wedding dreams too" and really want a more active part in planning the big day.
Well, I'll buy the "dreams" part. Who amongst us has not had the wedding dream - the one where you wake up in a cold sweat but then grab a beer and celebrate when you realize that you are in your own twin bed with unwashed sheets with the miniature beer fridge beside it.
Or the other wedding dream - the one where (fill in the blank with your favorite Hollywood starlot) is waiting for you at the end of the isle, dressed in a wedding gown designed by Frederick's of Hollywood, standing in the back of a monster truck which happens to be laden with a year's supply of your favorite malt beverage, while the best man carefully wipes down the pair of presentation grade Colt pistols your bride-to-be demanded you exchange instead of rings.
Yeah, I have had the wedding dream.
The article did mention one facet of the modern man-inclusive wedding that has some merit at first glance.
Today it is okay for the groom to "register" just like the bride.
That would have sounded like a good idea before I was married.
Now, I know better.
I have one thing to say: Fools!
Nice try, but foolish. Yeah, you might get a new Makita cordless drill out of the deal but that nifty drill will cost you more than a fling with a cocktail waitress over the course of your marriage.
It will never be forgotten and she will be eternally miffed.
And, what if you get more junk than she does? What if you get the complete set of Snap-On tools and the engine stand you registered for and all she gets is a toaster and some other girl stuff for the kitchen?
Dead man walking - that is what you will be. There will be no escape. No way to earn forgiveness. You will have overshadowed her on her day.
Weddings are not about you boys. You are window dressing about two notches lower on the list than the flavor of the cake and the color of the flowers.
Keep a low profile, do not get so drunk you slur your vows, and shut up.
And, just for the record - being really interested in planning your wedding really does bring your masculinity into question.
It is just wrong.
EDITOR'S NOTE: Smokey Briggs is the editor and publisher of the Pecos Enterprise whose column appears on Tuesdays. He can be e-mailed at: smokey@pecos.net
Our View
Nuclear waste could be a good
thing for Pecos/West Texas
Nuclear waste may be an issue for West Texas again in the near future.

The Texas house passed HB1567 recently and the Senate is debating a similar bill - both bills would allow the Texas Department of Health to issue a license to a private company to administer a low-level nuclear waste site.

It appears that Andrews County is a likely spot for the facility if the bills pass and a license is issued.

There will be the usual knee-jerk reaction from some on both sides - both proponents and environmentalists - no matter what town or county is chosen.

Hopefully local and regional leadership will not be part of either group and will take a hard look at both the potential risks and the potential gains.

Last go-round with the issue in this area the real problem with the proposed site appeared to be the record of the company planning to build the site and not the issue of a nuclear dump itself.

The risks cannot be minimized and any company gaining such a permit should have a good record.

Presented with such a company looking for a place to build, West Texas in general and Pecos specifically would do well to take an honest look at the possibility and avoid any "no-nukes" knee-jerk reaction.

Storage of low-level nuclear waste is not the equivalent of testing nuclear bombs. It can be done safely and it has to be done somewhere.

Rather than spending our energy simply fighting anything nuclear we would be better off using that energy to bring a nuclear storage facility to the area and making sure that the facility is safe.

<!==========end copy==================>
---
---
Pecos Enterprise
York M. "Smokey" Briggs, Publisher
Division of Buckner News Alliance, Inc.
324 S. Cedar St., Pecos, TX 79772
Phone 915-445-5475, FAX 915-445-4321
e-mail news@pecos.net
Associated Press text, photo, graphic, audio and/or video material shall not be published, broadcast, rewritten for broadcast or publication or redistributed directly or indirectly in any medium.
We support Newspapers in Education
Copyright 2003 by Pecos Enterprise
---