|
Daily Newspaper and Travel Guide
for Pecos Country of West Texas
Opinion
Tuesday, April 29, 2003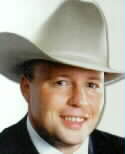 Sage Views
By Smokey Briggs
<!=====paste copy here==========================>
The Dixie Chicks'
First Amendment
I will not be buying any Dixie Chicks' records anytime soon.
Of course, I was not going to anyway. The group lost me when it ousted founding member Robin Macy, went pop, and sold its soul for a recording contract.
But, even if I liked their version of pop music, I would not be buying any records after their comments in England as America was on the verge of war with Iraq.
The Dixie Chicks said, among other things, that they were ashamed to be from the same state as President Bush.
I guess they thought it sounded cute.
Apparently not too many Texans appreciated this classless airing of dirty laundry in front of a bunch of socialist foreigners.
Folks gathered in protest. Emails flew. Some folks even resorted to using the postal service to voice their displeasure.
Most importantly, sales dropped.
That got the Chicks' attention.
Since then the band has been whining the blues to apparently anyone with a microphone.
I caught part of the much-hyped television interview with Diane Sawyer over the weekend.
I did not know whether to cry or laugh as I watched them display an incredible inability to voice why they felt ashamed to be from Texas and whine about how their First Amendment right of free speech was being trampled on.
The only thing I could think was that they needed some cheese to go with their whine so I turned the channel.
Two things were obvious. The first is that the three girls probably have a combined IQ equal to the temperature of a cool spring morning in West Texas.
The other thing that was most hurtfully obvious was that they had no idea what the First Amendment protects.
The Chicks and apparently many of their casting-couch-lizard-actor-singer buddies seem to think that when they are criticized for what they say, and the public quits buying their records, there is some trampling of their First Amendment right to free speech.
Give me a break!
The First Amendment is double-edged sword. The edge that cuts me is that mediocre pop musicians actually have a huge public forum to voice their opinions on subjects of which they know less than nothing.
I have to live with that every day.
Just what is it in the Chicks' collective backgrounds that would make anyone give a hoot what they think about President Bush or the price of a shirt at the five-and-dime for that matter?
Nothing.
The edge that apparently cuts the Chicks to the bone is the right of the public to disagree with the drivel they spout in between sets.
The First Amendment protects us from government action limiting our words. It prohibits the government from punishing us for what we say and think.
It does not give us the right to say anything, anywhere, without any repercussions.
Not even for dimwitted singers when they spout drivel that they think will go over well with an audience.
Sorry girls. You make your choices, and you live with the consequences. It is called life.
And so, the only chicks I'll be listening to are the ones in the henhouse out back - lovely birds that cackle a melodious tune when they lay wonderful eggs - and whom I suspect have far more intelligence than many of the chicks that make their living in Nashville.
EDITOR'S NOTE: Smokey Briggs is the editor and publisher of the Pecos Enterprise whose column appears on Tuesdays. He can be e-mailed at: smokey@pecos.net
Our View
Texas needs to tighten her belt
What do Texas families do when their incomes will not meet their monthly bills?

They tighten their belts and cutback on their spending until they can pay their bills.

Private citizens do not have a choice.

Texas is in the same situation today.

Every family and every type of government faces the same circumstances eventually. The future is unpredictable. Financial fortunes ebb and flow. It happens.

When finances dwindle, the only thing to do is to cut spending until the drought is over.

Easier said than done, but not optional.

Unless you are the government.

The government's other option is to raise taxes.

It is a poor second option - a poor second option that has been exercised far too many times in the past 50 years.

This year, Texas is facing a budget shortfall - which is government speak for we-planned-on-having-more-of-your-money-to-spend-and-still-want-to-spend-it-even -though-we-don't-have-it.

No thanks. The correct answer is to spend what existing taxes brought in and cut expenses until both sides of the ledger balance.

Very few government-sponsored programs are really necessary.

Texas needs to tighten her own belt and live within her means.
Your View
Mata was a true leader
Deepest condolences are due the Mata family on the death of Chief Warrant Officer Johnny Mata.

Johnny previously was assigned to the Third Armored Cavalry Regiment at Fort Carson, Colo.

It was my pleasure to serve as his commanding officer from November 1996 to April 1998.

Johnny was a natural-born leader and true professional. He was among the best NCOs in the unit and consistently demonstrated his technical and tactical expertise.

He performed outstanding as the medical troop's master driver and motor sergeant-demanding positions that required a rank two grades senior to his.

Because of his demonstrated leadership potential, Johnny was quickly promoted from sergeant to staff sergeant and later recommended to attend the Army Warrant Officer Program.

Johnny was the type of soldier who looked for solutions and had the reputation of a problem-solver who took action and achieved positive results.

Despite 12-hour days and a tremendous workload, he managed to complete over 100 college semester hours and earned his associate's degree.

He was extremely meticulous and conscientious in all tasks assigned no matter how difficult or time-consuming.

His maturity, mission-focus and positive, can-do attitude were his greatest attributes.

We can only hope to emulate his steadfast determination and rare brand of courage.

Johnny Mata will be sorely missed by his family and comrades in arms.

Maj. Michael J. Tally
United State Army
Fort Leavenworth, Kan.

<!==========end copy==================>
---
---
Pecos Enterprise
York M. "Smokey" Briggs, Publisher
Division of Buckner News Alliance, Inc.
324 S. Cedar St., Pecos, TX 79772
Phone 915-445-5475, FAX 915-445-4321
e-mail news@pecos.net
Associated Press text, photo, graphic, audio and/or video material shall not be published, broadcast, rewritten for broadcast or publication or redistributed directly or indirectly in any medium.
We support Newspapers in Education
Copyright 2003 by Pecos Enterprise
---