|
Daily Newspaper and Travel Guide
for Pecos Country of West Texas
Opinion
Tuesday, April 15, 2003
<! date ________>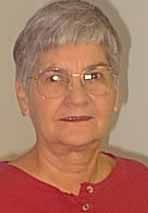 Squarely Pegged
By Peggy McCracken
<!=====paste copy here==========================>
Boss of family
started out small
April 25, 1933 probably was a bleak day for most of West Texas and Oklahoma in those depression years, sand storms filled the skies with choking dust, and families scraped and saved just to have food for their bellies.
But on one West Texas farm, there was joy, for a baby girl was born. Mary Elizabeth Gunn weighed less than six pounds. Nestled in a makeshift crib with hot bricks, she struggled to breathe, determined to survive.
Survive she did. Mary Elizabeth, aka Sister, has survived for her allotted threescore and ten years in a frail body beset by asthma that would often choke the breath out of her.
Pictured in her early years, Mary always wore a frown, while older brother Walter smiled brightly for the camera. Was it the sun in her eyes that made her look so somber, or was life just too much for the little West Texan? Perhaps her mind was filled with worries, because she did become the little mother to us all.
I came along 21 months after Mary was born, followed by Cora Gail and Jerry Wynn. Walter taught us how to play, and Mary taught us how to work. Before she entered first grade, Mary was already cooking, washing dishes and cleaning house. She soon began to organize cleaning parties, ordering me to pick up while Gail swept the floor, or vice-versa. We took turns washing dishes.
As we grew older, we were taken to the cotton patch to help with the fall harvest. When I was 6 and Mary 8, we shared a short canvas sack to hold the locks of cotton we pulled from the burrs in the Blacklands east of Gainesville. Together we gathered a whole 25 pounds one day. At $1 per pound, we earned 25 cents.
Picking cotton aggravated Mary's asthma, and in later years Mama paid her to keep house while we worked in the field. She didn't miss out on hoeing in the summers, though. We all cut the weeds in our own fields for free, then worked for neighbors to earn extra $ for school clothes.
Mary, the unquestioned leader, decided what clothes we would order from the Sears & Roebuck or Montgomery Ward catalogs. We were the same size and so close that we could have been twins, so we bought matching dresses and shoes. (Girls didn't wear pants those days. We didn't even see a pair of ladies' jeans until we were teenagers.)
So close were we that Mary even picked out my husband for me. She was dating a young man from Quitaque, who had a friend named Leon. One night when Bruce came to pick her up, he brought Leon with him. We double dated some before Mary went off to college. We visited often, though, and when it came time for the wedding, she took this country bumpkin to Amarillo to buy a dress and feminine necessaries, then served as my maid of honor. I even wore her garter belt, stopping off at her dorm at West Texas State in Canyon to return it on the first leg of our honeymoon trip.
When it came time for her wedding two years later, I had just taken an office job in Pecos and was unable to get time off to be Sister's matron of honor. She made a lovely bride and a loyal wife, bearing five children over the next decade or so, then teaching school to support them as a single parent.
Mary not only supported all her children financially, she encouraged them in their academic and athletic activities. All attended college, four on athletic scholarships. They are successful in their chosen careers, and keep Mary busy tutoring grandchildren, attending sports events and baby sitting.
"She watches over the affairs of her household and does not eat the bread of idleness. Her children arise and call her blessed..." Proverbs 31:27-28, NIV
EDITOR'S NOTE: Peggy McCracken is Enterprise business manager and webmaster. Contact her at peg2@pecos.net
Our View
Welcoming home a hero
Johnny Mata came home for the last time on Friday - home from the war in Iraq. We really do not know how he died. We know his convoy was ambushed and he and many of his comrades were killed.
Like most casualties of war, the circumstances surrounding his death do not seem to be the stuff of Hollywood.
But, he came home a hero, as he should have.
Hollywood heroics do not have much in common with real life.
In real life, you play the cards that fate deals the best you can. You do your job and fulfill your duty to God, family and country. Sometimes in doing your job you do something that somebody else says is worth a medal. Most of the time, nobody notices.
The real heroes of this world keep doing their job and their duty all the same.
That is what heroes do.
That is what Johnny Mata was doing in Iraq along with thousands of his fellow countrymen.
So welcome home Chief Warrant Officer Johnny V. Mata, United States Army.
And thank you from your countrymen and neighbors for making the ultimate sacrifice in the name of freedom.
Your View
Local citizen sickened with politicians
Dear Editor:
I wanted to address the City Council and the Bud Light Bottle issue as the owner of a retail beer business, but I would like to respond to that issue at a later date and discuss what I saw last week in Pecos.

In the 45 years I have been around Pecos I have never seen our community come together as Reeves County did last week. I was impressed with the honor this community showed Mr. Mata for his ultimate sacrifice. My condolence to his family. Anyone that wasn't saddened, choked up or had tears in their eyes has no heart. Mr. Mata is truly a hero.

Early last week I saw the citizens of Pecos and the city, county and state employees come together and clean up our city. They cut the weeds, picked up the trash and for once in many years made our community look really nice. As I stated above, I was impressed that is until I heard several members of this community on Thursday talking about CNN and a Spanish television network coming to Pecos and the reasons for their clean up. After listening to all of this I have to ask myself and the residents of Reeves County the following: Why did it take the death of one of our own to clean up our community? Why did it take the death of one of our own to show this patriotism I saw last week? Was this another pitiful example of how certain politicians and their friends have taken advantage of two tragic events, the citizens of Pecos, and the employees from the city, the county and the state to make themselves look good for the television media. This makes me sick! What a shame Mr. Mata wasn't shown this patriotism by our community before he made that ultimate sacrifice. What a shame the other young men and women from Reeves County that are also serving in the military have not been shown this patriotism. Perhaps now, before we lose someone else, everyone in our community will join the Pecos Enterprise, the VFW, the immediate families of our young people in the military and show their appreciation. I certainly hope so!

Before I finish, I would say that the performance by these professional politics is the most distasteful act I believe I have ever seen. Maybe its time these politicians resign and we put our community back in hands of taxpayers and business people!

ROBERT L. HANKS

<!==========end copy==================>
---
---
Pecos Enterprise
York M. "Smokey" Briggs, Publisher
Division of Buckner News Alliance, Inc.
324 S. Cedar St., Pecos, TX 79772
Phone 915-445-5475, FAX 915-445-4321
e-mail news@pecos.net
Associated Press text, photo, graphic, audio and/or video material shall not be published, broadcast, rewritten for broadcast or publication or redistributed directly or indirectly in any medium.
We support Newspapers in Education
Copyright 2003 by Pecos Enterprise
---