|
Daily Newspaper and Travel Guide
for Pecos Country of West Texas
Opinion
Tuesday, March 25, 2003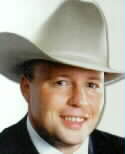 Sage Views
By Smokey Briggs
<!=====paste copy here==========================> <!Laura, please put date underneath the Opinion head>
A few thoughts
on the war
I wish I had something profound to say about the first few days of the war with Iraq. I do not think I do.
I am not troubled by our presence in Iraq. I believe that war is an extension of politics and completely appropriate when American interests are at stake ­ and only appropriate when American interests are at stake.
Silly ideas of going to war to free the oppressed are for fools and hypocrites unless we are willing to start counting casualties by the thousands to bring inherently evil regimes such as China and North Korea to heel.
While I am not President Bush's biggest fan, I think he is doing a good job of fulfilling his duties as president.
But, I do wish that just once in the past six months I had seen him quoted as saying we were going to take Saddam Hussein out because Hussein supports terrorists and we are at war with terrorists. Maybe he did and I missed it.
I think the issue got clouded with all the talk about weapons of mass destruction. Clearly we are not going to go to war with every nation that possesses such weapons just because we see it as a threat.
***
I have a suspicion that nobody in Washington has been willing to contemplate this conflict turning into a war past the magnitude of Desert Storm. I hope it does not but the potential is there.
We did not back Hussein and the Iraqi people into a corner in 1991. It looks like we are going to this time.
Soldiers, even ones who are poorly trained and armed, tend to put up a stiffer fight when the land they are defending is their own.
The official attitude seems to be that our military can take care of Iraq without breaking a sweat ­ mostly through the use of high-tech weapons. I do not doubt that we can win, but, if the Iraqi's actually decide to fight, the casualties may be much higher than anything we saw in Desert Storm.
Especially if we ask our troops to try to take urban areas while at the same time minimizing civilian casualties.
Our first priority should be based on winning the war with the lowest possible number of American casualties. Civilian casualties should be an afterthought. If leveling Baghdad saves one of our boys I am for turning it into a parking lot.
If our enemies want to hide behind human shields then they should learn quickly that flesh and bone make a poor shield when pitted against armor piercing rounds.
***
I sincerely hope that our troops are not hamstrung by some idiotic rules of engagement thought up by a political chair-warmer who never dreamed of even donning a uniform, much less of actually being the cutting edge of our military might.
If we are going to ask our troops to go into harms way they should feel absolutely secure that even the slightest exhibition of threatening behavior is good reason for eliminating the threat without the constant worry that some bureaucrat is going to be second guessing their split-second, life and death decisions.
***
I also hope that the current enchantment with the military carries over past this war. I hope it is there when the liberal crowd cries for more sensitivity training for our boys instead of more training in killing our enemies without being killed themselves.
I hope it is there when the choice is between funding for social programs and funding weapon systems and training.
I hope it is there when employers contemplate hiring men who serve in the National Guard and Reserves.
***
Rudyard Kipling wrote an excellent poem about the public's fickle view of soldiers. It is worth reading now, and then again when this war is fading memory amidst the World Series.
The poem is titled, "Tommy."
EDITOR'S NOTE: Smokey Briggs is the editor and publisher of the Pecos Enterprise whose column appears on Tuesdays. He can be e-mailed at: smokey@pecos.net
Our View
An honest politician
Kudos to State Rep. Debbie Riddle, R-Houston. While her words on March 5th may prove to many that she is not politically astute, they were refreshing.
What she said?
"Where did this idea come from that everybody deserves free education, free medical care, free whatever? It comes from Moscow, from Russia. It comes straight out of the pit of hell. And it is cleverly disguised as having a tender heart. It's not a tender heart. It is ripping the heart out of this country?"
Kudos first for simply being brave enough to speak words so politically incorrect.
Kudos second for speaking the truth.
It is hard to argue against free health care for small children. Or free food. Or free education. Or free whatever. What kind of heart do you have to have to deny medicine to a sick kid?
A realistic one.
The reality of the world is that nothing is free.
When it comes to tax-supported government aid, it is neither free to the giver or the receiver.
Every dime spent on social programs is another dime taxed away from citizens.
Every dime collected from citizens is another dime's worth of disincentive to be productive.
If you do not believe that you can tax productive people into being unproductive, take a hard look at the socialist and communist track records around the world.
After more than 2,000 years of recorded history there has yet to be a society created where people were willing to work as hard for the good of their fellow citizens as for their own pocketbooks.
It is not a change that takes place all at once. It happens a dime at a time, just like the ever-increasing taxation that has plagued this country for 40 years.
Gradually the process strangles the goose that laid the golden egg of productivity and prosperity in the first place.
Hope dies on that day as well.
The hope for a better tomorrow.
The beauty of this country is not the promise of free medicine or food or anything else ­ it is the promise of hope. The promise that every person has a chance to make something more of their lives than they were born to.
Socialism does not make that promise. Socialism promises to feed and clothe and provide medical care at the expense of opportunity ­ and then it falls short and delivers only shoddy shams of the dream.
It is a fool's choice. Socialism in any form is doomed to fail. The only thing that it will accomplish is the destruction of a free society.
The difference is that a free market promises some prosperity for most and delivers it to most. Socialism promises prosperity for all and delivers it to no one.
Ms. Riddle knows this and deserves a pat on the back for having the courage to speak it.
Your View
Traveler thanks local citizens for lost purse
Dear Editor:
On Sunday, March 16, I left my purse at McDonald's in your city. A honest lady returned it and the restaurant manager, Patsy Aguirre, contacted me and returned it by mail.
In addition to the usual driver's license and credit cards, the contents included traveler's checks and a few hundred dollars in cash.
I do not know the identity of the person who retrieved my purse but I deeply appreciate her.
Such exemplary character is a tribute to any city and I know you share my admiration and pride.
Sincerely,
RUTH KING
Abilene
Family Health Day and FNRA banquet was a success
Dear Editor:
I need to tell you, this past Saturday (22nd) was a lot of fun. My family started off at the Health Day sponsored by the Lion's Club. We ate pancakes for breakfast, went on a bike ride (complete with a police escort), played games, ate BBQ and stir fry for lunch, visited, and even won a door prize.
It was obvious the Lions had worked hard to make the day happen and I'm grateful for their efforts.
Then, that evening we all headed off to the "Friends of the NRA" banquet. The food was excellent, and even though I didn't win anything, the evening was a treat and the whole family had a great time. The leadership did a great job, and seeing the size of the crowd, I'm thinking I'll need to get tickets earlier next year.
Thanks again to the Lion's club for the Health Day, and to those who put together the "Friends of the NRA" banquet. Thanks also the sponsors who gave money and door prizes for both events. Your participation is appreciated and noted.
Gratefully,
BRUCE ABBOTT
West Texas water
By WALT PERRYMAN
The Pecos River was formed millions of years ago.
But, man has messed it up in the last 100 years or so.
New Mexico has built dams and slowed the Pecos River's flow,
But, God made the Pecos to run downhill to the Gulf of Mexico.
Now, New Mexico owes West Texas, but won't give a nickel.
Even though the Texas side of the Pecos is down to a trickle.
Andrews County is disposing of low-level, radioactive waste.
When it gets into our ground water, I wonder how it will taste?
I wonder if Representive West and Senator Bivins really know they can contaminate our water all the way to the Gulf of Mexico.
Donald Howell is fighting them and has drawn a line in the sand.
So, all of us West Texans need to give him our helping hand.
West Texans need to write these politicians a short little note.
If they do not stop Bills 1567 & 824, they won't get our vote.
The Pecos is draining our aquifers, because its level is getting lower.
Donald is trying get a dam built to reverse this or at least make it slower.
West Texas' future depends on its water; this we all should know.
Let's help Mr. Donald Howell, or down the river our future may go!
Balmorhea school district needs good changes
Dear Editor:
I read with great interest the article on the Balmorhea groundbreaking for the new gym. Elizabeth Saenz is quoted as saying that the community is "excited about the new and renovated buildings." Although some members may well be, there are others among us who have more on our minds than Ms. Saenz' penchant for construction.

For example, since Ms. Saenz' tenure began, the curriculum at Balmorhea I.S.D. has been effectively gutted. In 2001, Seniors were encouraged to take concurrent college classes for dual credit. This program provided students with a transition into the college system and allowed them to earn up to 18 hours of college credits. In return for good grades, student's tuition and books were provided at no cost to the studenta benefit that in a district as poor as B.I.S.D. cannot be overlooked. That program has been discontinued.

In 2001 a total of five advance placement courses were offered to Balmorhea High School students. These included advanced science and math courses. This year, one remains. AP English. Pre-calculus will also be cut from the curriculum. When classes such as these are discontinued, our children's chances of being accepted at any but the most mediocre of universities is questionable. Other classes that have been eliminated are both ACT and SAT preparation courses, which were designed to help students with these life changing exams.

Along with the destruction of the curriculum are the problems with the classes currently being offered. At least three of the classes being taught in the High School are lacking enough books for the entire class. My son didn't have a Spanish book. When I approached Mrs. Carrasco, the Principal, and asked for the publishing information for the book so that I could purchase a copy on-line, I was assured that he would have a book by the end of the day. This was in January. Why did it take six months and my complaint to get a textbook for him? And what student had to relinquish their book in order for my son to have a text? Students are also lacking books in Economics and World History. My understanding is that teachers are running off copies of the pertinent material. I know that in the case of the Spanish class this is how it is being handled. I may be wrong, but doesn't this violate copyright laws? Mrs. Carrasco did tell me that, in reality, teachers didn't actually need books to teach effectively. She said this with a straight face.

Evidently the district cannot do without a new car, a new bus (with a price tag of approximately $110,00), a new gym, (I know that we supposedly need the new gym because the old one wasn't handicapped accessible, but hasn't the Superintendent or the School Board ever heard of a RAMP, for goodness sakes?!?) and a new technology center, but we evidently can do without a decent curriculum and enough books for all students.

Our current enrollment is the lowest in recent history, and we should be asking ourselves why. It is time we took control of our School District. The first thing we need to do is vote in a new school board. Elections are coming up and it is time we elected members who do more than simply rubberstamp the blank check policy of our Superintendent. Second, we as parents need to demand that our children have the textbooks and the challenging courses they need to succeed. Third, we need a Superintendent who knows the Meaning of the phrase "fiscal responsibility." Hopefully, before our district is bankrupted.

Sincerely,
DEE RENZ
Balmorhea

<!==========end copy==================>
---
---
Pecos Enterprise
York M. "Smokey" Briggs, Publisher
Division of Buckner News Alliance, Inc.
324 S. Cedar St., Pecos, TX 79772
Phone 915-445-5475, FAX 915-445-4321
e-mail news@pecos.net
Associated Press text, photo, graphic, audio and/or video material shall not be published, broadcast, rewritten for broadcast or publication or redistributed directly or indirectly in any medium.
We support Newspapers in Education
Copyright 2003 by Pecos Enterprise
---