|
Daily Newspaper and Travel Guide
for Pecos Country of West Texas
Opinion
Tuesday, March 18, 2003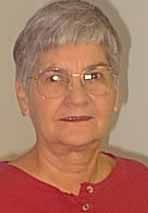 Squarely Pegged
By Peggy McCracken
<!=====paste copy here==========================>
Three-time loser
has inmates at heart
Bill Kennedy's backpack caught my attention the first time I noticed him walking across Oak Street near the courthouse. I've seen him many times since, always with the backpack and always afoot. I felt a kinship with him, since I walk morning and evening for exercise, picking up trash as I go.
One Sunday morning a few weeks ago, Kennedy showed up at my church, and I realized we had something else in common. Then when he brought a little Christian newspaper to the Enterprise for printing, I learned he dabbles in writing as well.
That's not all, though. When press foreman Carlos Nichols altered his artwork on a couple of headlines to make them print clearer, Kennedy blew his cool and chewed him out pretty good. Another thing we have in common. I have a lot of trouble controlling both my temper and my tongue.
In his newspaper, which he is distributing at the Reeves County Detention Center, Kennedy tells about his troubled childhood and three prison terms. He said he started stealing at age 6 and remained a thief until age 37 when God drew him to His Son Jesus Christ - in Angola State Penitentiary in Louisiana. Since then he has ministered in Florida prisons and traveled several states, working as a painter and maintenance man.
How did he wind up in Pecos? I asked the 72-year-old convict-turned-preacher.
While traveling in his modified Buick that doubles as a bedroom, Kennedy came through Pecos and stopped to apply for an apartment at the Pecos Housing Authority. After spending some time in Carlsbad, N.M., he called back and learned they had an opening in the elderly housing units along Second Street.
"I came to Pecos May 7, 2002 and moved into an apartment at 111 S. Willow," he said.
Kennedy says he misses the travel. "The essence of the soul is movement," he said. Since converting his car into a camper in 1988, he has lived in several states, the most recent Kansas. While living in Florida and working for $6 an hour doing yard maintenance at a hotel, Kennedy read in the Washington Post that painters were earning $10 and up. So he climbed into his 1977 Buick and headed for D.C. with $20 in his pocket.
Selling a slightly used drill for $15, he managed to buy enough gas to get into D.C., where he parked his camper by a construction site and turned in for the night. Next morning, he found a painting job with one of the many Arab Muslims in the area. "New mosques were going up practically everywhere. I finally got with a man paying me $12 an hour cash plus my taxes," he said.
Kennedy doesn't mind telling you that, although his IQ of 132 rated him in the genius range, he learned after meeting Jesus that he wasn't so smart after all. "I discovered how ignorant I had been," He said. "I do firmly believe that without the Lord Jesus, there is no real intelligence."
Amen to that.
"He who conceals his sins does not prosper, but whoever confesses and renounces them finds mercy." Proverbs 28:13
EDITOR'S NOTE: Peggy McCracken is Enterprise business manager and webmaster. Contact her at peg2@pecos.net
Your View
Schools invite everyone to visit this week
Dear Editor:
The Pecos-Barstow-Toyah Independent School District will celebrate Texas Public School week March 17 through March 21, 2003. The theme this year is "Public Schools ­ Your Texas Treasure." Texas public schools have a proud history and a bright future, and the Pecos-Barstow-Toyah Independent School District provides an educational foundation that is vital to our children's future.
The community is always welcome to visit our schools, but this week is exciting because our children have planned many special activities to demonstrate the learning taking place every day.
Texas Public School Week is a celebration where everyone can participate. This observation gives us a chance to shine the light on our students and their outstanding achievements. It provides an opportunity for parents, educators, business representatives, civic leaders and the community as a whole to support and strengthen our schools.
We invite everyone to visit our schools so they can see a true "Texas Treasures."
DON LOVE
Superintendent
Review
Thirty years ago this week
Page 1: Savings and Loan building planned

Pecos Saving and Loan President Joel Daniel announced today plans for a new 6,400 sq. ft. building just across the street southwest of the present location at Fifth and Cypress Sts.

Contractor S.V. Smith of Oasis Builders, Kermit, expects to begin construction within about 10 days and completion should take about six months.

Architects are Pierce-Lacey of Dallas.

Daniel said the savings and loan firm, organized here in 1956, has ìgrown outî of the present facilities built in 1959.

He said deposits have increased to $8,400,000 as of this year.

The new building will also include space for law offices.

Seven full-time employees and a part-time VOE student join directors Dr. E. W. Schmidt, board chairman; Keith Camp, Joel Daniel, J. Robert Scott and Glen Ellis in operating the firm.

Daniel said groundbreaking ceremonies are planned "in the next week or so."

New Explorer post for boys and girls

Spence January, district Boy Scout executive, has announced that all boys and girls between the ages of 14 and 17 are invited to join in the organization of a new Explorer Post at 7 p.m. Tuesday, March 6, at the First Presbyterian Church.

Sports: Basketball tourney pits best independent teams

The Pecos Independent Basketball League is sponsoring a tournament to be held March 2 and 3.

Games will be held at the Old West Pecos School Gym and in Barstow. Ben's Spanish Inn team (pictured)are Abe Torres, Juan Galindo, Danny Bitolas, Luis Matta, Larry Windham, Leandro Tyson, Danny Martinez, Manuel Jiminez and Danny Marquez.

Society: Rivera chosen for Presidential Classroom

Xavier Rivera, son of Mr. And Mrs. Pablo Rivera, 2430 S. Eddy St., has been chosen to represent Pecos at a Presidential Classroom for Young Americans in Washington, D.C. Xavier, a senior at PHS, will attend class number 6 March 31 through April 7.

Becky Rogers, daughter of Mr. And Mrs. Jack Rogers, 1801 W. 6th St., will also attend class number 5, it was previously announced.

Nancy Box named DAR Good Citizen

Former students of Texas A&M choose Charles Weinacht for director

Classified Ads: Professional Services

SINGER SALES & SERVICE, 1231 S. Eddy, Ph. 445-5646. Service on all makes & model machines. Parts, notions, vacuum cleaners, T.V., stereos. Pinking sheers and scissors sharpened. Personalized name tapes & labels. Used machines from $9.95 up.

Help Wanted

Taking applications for part-time help. Apply at Colonial Food Store, 1500 Washington or call 445-5342.

IMMEDIATE OPENINGS - wanted at once several car & truck drivers. AUTOMOTIVE PROVING GROUNDS, 22 MILES SE of Pecos. Ph. Between 8 a.m. and 3 p.m.

Letters to the Editor:
One would surely think that the events of the past month or so would awaken the Anglo minority in Pecos to the fact that they must work with the Mexican-American and Negro people to improve Pecos. No longer is Pecos a purely "white" town, and that fact must be realized by now.

The recent walkout was necessary to bring many bitter problems out into the open. The walkout was not only to protest a haircut policy, as the administration seems to be harping about. It was to protest years of unfair treatment of the Mexican-American and Negro students in Pecos schools. It is time that this discrimination, or whatever you may call it, is ended. It is past time that the members of the school board and the school administration resign. They are no longer performing adequately in their positions. They are not interested in building a better school system in Pecos, or in building a better Pecos for the future students that will live here.

Mr. Pena is to be commended for his attempt to help the Mexican-American students at Pecos High School. Both they and the black students deserve better treatment than they have received in the past. Mr. Pena tried to see that improved treatment was forthcoming, and what happened? He was bullied and pressured out. Is this the American way? What has happened to free speech and the rights of the individual?

Name withheld by request

<!==========end copy==================>
---
---
Pecos Enterprise
York M. "Smokey" Briggs, Publisher
Division of Buckner News Alliance, Inc.
324 S. Cedar St., Pecos, TX 79772
Phone 915-445-5475, FAX 915-445-4321
e-mail news@pecos.net
Associated Press text, photo, graphic, audio and/or video material shall not be published, broadcast, rewritten for broadcast or publication or redistributed directly or indirectly in any medium.
We support Newspapers in Education
Copyright 2003 by Pecos Enterprise
---