|
Daily Newspaper and Travel Guide
for Pecos Country of West Texas
Opinion
Tuesday, March 11, 2003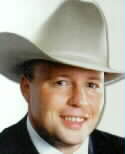 Sage Views
By Smokey Briggs
<!=====paste copy here==========================>
Free guns and
lots of fun
Pecos is going to have its second Friends of the NRA Banquet Saturday, March 22.
If you missed last year's banquet you missed a really good time. Everybody that came left with a belly full of chicken fried steak and it seemed like most folks left with a prize. Some lucky folks left with new firearms.
This year will be even better.
But first, just what is Friends of the NRA? Well, what it is not is political. It is a not for profit foundation separate from the NRA with the mission of raising funds to support youth shooting programs.
The Pecos Rifle Club and the local 4-H both received grants this year from Friends of the NRA to help finish the indoor shooting range at the 4-H grounds. Both groups were awarded a total of $6,000 in two grants for the project. That will go a long way toward wiring the building, installing lights, building an NRA-approved bullet trap and setting up the kids with a few rifles they can compete with in the coming 4-H shooting season.
You don't have to hold a banquet to qualify for the grants but I'm not keen on just mooching. Holding the banquet makes the proposition a two-way street.
Did I mention it was pretty fun too?
This year we will have the same great food but the tickets are cheaper and we have more guns and stuff to get rid of.
Supper tickets cost $15 each or $25 for a couple. Kids 4-14 are $5 and kids less than 4 are free as long as they eat off of dad's plate. How much you spend on the auction or on raffle tickets is between you and your significant other.
Bill Clinton's favorite line, `But it's for the kids,' seem to work well last year as dad tried to wheedle the rent money away from mom for one more chance on the Winchester.
This year there will be a similar selection of neat stuff to be auctioned and raffled off at the banquet — from artwork and jewelry to shooting accessories and of course, a few firearms. All told we plan to raffle or auction 19 firearms this year.
We also have something special planned for the kids. This year the Rifle Club bought 5 new .22-rifles and 5 Red Ryder BB guns. Every kid in the 4-14 age group will get a free raffle ticket with their $5 meal ticket and during the night we are going to raffle off the .22's and the BB guns just to the kids.
That should be fun.
During the next few months Pecos Valley Friends of the NRA members will be soliciting corporate sponsorships to help underwrite the cost of the prizes.
So, when one of these guys drops by your office, please don't drop kick them out the door without at least taking a look at the program. It really is a good one, and the money really does come back to Pecos to support our kids' shooting sports.
Individuals are welcome to help underwrite the goods, or can also be a sponsor for a total cost of $250. For the cost the sponsor gets a cool statue, two supper tickets, and $100 in raffle tickets, plus a raffle ticket on a gun that only sponsors get tickets for.
Anyone interested can contact me here at the Enterprise or David Lovet at 447-9400. The show starts at 6:00 p.m. at the Civic Center.
EDITOR'S NOTE: Smokey Briggs is the editor and publisher of the Pecos Enterprise whose column appears on Tuesdays. He can be e-mailed at: smokey@pecos.net
Critic's Corner
Rapid recipes aid busy cooks
Reading cookbooks is a pleasurable past-time for me, although I do not cook. Quick-cooking recipes are a favorite, because they are what I would use if I did cook.
Tasete of Home's "Quick Cooking Annual Recipes" not only shaves time off meal preparation, but offers five-ingredient recipes, meal themes, mix tricks, lively leftovers, and 14 other topics.
The two-cheese quesadilla was first to catch my eye. Ingredients are four flour torillas, 1 cup each shredded cheddar and mozzarella cheese, 2 small tomatoes, diced, half cup chopped green pepper, fourth cup chopped onion, salsa and sour cream.
Sprinkle each tortilla with cheeses, tomatoes, green pepper and onion. Fold in half and press edges lightly to seal. On a griddle, cook quesadillas over low heat for 1-2 minutes on each side or until cheese is melted. Cut into wedges. Serve with salsa and sour cream. I would serve mine with guacamole.
Among other lunch choices are four-bean taco chili, turkey sloppy Joes, chicken salad in melon rings and cheesy vegetable soup.
Dinner choices range from round steak roll-ups to garden squash ravioli, with everything in between. Grilled rib eye steaks, unstuffed cabbage, Christmas meatballs, and California avocado salsa are just a few.
Brightly-colored illustrations throughout the book tempt the palate and please the eye.
The 8.5x11.25 hardback book is available from Taste of Home Books, PO Box 990, Greendale WI 53129. Send $29.99 plus $3.95 shipping. Or call 1-800-558-1013 for credit card orders.
— Peggy McCracken
Tell Your Officials
Those who wish to share their opinions with their elected officials are urged to contact one of the following:

U.S. Sen. John Cornyn/ 179 Russell Senate Office Building/ Washington DC 20510. Phone 202-224-2934.

U.S. Sen. Kay Bailey Hutchison/ 283 Senate Russell Building/ Washington DC 20510-4304. Phone 202-224-5922.

U.S. Rep. 23rd District, Henry Bonilla/ 1529 Longworth House Office Building/ Washington DC 20005. Phone 202-225-4511.

State Sen. District 19, Frank Madla/ P.O. Box 12068/ Austin TX 78711. 512-463-0119.

State Sen. District 28, (Northern Reeves County) Robert Duncan/ Austin TX 78711.

State Rep. 80th District, Gary L. Walker/ P.O. Box 2910/ Austin TX 78768-2910. Phone 512-463-0678.

<!==========end copy==================>
---
---
Pecos Enterprise
York M. "Smokey" Briggs, Publisher
Division of Buckner News Alliance, Inc.
324 S. Cedar St., Pecos, TX 79772
Phone 915-445-5475, FAX 915-445-4321
e-mail news@pecos.net
Associated Press text, photo, graphic, audio and/or video material shall not be published, broadcast, rewritten for broadcast or publication or redistributed directly or indirectly in any medium.
We support Newspapers in Education
Copyright 2003 by Pecos Enterprise
---