|
Daily Newspaper and Travel Guide
for Pecos Country of West Texas
Opinion
Tuesday, February 25, 2002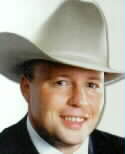 Sage
Views
By Smokey Briggs
<!=====paste copy here==========================>
For men and women
(but mostly men)
I have been a wage-challenged individual for most of my life. My lack of earning ability has been chalked up to many different reasons by a number of well-intentioned folks who were concerned with my lack of financial capabilities _ reasons that ranged from a serious lack of ambition to being somewhat mentally challenged to plain old bad luck.
Personally I had decided that my choice of careers had something to do with the matter _ rich and newspaper editor do not see each other in the same sentence very often.
Now, however, I know that these judgments were way off the mark. Now I know what it is that has held back my pecuniary-gathering ability all this time.
And, I suspect, She-who-must-be-obeyed (SWMBO) will never again cast that sideways mama-told-me-you-were-a-bum look in my direction as we take turns pitching bills at my upturned hat on the floor at the end of the month. (You lucky folks who got a check last month made it into the hat).
While reading Tumbleweed Smith's column last week, I discovered the answer. I discovered the difference between those breadwinners who bring home thin slices of rye and those who bring home whole loaves of fresh white bread with a little butter melted on top.
The answer is in a kiss.
Tumbleweed was verbally ruminating on the scientific data associated with the human custom of kissing. It was very interesting stuff. Tumbleweed discussed the history of kissing, the scientific basis for it, all kinds of stuff.
And then, I read the key _ the key to wealth.
I found out why I do not walk out my front door each morning to fetch the paper and toss a friendly wave to Mr. Rockefeller and Mrs. Gates.
It turns out that men who kiss their wives each morning before they go to work are more successful than those who do not.
This is a scientific fact. As a group they are on the top end of the earnings scale.
This stumped me for a bit.
You see I steal a smooch nearly every morning.
But, most mornings, it is not really a kiss with a capital K. It is a peck.
A non-verbal reminder of our love and affection. And hey, I'm not at the bottom end of the wage scale. So, this kissing in the morning thing must work.
But it occurs to me that if a little peck works a little, then a 1950s-end-of-the-movie kiss where the starlet's foot ends up off the ground might really provide me with the mental energy to start climbing the ladder to success two or three rungs at a time.
Do you see where I'm going here boys?
Do you follow the logic? Stay with me.
I figure making out for a 5-10 minutes every morning, with your wife, would probably put you in the six-figure bracket.
I can only imagine the good-bye rituals of multi-millionaires.
So boys, now we know.
Talent, hard work, skill, dedication _ all those things will only get you so far. Most of us are already there.
To make it to the next level, it's going to take something extra and now we know what that something extra is _ just a little cooperation from SWMBO.
I'll be explaining all this to SWMBO tonight. You guys out there don't be surprised if I start looking a lot more successful soon.
And remember, you owe me one.
EDITOR'S NOTE: Smokey Briggs is the editor and publisher of the Pecos Enterprise whose column appears on Tuesdays. He can be e-mailed at: smokey@pecos.net
Our View
Jury nullification can be a good thing
Jury nullification is how bad laws are taken off the books.

Laws are like plastic bags it seems _ once created the darn things stick around forever. Getting rid of a law takes an act of Congress usually, and Congress at any level is setup to pass laws, not get rid of them.

Ed Rosenthal's trial in Federal Court gave rise to a sad statement regarding jurors' view of their own power and role in the judicial system.

Rosenthal was being tried for growing marijuana. He was growing it for medical use, which is legal where he lives in California.

So, since he was not breaking any state laws the Federal government decided to prosecute him.

At his trial, the judge tried to keep the jury in the dark about his reasons for growing the stuff.

Interviews with the jury after the trial showed that it did not work _ they knew that what he was doing was legal in California.

But, they convicted him anyway.

"But we couldn't base our decision on that….(the fact that it was for medical use and was legal in the state) … We followed the letter of the law. We followed the court's instructions," the jury foreman said later.

That is a sad statement.

Juries are the leavening in the loaf of bread baked in the justice system. The law is the realm of judges and lawyers.

Justice is the realm of juries.

Laws are imperfect and rarely fit each individual case perfectly.

It is the job of juries to make sure that justice does not get thrown out with the bathwater of legality.

It is their job. It is their duty.

The Federal prosecution of marijuana growing in a state where it has been legalized is not just, no matter what you think of the marijuana issue.

The Constitution does not give the Feds the power to override the State in such matters One of the few protections from such illegal moves on the part of the federal government is jury nullification.

It is your legal system folks. It is your job to see that justice is done. Your best opportunity to do that is when you are sitting in the jury box.

<!==========end copy==================>
---
---
Pecos Enterprise
York M. "Smokey" Briggs, Publisher
Division of Buckner News Alliance, Inc.
324 S. Cedar St., Pecos, TX 79772
Phone 915-445-5475, FAX 915-445-4321
e-mail news@pecos.net
Associated Press text, photo, graphic, audio and/or video material shall not be published, broadcast, rewritten for broadcast or publication or redistributed directly or indirectly in any medium.
We support Newspapers in Education
Copyright 2003 by Pecos Enterprise
---