|
Daily Newspaper and Travel Guide
for Pecos Country of West Texas
Opinion
Tuesday, February 18, 2002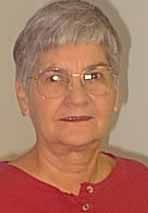 Squarely Pegged
By Peggy McCracken
<!=====paste copy here==========================>
Old timer reflects
on move to Pecos
Fifty years ago last week, at the tender age of 18, I moved to Pecos with my husband. Leon had found a job with Western Cottonoil Co., who owned about 24 gins in the Pecos Valley and crushed cottonseed to make cooking oil, meal and cake for livestock and other products.
Looking at the semi-weekly newspapers published Feb. 9 and 16, the first thing I noticed was a photo of the youthful Doc Rhodes, who was later to become the first person to fire me. (He wasn't the last.) Doc was cited in the article for leading a group who collected the most - $681.25 - for the Boy Scout fund.
Many of the names in the news that week later became news sources for me as I walked a beat for the Pecos Enterprise. But I am getting ahead of the story. Also in that Monday paper was a classified "help wanted" ad for a typist at Universal C.I.T. Corporation. Having always wanted to work in an office, I applied immediately. It took awhile for them to check my references and get my school records, but I finally was hired.
Some of the names in the news later became friends and acquaintances, among them Ruben Arivzu, Mike Allison, Delilah Mattox, Dick Woodruff, Orlando Gutierrez, Mrs. Duff Talley and J.E. Travland. J.E., who worked at the Post Office and later became postmaster, married Dorothy Ann Bertino. He also bought a new Ford car. I guess he needed the car for a honeymoon trip.
Don Weinacht at 15, showed the grand championship calf at the Southwestern Livestock Show in El Paso. Wendell Faulkner, president of the Rotary Club, appointed Charlie Manahan to head the nominating committee. Mrs. Wendell Faulkner took appointments for the PTA blood drive. Their "model home" was mentioned in a furniture ad.
Hagar Bros. advertised tomato sauce for 8 cents per can and ground beef for 49 cents lb. Dunlaps offered boys jeans for $2, cotton fabric 44 cents per yard, and ladies dresses for $10. Sullivan Motor Co. held a closeout sale on farm tractors and implements. The United was headquarters for Valentine clothing.
Emmett Beauchamp was mayor, and John Oglesby was water superintendent. The city council had hired an engineering firm to make a detailed study of the water and sewer system and make recommendations on present and future water needs. With the city's growing pains, countless new homes and businesses, the council had just drilled three new water wells which were top-notch producers.
Farming was booming that year _ that's what brought us to Pecos in the first place _ and braceros were brought in from Mexico to harvest the crop in the fall. J.B. Kirklin and Ralph Burkholder traveled to San Angelo for a meeting on the bracero program.
Mrs. Dudley Rogers was writing the Barstow news, and there was more of it than from Pecos. First Christian Church raised over $100,000 to build a new education building and parsonage. A committee was appointed to arrange for the annual rodeo on July 2-5. L.E. Fisher and O.L. Fleming received safety awards from Greyhound Bus Lines.
Garland Matthews made his move to Pecos from Corsicana with the new head coath, Boyd Payne. Matthews was the football line coach and track coach. T.L. Cruickshank transferred to Pecos as assistant chief district accountant for the Texas Highway Department. W.A. Fox was chief district accountant. I became his secretary shortly after Doc Rhodes fired me from Community Public Service. When I had some free time, I worked with Cruickshank and his crew in the accounting department, mostly coding time slips on payday.
Fifty years later, I am still working time slips on payday and typing letters for the boss to sign. I have made less progress than Pecos has.
"Do not boast about tomorrow, for you do not know what a day may bring forth." Proverbs 27:1, NIV
EDITOR'S NOTE: Peggy McCracken is Enterprise business manager and webmaster. Contact her at peg2@pecos.net
Your View
Wildcats supporter asks for the communities' help
To the Editor:

The students and parents of Wink are asking for your help and support in the issue of the firing of our beloved Coach Tank. Coach Tank is a great man who does not deserve what is going on. You can see this by the actions we as a community are taking. We have six to seven people who want him out and 300-plus who want him to stay here where he belongs.

It doesn't take a rocket scientist to even figure out the odds of that. The school board did not listen to our pleas to keep him here. Who does the school board work for? Whose interest are they supposed to look after? Well, it sure wasn't the students' or the parents'. As soon as we heard that Coach Tank was to be fired we started a petition (two pages have grown legs and walked off).

We also went to both school board meetings to get some answers. None were given.

They are calling my son, Jonathan Valencia, the ringleader…not true he is the spokesman because no one wants to listen to what the other kids have to say. Yes, Jonathan is getting some flak for this (dirty looks, snide remarks, etc.) but he as well as the other students are not letting it get to them. I think that someone needs to step in and come talk to the students without principals or teachers there to intimidate them. We then can see who the bad guys are. The football boys are talking of not even playing next year.

Does anyone see now how much Tank means to them. If he was just another teacher then I doubt any of this would have happened, but he's not, he is a wildcat and when you mess with a wildcat then we tend to fight back. And to the school board members and law enforcement that are trying to scare us…not going to happen!

We would like to thank Odessa American, KWES, KLBO, KMID and Winkler County News for coming out here to listen to what these kids had to say. And thank you all to all the supporters for letting our/their kids stand up for their rights as they will be out there in the world and become leaders.

We are asking for letters of any support for the students cause. They can be mailed to Brenda Ferrante, P.O. 475, Wink, Tx. 79789. Attention: I am a supporter. Whether we receive one or 1,000. We need them. We are asking other counties to send letters as maybe one day you may go through this…and we will be there to reach our hands across the counties to support you.

At the meeting Coach Tank told the school board that if you cut him open, he bleeds orange. Well, coach, so do we….so do we!! Sic `em cats.

BRENDA FERRANTE
Mom of three wildcats.

<!==========end copy==================>
---
---
Pecos Enterprise
York M. "Smokey" Briggs, Publisher
Division of Buckner News Alliance, Inc.
324 S. Cedar St., Pecos, TX 79772
Phone 915-445-5475, FAX 915-445-4321
e-mail news@pecos.net
Associated Press text, photo, graphic, audio and/or video material shall not be published, broadcast, rewritten for broadcast or publication or redistributed directly or indirectly in any medium.
We support Newspapers in Education
Copyright 2003 by Pecos Enterprise
---