|
Weekly Newspaper and Travel Guide
for Pecos Country of West Texas
Opinion
Friday, August 24, 2007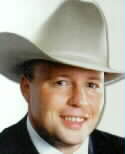 Sage Views
By Smokey Briggs
<!=====paste copy here==========================>
You miss things
with the windows up
You miss things flying down the Interstate at 70 mph, the windows rolled up and A/C blowing cold with the radio on and the kids plugged into DVD players and iPods and other electronic drugs designed to keep reality at bay. I firmly believe that Americans these days live a life too far divorced from actual life. Our food comes in plastic packages far from the gore of the slaughterhouse or the sweet smell of freshly turned earth.
Our thoughts come just as neatly packaged in electronic plastic, conveniently broadcast in pre-digested, bits that arrive over cables and satellites in between football games and game shows.
We take great pains to condition our environment so that we are never hungry, or cold, or hot, or even slightly uncomfortable.
Air conditioning, apparently, is necessary to human life.
Ours is a comfortable existence free of discomfort, free of mental exertion, free of perspiration Š and free of life.
I try to make sure that my path on this earth puts me and my family into a little closer contact with reality.
Or, maybe, IÕm just a sadist and like to torture my family.
She-who-must-be-obeyed, aka my lovely wife Laura, would probably affirm that I am simply twisted.
Either way, she loves me, or had a touch of sunstroke, and agreed that I could take the family on our annual family pilgrimage to the Texas coast in my nearly refurbished 1964 Land Rover.
The Rover is a classic British automobile Š but not quite of the same line as MGÕs and Jaguars.
While most four-wheel drive vehicles are on-road vehicles adapted for some off-road use, the Rover is an off-road vehicle adapted to some on-road use.
Fifty five is itÕs comfortable operating speed, and air conditioning is not part of the equation.
So, we loaded up Š SWMBO, Ruby, Carson Mae and Dixie, ages 9,6, and almost 2 Š and struck out.
We were traveling the two-lane towards Crane in the late afternoon, and brother, it was hot. My clothes were soaked and the air blasting through the window and super cool vents below the windshield would have put a blast furnace to shame (the Rover is right-hand drive so traveling south the driver enjoys the west-leaning sun).
The girls were holding up tolerably well. They are my girls, after all. Occasionally I would steal a glance at SWMBO in the passengerÕs seat. The look on her face made me worry. She was red-cheeked and her eyes were boring holes of fire in the windshield. My super-husband-sense, honed by 16 years of marriage, was tingling.
Perhaps, I had made a mistake.
Perhaps, I would suddenly find myself being attacked by a heat-crazed female whose hair was now red because it had actually caught fire as superheated wind was blasted through the window by passing diesel pickups.
Perhaps, this was SmokeyÕs last stand. I sucked at the ice in my ArbyÕs cup. Then I took a piece of ice and sat it atop my flat-top haircut.
It stayed and began to melt, trickling cool drops of water down my scalp to evaporate on my neck. That was nice. SWMBO began to twitch.
I was a dead man. The vision of 14 more hours just like the last one was forming in her very warm brain and my life was flashing before her eyes.
It was then that Divine intervention saved my life.
A true West Texas thunderstorm materialized like magic. The sun was blotted out by black clouds and a sudden gust of nearly frigid wind buffeted the truck. Sweaty skin turned prickly with goose flesh.
It was pure heaven. No man-made air conditioning ever felt so good.
Everyone in the truck sighed with relief. It was delicious.
I just smiled, knowing that I had been vindicated. If we had been sailing along at 70 mph with the windows rolled up and the A/C blasting we would have missed that wonderful little storm.
Another of GodÕs blessings would have been obscured by man-made convenience.
It would have been a few unmemorable rain drops on the windshield in between iPod tunes or something. We would have passed life by, unnoticed.
Instead, I feel sure, we will all remember that storm long into our lives. I will.
It probably saved mine. <!==========end copy==================>
---
Pecos Enterprise
York M. "Smokey" Briggs, Publisher
324 S. Cedar St., Pecos, TX 79772
Phone 432-445-5475, FAX 432-445-4321
e-mail news@pecos.net
Associated Press text, photo, graphic, audio and/or video material shall not be published, broadcast, rewritten for broadcast or publication or redistributed directly or indirectly in any medium.
Copyright 2003-04 by Pecos Enterprise
---