|
Weekly Newspaper and Travel Guide
for Pecos Country of West Texas
Opinion
Friday, August 17, 2007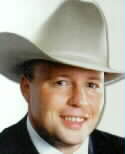 Sage Views
By Smokey Briggs
<!=====paste copy here==========================>
Monkey see,
monkey do
Dixie Jo, our youngest, is closing in on her second birthday.
Her vocabulary is pretty fair. She is using some sentence like things, and her sense of drama is well developed.
Girls seem to be born with that talent.
Regular phrases these days include:
"Daddy come," accompanied by stomping of her feet and great emphasis on "come."
"Be 'ieght 'ack," which means "I'll be right back, you stay here, I have a plan, and I need a straight man to take the fall."
"No 'ank you," which she will answer when Daddy says, "Ready to take a nap?"
"No,no,no,no……"
"Bad, bad, bad, bad…."
And, music to her Dad's ears, "G'night."
At this point, if you want to teach Dixie a new word, just get her attention and say it.
As a matter of fact, if you want her to say, or do, practically anything, all you have to do is go first. Little Ms. Monkey See Monkey Do will be right behind you for better or worse.
Especially, I have discovered, if I say or do something I would prefer she did not mimic perfectly. Such as the word that pops out of Dad's mouth when he clobbers his thumb with a hammer.
Saying that word, apparently, ranks as high on the fun meter as playing with the greatest toy ever invented.
Probably the fun comes from the great reaction it gets from Mom and older sisters, and probably Dad too, as he tries to get you to say something, anything, else.
For now, I have a shadow. A walking, talking shadow. If I crawl under my truck, Dixie crawls under the truck. If I pick up a wrench, she picks up a wrench. If I spit, she spits – five or six times, usually in front of mom in the grocery store – Dixie has great timing. Her sisters were the exact same way.
And, when you get down to it, nothing really changes as the little rascals grow. Children watch and mimic their parents, for better or worse – only the level of imitation becomes more sophisticated.
My girls mimic mom and dad and the other people they are around.
I think it is pure instinct. Whatever the reason, I've seen the results. They try on responses to situations like teenage girls try on clothes.
When Carson and Ruby entered school our world changed for a while as the girls brought home new, and generally unacceptable, responses to life.
And so, I try to measure my words and actions very carefully. If I would not want my girls doing it, I don't do it, and I try to make sure I do not even imply that such behavior is okay.
I don't listen to most popular music for that reason – from rock to rap. Well, okay, I don't listen to rap because that simply is not music – just noise. I would rather listen to tapes of car crashes.
But, if I did like it, I would not listen to it, because of the culture that seems to go hand-in-hand with the music.
A lot of rock and pop music is the same way, and no small amount of what is dubbed "country."
Kids are not stupid. By listening to the music, there is an implied acceptance of the culture that goes with the stuff. And the culture of most musicians is unacceptable as far as I am concerned.
Television is the same way. There are shows on prime time that we can technically watch – the actors do not curse every third word while removing their clothes.
But, the culture illustrated is nothing I want my girls imitating. It might be funny from an adult perspective, but generally the lifestyles and culture within are recipes for personal disaster.
And, if mom and dad are watching and laughing, I think there is an implied approval of the content. So, the television stays off a lot.
I try to make sure my monkeys see and hear things I do not mind them imitating.
Now, if I can just stop whacking my thumb with the hammer… <!==========end copy==================>
---
Pecos Enterprise
York M. "Smokey" Briggs, Publisher
324 S. Cedar St., Pecos, TX 79772
Phone 432-445-5475, FAX 432-445-4321
e-mail news@pecos.net
Associated Press text, photo, graphic, audio and/or video material shall not be published, broadcast, rewritten for broadcast or publication or redistributed directly or indirectly in any medium.
Copyright 2003-04 by Pecos Enterprise
---