|
Weekly Newspaper and Travel Guide
for Pecos Country of West Texas
Opinion
Tuesday, August 7, 2007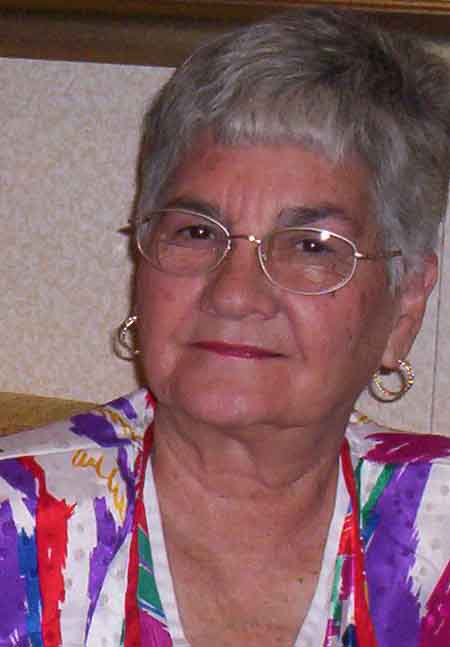 Squarely Pegged
By Peggy McCracken
<!=====paste copy here==========================>
Life well lived
bears much fruit
Gilda Vejil made the most of her time on earth after being diagnosed with cancer 1.5 years ago. In death, she accomplished much of her goal by orchestrating her own funeral.
With the help of her cousin, Chris Sonnen, and other relatives and friends, Gilda fashioned a two-hour celebration of praise and worship that focused on her savior, Jesus Christ.
My former pastor, James Sain, led Gilda to know Jesus in 1990, using the familiar scripture in John 3:16: For God so loved the world that he gave his only son, that whosoever believes in Him shall not perish, but have everlasting life.
At her request, Bro. Sain used that scripture as the basis for a sermon that painted a picture of Heaven, of Gilda's presence there, and her longing for her family and friends to join her there. At the invitation to receive Christ into their hearts, about 20 people held up their hands and prayed the sinner's prayer.
From the processional to the recessional, both, played by Thomas Martinez on the violin, a standing-room-only crowd felt God's presence and power to change lives and to empower His children to live victoriously in the face of troubles and trials.
Gilda touched hundreds of lives, and left a legacy of love for her children and grandchildren. First Baptist Church has benefited from her enthusiasm and industry as she cooked, decorated and witnessed to members and strangers alike.
This is the second time I have been touched by a celebration of life, planned by the deceased while dying an inch at a time from cancer. Frances Heath also planned her homegoing to lift hearts and spirits.
"You give glory to my Father when you produce a lot of fruit and therefore show that you are my disciples." John 15:9, Truth for Youth
EDITOR' NOTE: Peggy McCracken is Enterprise business manager. Contact her at HYPERLINK "mailto:peg2@pecos.net" peg2@pecos.net <!==========end copy==================>
---
Pecos Enterprise
York M. "Smokey" Briggs, Publisher
324 S. Cedar St., Pecos, TX 79772
Phone 432-445-5475, FAX 432-445-4321
e-mail news@pecos.net
Associated Press text, photo, graphic, audio and/or video material shall not be published, broadcast, rewritten for broadcast or publication or redistributed directly or indirectly in any medium.
Copyright 2003-04 by Pecos Enterprise
---