|
Weekly Newspaper and Travel Guide
for Pecos Country of West Texas
Opinion
Friday, March 30, 2007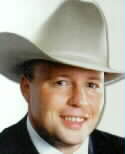 Sage Views
By Smokey Briggs
<!=====paste copy here==========================>
Let's pull out
I have had some interesting conversations lately regarding this country's foreign policy, and specifically regarding our war on terror, which really just means our war with Islam.
I love the internet and email. With email and blogs and such there is a world of people to talk to, and it is one of the few things I have a talent for - talking that is.
Anyway, that I think the current wars in Iraq and Afghanistan are foolhardy is no big secret.
Some folks agree, some do not.
However, some of the ones who do not get pretty vicious in their responses to me.
Apparently, I am a moral and physical coward, and stupid to boot, because either I fail to see that Islam is the anti-christ come to earth, or, I can see it, but I am too much of a coward to face it head on.
The funny part to me, is that so many of the most vicious letters, and the most ardent supporters of this war, never bothered to don a uniform, and certainly are not beating a path to the recruiter's office.
And, it is not like the Army and Marines do not need more troops - the Marine Corps activated 1,500 Inactive Ready Reserves a few days ago. These guys are the last on the list before they have to either draft, or start involuntarily re-enlisting former Marines and soldiers who completed their enlistments and got out.
This war, apparently, while the most important war we have ever fought, is not so important that we should have to inconvenience ourselves too much. Apparrently, a yellow ribbon on your car and firm support for politicians committed to keeping us in this fight is enough.
I bet the Romans wished their most important battles could have been so easily waged.
Anyway, it seems a bit hypocritical to me that many of this war's supporters are not so hot to trot that they are willing to enlist in the Marines and "kill a raghead for dad."
Personally, I think that if we were to pull out of the Middle East and leave these so-called extremists alone, they would leave us alone.
And by pull out, I mean pull out with a capital P. No more meddling in Middle Eastern affairs. No more setting up puppet governments. No more nothing. If Exxon and Haliburton have interests over there, let them put together a private army and do what they think is necessary.
If we did completely pull out, what reason would our Islamic enemies have not to leave us alone?
Yeah, some of them may always hate us on moral or religious grounds, but most folks are not willing to blow themselves up over such. No, you really have to tick-off most of us humans before we decide that killing ten of the enemy is worth touching off ten pounds of plastic explosives tied around our chest.
This is when I am called an idiot, because I do not see that by pulling out, it will only invite more evil Islamic acts and then they will be here, and not way over there.
"Fight them there, or fight them here," I am told.
Okay, so maybe I am wrong.
Let's find out.
What harm could it do? It is not like we are facing a sophisticated enemy. The Odessa Yacht Club could route the Iraqi Navy and the Mississippi National Guard has more firepower.
So, pull out, and let's see what happens.
If they leave us alone, so much the better. We can stop tossing young men's bodies into the river of war, and get back to productive pursuits.
If, on the other hand, I am wrong, and the Islamic hordes start sailing across the sea heading for our coasts - nuke them and call it good.
I mean, really, these people couldn't defeat the Greeks 2000+ years ago when they had them outnumbered ten-to-one. If they really managed to put an army together and threaten our borders, call up the Mississippi National Guard and both flatbed wagons. It will be a short fight.
Then I'll admit I was wrong, and we can all get back to doing something productive.
<!==========end copy==================>
---
Pecos Enterprise
York M. "Smokey" Briggs, Publisher
324 S. Cedar St., Pecos, TX 79772
Phone 432-445-5475, FAX 432-445-4321
e-mail news@pecos.net
Associated Press text, photo, graphic, audio and/or video material shall not be published, broadcast, rewritten for broadcast or publication or redistributed directly or indirectly in any medium.
Copyright 2003-04 by Pecos Enterprise
---