|
Weekly Newspaper and Travel Guide
for Pecos Country of West Texas
Opinion
Friday, February 9, 2007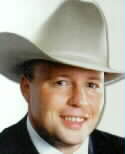 Sage Views
By Smokey Briggs
<!=====paste copy here==========================>
Ocean front
property in Texafornia
The headline really did not shock me. It read, "Governor orders HPV vaccine for 6th Graders," or something pretty close to that.
I already knew that HPV stood for Human Papilloma Virus and that the virus is now considered a cause of cervical cancer.
And it did not surprise me that the governor of some nearly communist state like California had taken it upon himself to tell all his serfs that they had to get their kids another vaccine.
Still, I read the first few paragraphs of the article.
It was only then that I realized that when the writer wrote, "the Governor," the writer meant the Governor of Texas.
Old Mr. I-Blow-Dry-My-Hair-So-Much-I'm-Nearly-A-Girl-Perry.
I wanted to cry.
I expect these kind of kingly decrees from legislatures and governors of third world flyfarms and Yankee states.
But it still makes me flinch when the decree comes from Austin and not Sacramento or Moscow.
Texas is the land of strong men and women who live free. Men and women who have no use for handouts and government silliness. Men and women who own a rifle and know how to use it when polecats come sniffing around - both the four-legged and the two-legged varieties.
Well, it used to be.
And I still think of it that way.
But, this kind of government meddling in private lives should not surprise me. Not even in Texas.
Not now. Not after four decades of watching our governments, from cities to the feds, become less and less governments of the people, and more and more governors of the people.
Every year it seems, from city councils to the Whitehouse, whoever gets elected seems to feel a little more at ease simply telling us peons what to do - with not even lip service to silly old Constitutions, city charters, property rights, or even common sense.
After I read the article, my first thought was, "Just who in the hell does this shampoo salesman think he is?"
My second thought was, "I wonder who's getting paid off on this one?"
Because it always comes down to the money.
In war and politics there is one sure bet - it's all about the money.
It did not take too long for the Associated Press and a few other outfits to dig up a few connections to Governor Hairdo and Merck - the outfit that makes the vaccination Gov. Hairdo is trying to force a couple million people to buy.
Lucky for us Hairdo is not a Democrat - generally, national media outfits do not bother writing about Democratic hands stuffed into the cookie jar.
And, none of this should be surprising to any of us. This is what you get when you give people to the power to tax.
This is what government is all about. If you read your history books this kind of thing went on from the very beginning of this nation.
Government is simply one big scheme for redistributing your money. People give politicians money in exchange for the promise of the politician using the power of the state to send money back their way - with plenty of interest.
Once elected, politicians collect your money in the form of taxes, at gunpoint no less, and then hand them out.
At first, it appeared that the big tie between Gov. Hairdo and Merck was a $6,000 contribution by Merck.
Now that got my attention. These days, $6,000 bucks is not that much money - not to buy the Governor.
If that was all it cost I was going to start saving my pennies. I figured if Perry would force a couple million Texans to buy a vaccine for $6,000 then a pardon could not cost much more than that.
Knowing I had a pardon in my pocket, there are a couple of people on this list I've been keeping my whole life that I would like to visit.
Alas, it turns out that he has a buddy who is a Merck lobbyist, and who knows who else is making a buck along the way - even Mr. Hairdo.
Don't belive me? Think I am becoming a curmudgeon?
That's fine.
But, do me a favor.
Give me a call. I've got some beach front property in West Texas that you need to own, and next week I'm having a sale. <!==========end copy==================>
---
Pecos Enterprise
York M. "Smokey" Briggs, Publisher
324 S. Cedar St., Pecos, TX 79772
Phone 432-445-5475, FAX 432-445-4321
e-mail news@pecos.net
Associated Press text, photo, graphic, audio and/or video material shall not be published, broadcast, rewritten for broadcast or publication or redistributed directly or indirectly in any medium.
Copyright 2003-04 by Pecos Enterprise
---