|
Weekly Newspaper and Travel Guide
for Pecos Country of West Texas
Opinion
Friday, September 28, 2007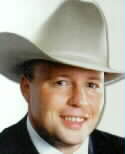 Sage Views
By Smokey Briggs
<!=====paste copy here==========================>
Carjackers beware; Texans can
legally carry pistols in their cars
DonÕt you just love democracy? You simply cannot beat a system that allows 51 percent of the people to rule over the remaining 49 percent with almost no limits to their rule.
Better yet, every morning we wake up with a new 51 percent majority. Now, there is a recipe for consistency.
It is shame that there is not some person or device that could act as a referee so that no matter what stupid idea todayÕs 51 percent hatched last night, some things simply would not be allowed.
Wait; maybe there is a word for it. ItÕs right on the tip of my curmudgenous tongue.
ThatÕs it.
ItÕs called a Constitution.
Wish we had one.
No, I wish we were smart enough to pay attention to it. If we did, 90 percent of the junk politicians wag their forked tongues about would not matter.
On August 31 of this year, carrying a handgun in your motor vehicle could easily get you arrested for unlawful carry of a handgun.
The next day not so much, since our legislature managed to change Section 46.02 of the Penal Code.
Before Sept 1st, if you were a regular citizen and did not hold a license issued by the state to carry a concealed handgun, there were only a few defenses available to you if the federales caught you carrying a pistol in your car.
Even then, the cops were under no obligation to listen to your reason Š they could simply arrest you and let the courts sort it out Š something that happened on a regular basis statewide.
If you were arrested, you can bet that even if you proved your innocence, it would cost you at least $5,000 and sometimes upwards of $20,000 depended on the prosecuting attorney and such.
Not any more.
At least until a new 51 percent of the people takes hold of the reins of power, Texans can carry a pistol in their car Š period. By my reading of the law the pistol must be concealed, and you can carry it on your way to the car, in the car, and from the car into your destination. Whether or not you can carry the pistol legally once you get out of your car and onto someoneÕs private property is between you and the property owner.
But, for all practical purposes, that .45 under the seat is now legal, any time, any place.
Carjackers beware.
It is no secret that I am in favor of such laws. My only complaint is that 51 percent of my neighbors still think they have the right to limit their neighborsÕ means of self-defense in any fashion what-so-ever.
How they can conclude that limiting a 105-pound college girl to mace and a whistle in the face of a 200-lb rapist/murderer is somehow in the best interest of society, baffles me.
My only guess is that these are the same folks that figure the coed asked for it by fixing her hair and wearing makeup. If we had a Constitution, I bet it might have a section in it that applied to the right to bear arms and defend yourself and your loved ones against the human scum that too often rear their ugly heads.
Until we get one, IÕll just keep hoping that 51 percent of my neighbors keep getting smarter. TexasÕs new handgun law is a small step in the right direction.
EDITOR'S NOTE: Smokey Briggs is the editor and publisher of the Pecos Enterprise. He can be emailed at: smokey@pecos.net <!==========end copy==================>
---
Pecos Enterprise
York M. "Smokey" Briggs, Publisher
324 S. Cedar St., Pecos, TX 79772
Phone 432-445-5475, FAX 432-445-4321
e-mail news@pecos.net
Associated Press text, photo, graphic, audio and/or video material shall not be published, broadcast, rewritten for broadcast or publication or redistributed directly or indirectly in any medium.
Copyright 2003-04 by Pecos Enterprise
---