|
Weekly Newspaper and Travel Guide
for Pecos Country of West Texas
Opinion
Friday, December 21, 2007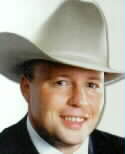 Sage Views
By Smokey Briggs
<!=====paste copy here==========================>
The perfect
Christmas gift
I have three daughters whom I cherish more than life itself, and I share them with a wife whom I have loved since the day I met her.
Christmas is next week and it is always my desire to give them something that they will truly enjoy as a gift.
Those of you who are parents and spouses will understand that doing so is not always easy.
Even if money grew on a tree in the backyard it would not be easy, and apparently those trees only grow in Washington, D.C.
Anyway, the greatest gifts are not always expensive.
I really love Christmas. I love the season. I love what Christmas represents.
I love it as a Christian celebrating the birth of both my spiritual savior, and of a mortal man I admire for his willingness to lead a revolt against the corrupt state of his era, and the courage with which he did so.
And I love Christmas as a raw animal of this world celebrating the beginning of longer days and shorter nights – of the beginning of the rebirth of the world from winter into spring.
I love the traditions, the food, the celebrations, the excuse to take time with family, the food, and the good will of my fellow man; did I mention the food? I wake up nearly every day of my life happy (very much a blessing). And during the Christmas season, I wake up even happier.
I love Christmas.
And so, I want to give my girls something special each year.
This year I had a hard time coming up with that special something, and as I thought about it, I reached back into my memories of Christmas' past for inspiration.
Again, I am a lucky man, and most of my Christmas memories are wonderful.
I was five years old the year I received the best brace of cap guns and holsters ever, along with a genuine lariat rope.
That was a fine Christmas. I can still feel the butt of those pistols in my hands and feel the suppleness of the leather holsters. There were plenty of caps too.
I was 10 or maybe 11 the year there was a .410 shotgun under the tree. It was my first "adult" firearm – a Winchester single-shot youth model.
I still own it, and it has probably killed more small game than anything else in the gun cabinet.
Honestly though, when I think about it, those were not the best gifts that I received those years.
When I think about those cap pistols, what I think about is the afternoon-long game of Cowboys and Indians that I played with my Papa – him blasting away with the second cap gun as though he could see the marauding Comanches as well as I could.
And, when I think about the Winchester .410, what I really think about is walking with my Pa down to the creek on a cold North Texas Christmas day, a handful of shells bulging in my pocket.
When I think about it, the material gifts were very nice, but the real gift I received that day was the gift of time – someone else's time.
Looking back, it was the gift that he always made sure was under our tree, year round.
When you get down to it, a gift of your time is probably the most profound expression of love that exists.
This year, I think I have found something for each of my girls that will tickle their fancy.
And, I am going to try to make sure that some of my time is wrapped up with it.
A more perfect Christmas present I cannot think of.
Merry Christmas, everyone. <!==========end copy==================>
---
Pecos Enterprise
York M. "Smokey" Briggs, Publisher
324 S. Cedar St., Pecos, TX 79772
Phone 432-445-5475, FAX 432-445-4321
e-mail news@pecos.net
Associated Press text, photo, graphic, audio and/or video material shall not be published, broadcast, rewritten for broadcast or publication or redistributed directly or indirectly in any medium.
Copyright 2003-04 by Pecos Enterprise
---