|
Weekly Newspaper and Travel Guide
for Pecos Country of West Texas
Opinion
Tuesday, October 9, 2007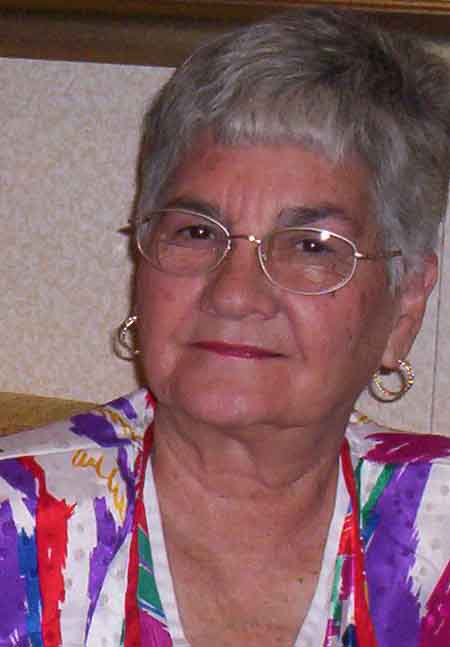 Squarely Pegged
By Peggy McCracken
<!=====paste copy here==========================>
New faces and crafts
light up fair booths
Karen White has gone to the dogs!
Not only that, I called her a liar Friday night when she told me she made the jewelry and artwork she was selling at the fair to support stray dogs and cats.
I had to back down when she explained how she buys gemstones over the Internet and strings them together to make beautiful necklaces, earrings bracelets and anklets. She had me feel the cool stones to demonstrate their authenticity. (Real gemstones are cool to the touch, she convinced me, and I bought a strand of yellow jade.)
Again using the Internet, Karen downloads copies of famous artwork and treats it to make it look like paintings on canvas. Then she buys expensive frames at half price to make them really stand out.
She also had wreaths, mistletoads, (Don, yes I meant mistletoads. Change it and you are dead!!!) decorated flip flops and Charlie's famous peanut brittle. She gave me my first toe ring.
All proceeds from her sales go to Ruth Luster's home for abused and abandoned animals.
Sherry Marshall manned the booth next door and kept Karen entertained when business was slow. Sherry, our former ceramics dealer, has moved her operations to Midland and teaches art classes.
She had the usual ceramics, plus light bulbs she paints for ornaments, wooden flower picks, garage-sale silverware made into wind chimes, and "senior citizen" wind chimes made of prescription bottles filled with fake pills.
Using a pasta maker, Sherry cuts plain white paper into tiny strips, called quills. She displayed one that had tiny curls fashioned into the shape of a cross and framed for an unusual art piece. She also uses a scroll saw to make intricate wooden frames for clocks.
Bill helps her, and I know they enjoy imagining up new things to try.
I saw a lot of familiar faces at the fair, and quite a few I did not know. Robin Land manned the Nutland of Pecos booth, selling pistachio nuts she and her father grow and harvest each fall.
Becky Gonzales was peddling lemonade and popcorn. Brittany's Brain Freeze offered icees in all flavors. Cindy Shores had her usual display of professional photos. Photographers new to me are John Barrett, whose frolicking colt caught my eye, Rachel Barrett, Bill Cooksey, Vivian Lindsey and Clay Taylor (fox in a tree).
I played the museum's annual trivia game, and I'm pretty sure I correctly identified most of the antique appliances pictured.
Quilts galore, artwork by school kids, paintings by big kids, food and textiles filled the front room of the civic center. I bought a $12 pecan pie made by David Teal. Way to go, David. It is good!
Kenneth and Carolyn Winkles were eating hamburgers while I visited their church booth, and I just had to have one of the Lions' creations. Delicious. For dessert, Pecos Kindergarten offered all kinds of homemade goodies for 50 cents each. I had a brownie.
Cindy Shores told me the Crimestoppers booth was robbed. Can you imagine? Somebody call Crimestoppers to nail those thieves.
Linda Gholson and Cecil Lee were signing up livestock exhibitors Friday night, but that show was over by the time I returned Saturday. I also missed the pet show, but met some cute dogs as they were leaving.
Ditto for the barbecue cookoff. I have no idea what went on there. Didn't even smell meat cooking.
It was a good show, and always good to visit with folks from around town and around the area.
Karen White forgave me for calling her a liar, because I had known her only as district clerk for the federal court, and she exhibited no "craftiness." When she opens her jewelry/art store in Pecos, I will be the first in line.
"God blesses those who are kind to the poor." Psalm 41:1
EDITOR'S NOTE: Peggy McCracken is Enterprise business manager. Contact her at HYPERLINK "mailto:peg2@pecos.net" peg2@pecos.net <!==========end copy==================>
---
Pecos Enterprise
York M. "Smokey" Briggs, Publisher
324 S. Cedar St., Pecos, TX 79772
Phone 432-445-5475, FAX 432-445-4321
e-mail news@pecos.net
Associated Press text, photo, graphic, audio and/or video material shall not be published, broadcast, rewritten for broadcast or publication or redistributed directly or indirectly in any medium.
Copyright 2003-04 by Pecos Enterprise
---