|
Weekly Newspaper and Travel Guide
for Pecos Country of West Texas
Opinion
Friday, June 22, 2007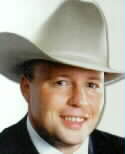 Sage Views
By Smokey Briggs
<!=====paste copy here==========================>
Cell phone
etiquette….
Most of us are now afflicted with cell phones, or at least people who insist on using the contraptions.
Even I have succumbed and voluntarily leashed myself to the world.
Well, mostly. I turn my leash off when I want to, and I do not answer it when I am busy with something else, so maybe I have not totally succumbed.
Much of the world, however, has become part of the cell phone nation. The poor people look like cyborgs of science-fiction fame with electronic devices implanted or bolted to their bodies, replacing and enhancing their God-given parts.
The other day I listened to a girl have four or five conversations as she wandered through the store. She never touched a phone with her hand. There was something stuck in her ear that I saw just before I concluded she was a loon talking to her imaginary friend Bonzo as she walked through the cereal isle.
If she physically hung up at the end of a call, I did not see it. She would say a name, and then a few moments later start yapping. Then she would say another name and start yapping again.
You could not help but listen in - she was talking as though she were alone in the kitchen.
And, her conversations were similar to most of my own cell phone conversations.
They were filled with: "What?" "I can't hear you." "What?" and then a smattering of half-started sentences that she would stop in the middle of and say, "What?" again.
Which is why I really hate cell phones. It's not the device. They are cool and handy.
It's the lack of etiquette possessed by the users of these miniature walkie-talkies.
And that is what they are folks. Cell phones are not phones. They are radios. And if you are going to use one, you need to learn radio etiquette. Better yet, join the Army and at least get the basic "How to talk on a radio" education all recruits get.
Radios and cell phones only work one way. When two people talk at the same time on a radio frequency, neither side can hear the other.
It's called "walking on" each other.
Telephones, the real ones that transmit through cables and such, do not have this problem. You can speak at the same time, hear each other, and keep a conversation going much like you would if you were sitting in the same room.
If you have used a cell phone, you know they do not work like that.
One guy speaks, you start to speak, and then he starts speaking again.
The result is communication reminiscent of a sausage mill - if your signal actually got through. First you have to ask, "Can you hear me?" "You there?" "Can you hear me know?"
Then you both start talking again.
No thanks.
Radio operators know that you have to communicate to the other party when you are finished speaking. "Over" is the usual term meaning, "I'm done talking, now you talk."
I suggest this become a mandatory part of good cell phone etiquette.
As a matter of fact, from now on, if you call me, here is how the conversation will go:
Ring.
"This is Smokey, over."
"Smokey, this is your wife, over."
"Hello dear, I read you lima by charlie (aka loud and clear), what can I do for you?"
"Smokey, pick up some milk on your way home, over."
"Okay, one gallon of milk on my way home? Over."
"Affirmative, one gallon of milk. The kids are doing great. Dixie is taking a nap. I sure am lucky to be married to a wonderful stud horse of a man like you, over."
"Yes, you are dear. Smokey out."
Now, that is a cell phone conversation as it should be - not to mention the proper appreciation a wife should show of her husband on a regular basis.
If I get a call and all I hear is the usual, "Hey Smokey, you are a terrible columnist," and no, "over" at the end, I'm just going to assume the call was interrupted, because anyone who seriously wanted to communicate on a cell phone / radio would know to say, "over" when they were ready for me to speak.
Smokey. Out. <!==========end copy==================>
---
Pecos Enterprise
York M. "Smokey" Briggs, Publisher
324 S. Cedar St., Pecos, TX 79772
Phone 432-445-5475, FAX 432-445-4321
e-mail news@pecos.net
Associated Press text, photo, graphic, audio and/or video material shall not be published, broadcast, rewritten for broadcast or publication or redistributed directly or indirectly in any medium.
Copyright 2003-04 by Pecos Enterprise
---