|
Weekly Newspaper and Travel Guide
for Pecos Country of West Texas
Opinion
Friday, June 15, 2007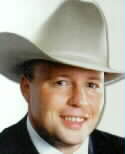 Sage Views
By Smokey Briggs
<!=====paste copy here==========================>
I use
the gate
A Saturday or two back, I was outside and found myself needing something on the other side of our fence.
One of the first things we did when we bought our house in suburban Barstow was drive t-posts and string hog wire with a top strand of barbed wire on top.
The purpose of the fence was to keep the kids out of the street, our dogs in, and the neighboring dog packs out.
And, after She Who Must Be Obeyed fixed it, it was a fine fence.
I will admit here that SWMBO is a better fence builder than I am - at least when it comes to barbed wire. That woman can stretch a strand of wire so tight you can play a tune on it.
Anyway, I found myself inside the fence, and needful of something outside the fence. My first inclination was to hop the fence. Like a mule, I have always considered fences suggestions at best, and downright dares at worst.
SWMBO does not take kindly to rednecks hopping over her fences and pushing the wire down in the process, but, I figure I'm at the top of the food chain and do not worry to much about hopping the fence when the gate is a long ways away, as it was on that Saturday.
I had my hands on the top wire and was about to jump when I saw our dog Cooter looking at me. Something in the way he was looking at me forced me to stop and take my hand off the fence.
Now, to be honest, this all started awhile back.
We had a bumper crop of roosters last year and this winter a bunch of these morning crooners came of age. We were out in the chicken pen one afternoon when an unwary hen walked out of the chicken house and into the loving wings of five young roosters.
The young roosters commenced to doing what roosters were made for and I have to admit even I felt a bit sorry for the hen. Her feathers were somewhat ruffled even after SWMBO came to her rescue and sent roosters flying in all directions.
"That's enough of that," she said with an air of disgust.
The next Saturday six roosters met the maker, and went to their new home in the freezer.
Sometime this winter our other dog, Pepper, became a fence jumper. I probably should of put him down before he taught Cooter to jump, but I didn't.
One Saturday, Pepper jumped the fence while SWMBO was watching.
"Pepper, come!" she said in her loudest mama voice.
He just tossed a look over his shoulder and kept going.
To say that SWMBO was not pleased would be an understatement. I've seen that look before and I just slunk off toward my shop.
A few days later I came home from work and Pepper did not look very perky.
"What's wrong with Pepper?" I asked.
"He kept jumping the fence so I took him to the vet and had him fixed," SWMBO said matter of factly.
"Oh."
Well, the past few months Cooter started doing the same thing, and finally he did it on the wrong day.
Two days later I came home and Cooter had a downright sad look on his face and sure enough, his days of chasing the neighborhood girls are over.
So, there I was, one hand on the top strand of wire, with Cooter staring at me with that odd look.
Then I took my hand off the w
ire and started walking toward the gate. "A short walk will do me good," I thought to myself. I don't know why I had broken out in a cold sweat. Maybe I had a touch of the flu. <!==========end copy==================>
---
Pecos Enterprise
York M. "Smokey" Briggs, Publisher
324 S. Cedar St., Pecos, TX 79772
Phone 432-445-5475, FAX 432-445-4321
e-mail news@pecos.net
Associated Press text, photo, graphic, audio and/or video material shall not be published, broadcast, rewritten for broadcast or publication or redistributed directly or indirectly in any medium.
Copyright 2003-04 by Pecos Enterprise
---