|
Weekly Newspaper and Travel Guide
for Pecos Country of West Texas
Opinion
Tuesday, June 5, 2007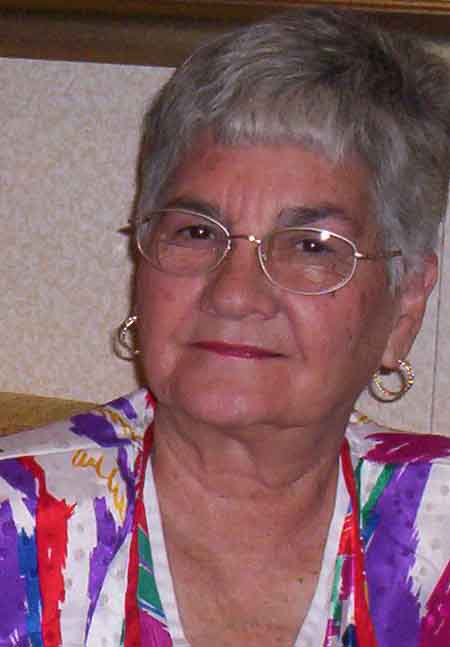 Squarely Pegged
By Peggy McCracken
<!=====paste copy here==========================>
War or peace clan
gathers in peace
Gunnison warred with nearby clans in Scotland until they ganged up on him and herded his family onto a small strip of land along a cliff. They had to tether their children to keep them from falling to their deaths.
Not long after, most of the clan, whose motto was "War or Peace," immigrated to Ireland, and they must have found a way to earn money, because some of them came to the United States with money in their jeans and bought land in Virginia.
Losing everything to Union soldiers in the Civil War, the family now known as Gunn headed west, where my grandpa Licurgas Aurelious Gunn homesteaded 160 acres just below the caprock in Motley county.
Seventy-one descendants of his son, Robert Houston, are named on T-shirts handed out in Austin Memorial Day weekend. If I counted right, 23 descendants and several of their spouses and friends made the reunion.
We don't gather often. The first reunion was 10 years ago, and this was the second.
Walter took home the trophy for most family members present, with 16 plus spouses. "I have all mine here," he bragged.
Mary came in second with 11 of her 15 present. Youngest daughter Sally and kids Bailey and Kannon were in Alabama watching her husband's Angelo State University baseball team play for the national college tournament title. They won one out of three games before being eliminated. Not bad for a 3-year-old program. Congratuations to Kevin Brooks on a great year.
Five of my brood were there, plus David's wife, Helen. Amanda and Cieara flew with me from Midland. It was 5-year-old Cieara's first flight, and she grabbed a window seat to watch everything shrink to Barbie size, as she put it.
Gail's family was scattered from Alaska (launching a rocket) to California, Sandia Mountains and Lubbock. Joe, her firstborn, had just become a grandpa, and I guess they all stayed at home to play with the baby. She was too late to get her name on the T-shirt, which would have put 15 leaves on Gail's branch.
Jerry, mama's baby, had flown in from England to visit daughters in Rhode Island and Montana. Adding another thousand or so miles to the trip didn't seem like a good idea, so none of his branch showed up.
I have such a great bunch of nieces and nephews that it is a pleasure to be around them. Walter's oldest, Larry, took us on a boat ride around Lake Travis. He lifted me onto the boat, and when it was time to dismount, I hurled my 165 pounds into his arms. Whoa, he wasn't expecting that, and we almost wound up in the drink.
Mary's middle girl, Nancy Walling, hosted the gathering at her boat club, and she did a marvelous job. Food galore, with burgers, dogs and wraps grilled to perfection by her housemate, Barb Kowal. You met the two of them after our Alaska cruise last summer.
In a little side jaunt, David's family, Mary and I visited Leon's sister, Mary Polk, at her home in Cedar Park and took her out to lunch. She is always good for a discussion of the political situation. The two Marys agree (they like Clinton), while the rest of us kind of keep our mouths shut.
Back at home, I visited Leon's grave on Memorial Day to plant a flag and silently thank him and others for their service in wartime that makes a peaceful gathering possible.
"…In the end he will look in triumph on his foes." Psalm 112:8b, NIV
EDITOR'S NOTE: Peggy McCracken is Enterprise business manager. Contact her at peg2@pecos.net <!==========end copy==================>
---



Pecos Enterprise
York M. "Smokey" Briggs, Publisher
324 S. Cedar St., Pecos, TX 79772
Phone 432-445-5475, FAX 432-445-4321
e-mail news@pecos.net

Associated Press text, photo, graphic, audio and/or video material shall not be published, broadcast, rewritten for broadcast or publication or redistributed directly or indirectly in any medium.
Copyright 2003-04 by Pecos Enterprise
---