|
Weekly Newspaper and Travel Guide
for Pecos Country of West Texas
Opinion
Friday, June 1, 2007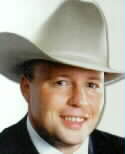 Sage Views
By Smokey Briggs
<!=====paste copy here==========================>
A headstone for a vet against the
rules? Some people are just jerks.
This column was supposed to be ready before Memorial Day. Alas, it was not to be.
But, while having a specific day set aside to honor those who have died in the name of their countrymen is nice, remembering these men is something that we should do more than once a year.
Honoring their memory is important. I like to think it matters to them in their far away resting place, and I know it matters to those of us for which they laid down their lives. Or it should.
Their memory should leave us humble and thankful.
The things that are good in this world were and are created by brave men, often with great sacrifice. It takes brave men to protect these good things as well. Without such men the world would be a pitiful, and probably evil, place.
The thought leaves me searching for a way to "Thank You" to these men - something past a whispered prayer over a grave or at a memorial.
Apparently, not everyone feels the same way.
Now, Rayford Shaver did not die serving his country, but as he is now deceased, this seems a fitting time to write about him, or more correctly, to write about his wife Earlene's struggle to see his grave properly honored.
Rayford served in the Merchant Marine as a sailor during World War II. Now, before you raise and eyebrow about mentioning those who served in the Merchant Marine in the same breath as Marines, soldiers and sailors you need to know that the Merchant Marine suffered a higher killed-in-action percentage than any other service during WWII. One in every twenty six merchant sailors died during the war.
In comparison, the Marine Corps lost one in thirty four.
Out of approximately 243,000 merchant seamen, 9,521 were killed.
Rayford served on the S.S. Margaret Brent in the Mediterranean, the Pacific and Atlantic oceans, and survived the war. He went on to live a productive life and died on June 5, 2006.
He was buried in Roselawn Cemetery, a private cemetery in Palestine, Texas. The cemetery is owned by Bailey and Foster Funeral Home, also of Palestine.
After Rayford was buried his wife, Earlene, received a flat headstone from the U. S. Government commemorating his service to his country.
Then the owners of the cemetery told Earlene that she could not place the stone on Rayford's grave because there was already one stone, and the cemetery's rules did not allow two stones.
Now, this cemetery is a private outfit, and Rayford contracted with them for his plot and accepted all the rules that went with it.
And, anyone that knows me, knows I think private property is sacred.
If you own it, you ought to be able to do as you like - legally. And this outfit owns this cemetery.
But, legal and right are not always the same thing.
The sad irony is that Rayford risked his life to protect the property rights that are the foundation of freedom that Bailey and Foster are now exercising to prevent this second stone honoring his service from being placed on his grave.
Part of living in a free society is that people are free to act like saints, jerks and everything in between.
As far as I'm concerned, the owners of Bailey and Foster Funeral Home fall into the jerk category.
Bending a silly rule to allow a second headstone commemorating Rayford Shaver's service to his country hardly seems like much of a sacrifice on their part.
For my part, all I can say is "Thank you" to Mr. Shaver and all those like him. <!==========end copy==================>
---
Pecos Enterprise
York M. "Smokey" Briggs, Publisher
324 S. Cedar St., Pecos, TX 79772
Phone 432-445-5475, FAX 432-445-4321
e-mail news@pecos.net
Associated Press text, photo, graphic, audio and/or video material shall not be published, broadcast, rewritten for broadcast or publication or redistributed directly or indirectly in any medium.
Copyright 2003-04 by Pecos Enterprise
---