NEWS PAGES

Obituaries
Archive
Photos

ADVERTISING
Commerce
Classified
Economic Development
TRAVEL
Area Papers
West Texas
STAFF
Smokey Briggs
Jon Fulbright
Peggy McCracken
Rosie Flores

LINKS
Other Sites
|
Weekly Newspaper and Travel Guide
for Pecos Country of West Texas
Opinion
Tuesday, November 23, 2004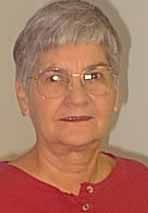 Squarely Pegged
By Peggy McCracken
<!=====paste copy here==========================>
Giving thanks
for everything
Thanksgiving. Giving thanks. Thursday is the day America has set aside to thank God for the fall harvest that lades our tables with turkey, candied yams and pecan pies. Food, family and football are the order of the day.
Can you look back over the past year and find something to be thankful for? Here's what I can recall from the most stressful year of my life, starting today and working backward.
Today I awoke early in a comfortable bed, warm house, feeling no aches nor pains. After a 30-minute walk in the brisk morning air, I ate a delicious breakfast, answered email from family and friends, then went for a swim at our excellent high school natatorium. Thank God for a good night's rest, my health, food, loved ones, a house and public facilities.
My half-day bookkeeping job went smoothly, and I enjoyed crunching the numbers, as always. Thank God for the mental capacity to continue working into my golden years.
This past week, I pickled peppers, made chow chow, a peach cobbler, and topped a sweet potato casserole with pecans, all from my garden. Thank God for a bountiful harvest and for a nearby supermarket stocked with fresh fruit, vegetables and everything else a body needs to stay healthy.
Last week, I removed old carpet from a closet; the final project in my re-decorating effort that added to the year's stress. Thank God for strength to keep on keeping on until the job is done.
This past month, I have mowed grass and weeds almost every day that it didn't rain. Thank God for the bountiful rain that rejuvenated this desert land and covered my "South 40" with weeds. And for the energy to push a mower. And for the mower. And for the excuse to be outside.
Over the past year, I have come to appreciate so many people who have ministered to me in my bereavement and helped me over the rough spots as I dealt with changes and challenges. I couldn't even begin to name them all, but two special ladies deserve honorable mention: Velma Bradley and Kim Ewing. They just keep on loving me in spite of myself, and confront me when I need it. Thank God for people who love Him and let that love spill over to others.
Family members. Thank God for my son, David and his wife, Helen; daughter, Peggy Lynn; grandchildren Amanda, Jason and wife Deana; Scott and wife Laura; David and Dana; great grandchildren Jasmine and Cieara. Brothers Walter and Jerry Wynn (wife Pat); sisters, Mary and Gail. And for my church family, brothers and sisters in Christ.
Thank God for my heavenly citizenship and for my citizenship in the greatest country on earth.
"I will extol the Lord at all times; his praise will always be on my lips." Psalm 34:1, NIV
EDITOR'S NOTE: Peggy McCracken in Enterprise business manager and webmaster. Contact her at peg2@pecos.net
Critic's Corner
Guide identifites the 170 birds birds
Bird watchers will find the "Birds of Texas Field Guide" a handy reference. A color-coded index leads even the most inexperienced birder to a page that will identify each of 170 birds by its prominent color.

"Birds that are mostly black" starts on Page 3, with the European Starling, or Sturnus Vulgaris. It is found in Texas year round, is 7 ½ inches in length, and is gray-to-black with white speckles in fall and winter.

Other descriptions include the nest, eggs, incubation period, fledging, migration, food, and comparison, along with notes by the author, Stan Tekiela. A full-page color photo faces the description page. When the female or juvenile color differs from the male, or the color changes with the seasons, another photo is inset. A range map shows where to look for each bird type, and in what season.

Tekiela's introduction gives tips for identifying birds, explains migration, and describes nesting habits.

Stan Tekiela is a naturalist, author and wildlife photographer with a BS degree in Natural History. He actively studies and photographs birds throughout the U.S. His syndicated column appears in more than 20 cities, and he can be heard on a number of radio stations.

ISBN 1-59193-045-6, 318 color photographs, 430 pages, softcover, $16.95. Available in bookstores or from the publisher, Adventure Publications, 1-800-678-7006.

-Peggy McCracken <!==========end copy==================>
---
---



Pecos Enterprise
York M. "Smokey" Briggs, Publisher
324 S. Cedar St., Pecos, TX 79772
Phone 432-445-5475, FAX 432-445-4321
e-mail news@pecos.net

Associated Press text, photo, graphic, audio and/or video material shall not be published, broadcast, rewritten for broadcast or publication or redistributed directly or indirectly in any medium.
Copyright 2003-04 by Pecos Enterprise
---