|
Weekly Newspaper and Travel Guide
for Pecos Country of West Texas
Opinion
Friday, November 19, 2004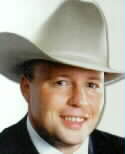 Sage Views
By Smokey Briggs
<!=====paste copy here==========================>
Why Arlen Specter should
not be on the
Senate Judiciary Committee
If you care about the Constitution you need to take a moment and call or write your senators and your president to let them know you oppose the nomination of Senator Arlen Specter to chairman of the Senate Judiciary Committee.
Why?
Because, as chairman of that committee, he will be in position to block any judicial nomination he does not like and because Specter has plainly stated that his test for federal and Supreme Court judges has nothing to do with qualifications or willingness to uphold the Constitution.
Instead, his test is the exact opposite - his test is his personal political beliefs - and those have nothing to do with a correct and right interpretation of the contract that binds us together in this country.
No matter what your political flavor, the Constitution should remain sacred. Nothing should be read in or out that is not plainly there.
You may like the result today, but tomorrow's result will turn today's victory to ashes as the pendulum of political power sways back and forth.
The Constitution was meant to be a rock in that changing current of power - a rock that all Americans could cling to and count on when majorities of any mindset came to power - good majorities or bad - you define them however you wish. It does matter. Eventually, a majority you find vile will gain the upper hand. History practically demands it.
The Constitution was never intended, and cannot become, everything for every cause.
We have been trying to use it for such for half a century and longer and degrading the real power and value of it.
When the Specter's of the world get their way, it will become nothing more than a sham with highly politicized justices rubberstamping the policies of the current majority.
We are almost there. When and if we do get to that point, people will know it and respect for the Constitution and what it represents will vanish.
"But it is the law of the land," you say?
Not in the end. In the end, the law of the land is the people.
The Constitution is nothing more than a contract and you and I and every other citizen in this country are in essence signatories.
It is a contract between you and I and 280 million or so folks. It is a contract that sets out some very basic and broad guidelines. It is a contract that protects a few basic liberties without which life cannot be free.
So long as we respect it, it has power.
The day we do not - the contract is worth less than the paper it is written on - just like any other contract.
This is not a contract we want to breach just to advance our current political belief - whether that belief is unfettered ownership of firearms, abortion rights, civil rights of any flavor, or anything else.
"But it was meant to be a living, pliable document capable of changing with the times," you say?
And it is. But judicial interpretation was never the intended method of change. Judicial interpretation to bend it to the changing times destroys the fabric of the contract. You might as well not have one.
The way to change the Constitution is simple and written into the document - we amend it. We have done so 16 times since the original 10 amendments were adopted along with the Constitution itself.
"But it is really hard and takes a long time to amend," you say?
You are whiner, I say back.
It was meant to be hard to change. That is the point. That way it does not become the puppet of today's majority.
The Specter's of the world like a puppet Constitution. They see short-term political gain and nothing else.
They refuse to see the end result when the puppeteer is no longer their buddy.
Call you senators. Write the president. Let them know that you want a man chairing that committee who cares more about the Constitution than today's political trivialities and his personal beliefs. <!==========end copy==================>
---
---
Pecos Enterprise
York M. "Smokey" Briggs, Publisher
324 S. Cedar St., Pecos, TX 79772
Phone 432-445-5475, FAX 432-445-4321
e-mail news@pecos.net
Associated Press text, photo, graphic, audio and/or video material shall not be published, broadcast, rewritten for broadcast or publication or redistributed directly or indirectly in any medium.
Copyright 2003-04 by Pecos Enterprise
---