|
Weekly Newspaper and Travel Guide
for Pecos Country of West Texas
Opinion
<! date ________>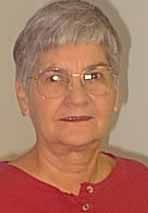 Squarely Pegged
By Peggy McCracken
<!=====paste copy here==========================>
Tuesday, November 16, 2004
Mild winter
is desert blessing
Itís chow-chow time. I brought in my green tomatoes last night (Thursday) on the promise of freezing weather. Itís here. My daughter says itís cold in St. Louis, too, but thatís not much comfort.
Winter in the desert is not like those in St. Louis, nor in Flomot, where I grew up. My siblings and I have been trying to pinpoint the date of a blizzard that turned out school early in the afternoon and trapped the bus before it could get Walter and Mary home.
I thought it was in 1939, but they say it was the spring of 1940; maybe even as late as May. I would have been five, and was at home with Mama, Daddy, Gail and Jerry Wynn. North winds piled the snow up over the windows and blocked the kitchen door.
We all worried about Walter and Mary when the bus didnít bring them home. Mama and Daddy figured they were snug in the schoolhouse, and would have had a fit had they known the bus had started out with them, heading north into that blinding blizzard.
One of the parents of a fellow student brought them home the next day on horseback, wrapped in a borrowed quilt. Thatís when we learned the bus had been stranded near the Washington house, a short distance from school. Of course, the Washingtons took in everyone for the night, fed and bedded them.
It was quite an experience for Walter and Mary. Walter said he had wanted to take Mary and walk on home after the bus got stuck, but the driver had sense enough not to let them go. He realizes now they wouldnít have made it 100 yards.
Winters were always harsh in that country, just below the Caprock. One winter when I was a teenager, it sleeted, rained and froze, snowed, sleeted some more, until the ground was covered with a thick sheet of ice.
Buses didnít run, and I would have been content to stay home, but Mary always had to get to school. We started out in Walterís Pontiac, and made it the half mile to the highway. Once on the highway and attempting to gain speed, we learned just how tricky the ice could be. That car slid sideways, turned a full circle and wound up in the ditch. We didnít make it to school.
What fun we had, though, sliding on that ice. We rounded up some cardboard and dragged it to the hill out in the pasture behind the house. Down we went, crashing through brush and almost into the barbed-wire fence at the bottom. It was hard on our bottoms, but they lasted longer than the cardboard. I think we also found a piece of tin to use as a sled.
We could skate on the ground anywhere, it was frozen so solid. Of course, we didnít have ice skates, but we made do. It stayed frozen for several days. What a glorious time we had!
Some people questioned my sanity when I kept my kids out of school to play in the snow. Tell me, what is more important: to live today or to prepare for tomorrow? Even now I want to skip work and play in the snow. Maybe Iíll get that chance soon.
ďDo not boast about tomorrow, for you do not know what a day may bring forth.Ē Proverbs 27:1, NIV <!==========end copy==================>
---
---
Pecos Enterprise
York M. "Smokey" Briggs, Publisher
324 S. Cedar St., Pecos, TX 79772
Phone 432-445-5475, FAX 432-445-4321
e-mail news@pecos.net
Associated Press text, photo, graphic, audio and/or video material shall not be published, broadcast, rewritten for broadcast or publication or redistributed directly or indirectly in any medium.
Copyright 2003-04 by Pecos Enterprise
---