|
Weekly Newspaper and Travel Guide
for Pecos Country of West Texas
Opinion
Friday, December 31, 2004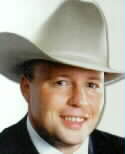 Sage Views
By Smokey Briggs
<!=====paste copy here==========================>
You cannot beat a
second right hand
You know, two hands are really a great thing. There have been a few instances in my life where my diploma from the school of hard knocks consisted of a sling or cast on one of my hands.
Having only one hand is not fun. It complicates even the most basic and mundane tasks of everyday life - like getting dressed, brushing your teeth and numerous other necessities that I will leave to your imagination.
In contrast, just think how cool it would be to have an extra hand - an extra right hand to be specific (or left if you are of the left-handed variety of person).
That would be cool. Maybe not as cool as the prehensile tail I have always wished I were born with (family lore has it that numerous of my kinfolk have been born with tails but they were of the stubby variety although supposedly I do have a cousin who can wiggle his and he is a great favorite at parties).
Anyway, second to a tail you could swing around from the trees with, a second right hand would be the coolest.
I know this, because I have one - well I did.
A year-and-a-half ago, I was in a bind. Phil Buckner, the man that owned The Monahans News and the Pecos Enterprise, had sold Lori and I the The News.
There was one catch - I had to stay on with Pecos until my contract was up in this month.
The sale went through in August of 2003 and immediately I felt like a one-armed paperhanger.
A month into the game and I would have sold my soul for a device that would put me in two places at once.
But hey, Life does not hand everything to you on a silver platter served by cute girls in skimpy clothes, although I have heard there are restaurants that do such (and would never dream of visiting such an establishment I might add).
The change to own a newspaper and work for ourselves was too great to pass up on no matter the challenge.
A month after the sale, my second reporter in Pecos decided to go back to school.
Now, Pecos was still a daily then - the smallest daily in Texas and maybe the world and we maintained that by doing too much with too few people.
So, loosing a reporter was a major loss and the only person to fill the gap was me.
Pretty soon She-who-must-be-obeyed was ready to hire a private investigator to find out where I was living because it sure wasn't at home.
And then, I got my second right hand.
My baby brother is not a baby any more, and disproving all the odds makers had managed to grow up to the ripe old age of 25 and graduate from college with high honors in the field of Biology.
Such achievement was not necessarily expected.
There were times when we were pretty sure Life was going to kill or if not, we would.
And, I am sure, most of the world has thought similar of me, and maybe most of us at one time or another.
When I made four years out of high school without doing prison time a number of my buddies from high school lost significant bets on the matter.
He was floating between undergraduate and graduate school. I was in a jam. He knew NOTHING about writing, newspapers, page layout, editing - NOTHING. I asked. He accepted.
He showed up two days later with his life in his Ford.
I think he expected to hang out for a few days, spend some time catching up with his nieces and such.
I woke him up at 6 am the next morning. At 8 am I handed him a reporters pad, introduced him to Jon Fulbright our managing editor in Pecos and clapped him on the back.
"Good luck kid, and thanks," I said as I walked away.
By 8:30 he was sitting in a meeting, scribbling furiously without a clue.
Talk about trial by fire.
Today, he could run a newspaper if need be. For 18 months I have had a second right hand that just gets stronger everyday.
In May, Pecos went weekly (although now we are up to twice-a-week) and Brendan's position was cut.
He agreed to help me in Monahans until his position in graduate school opened up in January.
Since that time, when needed to be in two places at once, I was. No matter what kind of fires were burning, I have been able to say, "Bubba, you take this one, I'll take that one."
With complete confidence that the job would be done if it killed him.
The job was always done. If he did not know what to do, he learned. He trouble shot, computers and networks. Researched programs. Learned programs.
Made purchasing decisions on new equipment, covered Girl Scout events and County Commissioners.
I cannot count the number of nights he sat with me, side-by-side as we pushed out a special edition at three in the morning.
He never whined, complained or even seemed down. There were times when he picked me up and I'm supposed to be the guy who never lets down.
Today, I had five things that really had to get done and I knew in my mind that I could only get to two or three of them in the next 12 hours or so.
He took care of three of them.
Yeah, having a second right hand is pretty cool.
But, it has not been the best part of this past 18 months.
The best part has been watching my little brother walk this earth as a man.
A fine man who is well liked, trusted, and respected. A man who can work harder than anybody, a man who is physically and mentally tough, and a man who is liked by most and loved by not a few.
That, is even better than having a second right hand.
But, I am really going to miss that second right hand on January 3. <!==========end copy==================>
---
---
Pecos Enterprise
York M. "Smokey" Briggs, Publisher
324 S. Cedar St., Pecos, TX 79772
Phone 432-445-5475, FAX 432-445-4321
e-mail news@pecos.net
Associated Press text, photo, graphic, audio and/or video material shall not be published, broadcast, rewritten for broadcast or publication or redistributed directly or indirectly in any medium.
Copyright 2003-04 by Pecos Enterprise
---