|
Weekly Newspaper and Travel Guide
for Pecos Country of West Texas
Opinion
Tuesday, December 21, 2004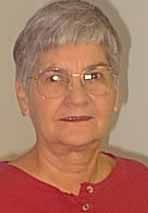 Squarely Pegged
By Peggy McCracken
<!=====paste copy here==========================>
Armstrong built track
for BFG tire testing
Security State Bank President W.H. Holcombe gets credit for bringing a track to test tires and vehicles to the Pecos area in 1962.
Jim Pattee, who was president of the Pecos Chamber of Commerce, said his part in the deal was to "keep my mouth shut" after Holcombe introduced him to an official from BF Goodrich and the man who would manage the new track.
Holcombe and a pioneer doctor named Rape were in the cattle business together, Pattee said. Holcombe negotiated the sale of nine sections of the Rape ranch to BFG for the track.
Engineer Fred Armstrong laid out the nine-mile circle and supervised construction by an Austin contractor. He stayed on for 20 years to maintain the property, and built another "meandering track" inside the circle to keep vehicles from having to drive on mountain roads to test tire wear in turns.
In the early days, I thought Armstrong owned the track, as Armstrong Tire & Rubber Co. tested tires there. But Fred tells me that neither he nor the tire company held any interest in the property. Armstrong tested all their Sears tires there, he said.
He recalls that the track was designed for a maximum speed of 110 mph, but BFG was called on to test tires for the Texas Department of Public Safety at 120 miles per hour. They had one car equipped to run at that speed, and they took all other vehicles off the track during the 120-mph tests.
I learned more in my long-distance telephone conversation with Fred than I did in two visits to the track when Smithers owned it. They were so secretive about everything, it's a wonder they even let me in the gate.
The gate was open when I arrived, though, and nobody was around to direct me to the man I was to interview. Country bumpkin that I am, I headed for the nearest door, which was at the top of a flight of stairs covered with pigeon poop. I thought it strange that the entrance would be so neglected, but pushed open the door and went in anyway. Two Japanese men operating computers looked startled when I walked in. They didn't speak English, but guided me through another door and down a stairway into the main building. Steve Cross was as startled to see me as the Japanese were.
I noticed when I left that had I just walked around the corner, I would have found the front of the building and signs directing me where to go. When I went back later for some kind of media event, I found the right entrance and didn't startle anybody.
Fred and Ingrid moved to Lubbock awhile back to be near their son, Steve, and their doctors. He said they like it, but miss Pecos, where he was born and lived except for a few years in World War II when he found Ingrid in New York. Lubbock is growing like a weed, he said, with 100 homes under construction near where they live in the south part of town. I told him to send us some of that prosperity.
But God says: "With me are riches and honor, enduring wealth and prosperity." Proverbs 8:18, NIV
Sageview
My Christmas gift to mankind
I love Christmas.
One thousand years ago I would probably have loved "drinking Yule" with Scandinavian ancestors home from another season aviking.
Maybe there is a yearning in the human soul to celebrate at the winter solstice as the days become shorter, the nights colder, and the death grip of winter squeezes the land.
For the past two thousands years or so we Christians have had even more cause to celebrate as we mark the birth of Christ.
Anyway, I like Christmas.
It is a great excuse to be with people you love and care for. I enjoy giving and receiving presents. I really enjoy the food. Rich, sweet, steaming dishes served with sides of sugary stuff and gravy.
Did I mention I like Christmas?
Well, I have a special Christmas present for all of mankind this year.
Christmas is a celebration. A celebration marking the hope of eternal life, of family, of another year successfully passed, of the goodness of the human spirit - a celebration of the victory of good over evil during the darkest time of the year. Celebrations are times for a bit of indulgence. Otherwise, it's not a celebration, it's just day with a name. We cook special foods and drink special drinks. We indulge our personal vices a bit, and perhaps help those we care for indulge in theirs.
Over the past ten years or so, I have noticed something.
I have watched people's enjoyment of this season change for the worse. The indulgence is still there, but with a new seasoning.
Guilt.
Not just the ordinary I-can't-believe-I-ate-the-whole-pie guilt, but the calorie-counting, cholesterol-measuring, alcohol-shunning, nicotine-is-evil, nitpicking kind of guilt that the Puritans would be proud of.
We still do it, or we indulge some other human weakness instead of society's evil-of-the-day, but we do not enjoy it like we should.
Instead, we do it somewhat half-heartedly, and then contemplate how doing it pushed us an inch closer to death's door.
How depressing.
So, my Christmas present to mankind is a proclamation of guilt-free celebration. I hereby banish all morbid thoughts concerning the ingredients of the celebration.
I plan to eat good fatty, sugary, salty food without mentally whipping myself for it. I will drink some good wine, and perhaps a few glasses of my favorite fermented beverage. I may even smoke a good cigar and I will certainly cut a plug from my tobacco. I will share these bounties of God's good world as I can with my family, friends and neighbors.
And the guilt that our silly society tries to conjure can go to the devil.
Death comes one way or another. I hope to greet it one day with the knowledge that I enjoyed life. Not that I foolishly threw it away, but at the same time, not that I so clung to the hope of not dying that I forgot to live.
So I will try to celebrate the birth of Christ in a manner befitting the birth of the King of Kings - with a robust and grateful joy that does not leave room for niggling guilt.
Merry Christmas everyone. <!==========end copy==================>
---
---
Pecos Enterprise
York M. "Smokey" Briggs, Publisher
324 S. Cedar St., Pecos, TX 79772
Phone 432-445-5475, FAX 432-445-4321
e-mail news@pecos.net
Associated Press text, photo, graphic, audio and/or video material shall not be published, broadcast, rewritten for broadcast or publication or redistributed directly or indirectly in any medium.
Copyright 2003-04 by Pecos Enterprise
---