|
Weekly Newspaper and Travel Guide
for Pecos Country of West Texas
Opinion
Friday, December 17, 2004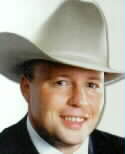 Sage Views
By Smokey Briggs
<!=====paste copy here==========================>
Just a
good story
Kids are smart. Too smart, sometimes. I think we forget just how smart they are - and just how quickly they piece the world together in their heads at very young ages.
Every now and then my girls remind me of just how smart they are.
Ruby is now seven and Carson recently marked her fourth birthday.
Now, Carson Mae, like her sister, takes after mom and is quite quick on the uptake.
Carson and Ruby are also very lucky little girls who have several very good honorary uncles along with regular uncles.
Uncle J.D. (along with Aunt Alisa) is one of the honorary uncles who has been part of the family for more than a decade now.
J.D. is a fireman in Austin and cannot make every birthday these days but he always sends a birthday card with a check enclosed so that mom and dad cannot get between Uncle J.D. and his nieces' true desires.
This year was no different.
Carson was opening her cards and Ruby was helping her read them.
When they got to Uncle J.D. and Aunt Alisa's card the check fell out.
Carson scooped it up, listened to the happy birthday sentiments in the card, and then said, "What's this?"
"That is a check," Ruby quickly answered.
"Hmmmm," Carson said, studying the piece of paper. "What's it for?"
"It's like money. It's your birthday present from Uncle J.D.," Ruby explained.
"Like a whole dollar?" Carson exclaimed, now eyeing the paper with much delight. She understands absolutely the value of a dollar bill. Dollar bills can buy candy bars, cokes, gum and numerous other valuable commodities.
"No, it's better," big sister explained. "See these numbers here. Whatever you write here is how much money the check is worth. See, this check is worth twenty five dollars and you get to go to a store and buy anything you want."
Carson just stared for a few moments. I was pretty sure she could not comprehend how much money twenty-five bucks was.
"How many Bratz dolls can I get with 'tennty five' dollars," Carson asked.
"A lot I think," Ruby said.
Too many, Dad thought, all thought I like this brand of doll better than Barbie and her clones because the clothes go on and off much easier and the shoes are really easy compared to those confounded things that Barbies are supposed to wear.
And that was the end of that, or so I thought.
A few days later Mom was going to Odessa for a bit of Christmas shopping after dropping Ruby off at first grade. She told Carson that if she was good they might make a trip by the toy store and she could spend her birthday money.
Carson was most pleased, and ran off, to pick out an outfit, make a list, catalogue her Bratz dolls, etc…
So off they went.
But first to the bank to make a deposit and convert Carson's check into real money.
But, the check was missing.
After a brief search Carson came up with it and proclaimed she was ready to go.
Mom glanced at the check.
There, in the very imperfect, two inch-high pencil scrawl of a four-year-old was the number 100 - painstakingly written across the front of the check.
"What's this," Mom asked in her mom voice pointing at the re-minted check.
"One hundred dollars," Carson answered with all the confidence of a world-class poker player.
"See, it says so right there," she said pointing proudly to her work.
It is one of those moments where, as a parent, you are pretty sure you need to keep a straight face and explain why things do not quite work like that, but it is really hard to do.
I would have failed miserably.
Mom would not comment on her own performance, but did apparently manage to explain how checks work well enough for a four-year-old to lecture me on the matter for five consecutive nights.
When I tucked Carson in that night, she explained to me how checks work, and that writing in your own numbers was not good.
I smiled and kissed her and told her no harm was done.
She nodded her agreement and smiled and pulled her new Bratz doll up close to her. And then with a wistful look said, "A hundred dollars would buy a lot of Bratz."
Mom and I giggled ourselves to sleep that night discussed our youngest daughter's first foray into financial matters.
It's a good way to fall asleep. <!==========end copy==================>
---
---
Pecos Enterprise
York M. "Smokey" Briggs, Publisher
324 S. Cedar St., Pecos, TX 79772
Phone 432-445-5475, FAX 432-445-4321
e-mail news@pecos.net
Associated Press text, photo, graphic, audio and/or video material shall not be published, broadcast, rewritten for broadcast or publication or redistributed directly or indirectly in any medium.
Copyright 2003-04 by Pecos Enterprise
---