NEWS PAGES

Obituaries
Archive
Photos

ADVERTISING
Commerce
Classified
Economic Development
TRAVEL
Area Papers
West Texas
STAFF
Smokey Briggs
Jon Fulbright
Peggy McCracken
Rosie Flores

LINKS
Other Sites
|
Weekly Newspaper and Travel Guide
for Pecos Country of West Texas
Opinion
Tuesday, December 14, 2004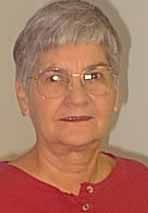 Squarely Pegged
By Peggy McCracken
<!=====paste copy here==========================>
Cothruns owned
jewelry store
My question last week about who owned Crescent Jewelry in the 1970s brought back memories for some of you, and I got at least a partial answer. Cecil and Ruth Cothrun were the original owners, and they sold out to Joann Beauchamp in the mid-70s. Dian Reed says another lady owned it after Joann. Now I am wondering who that was.
Cecil Cothrun was much in the news when I was a cub reporter and managing editor. I ran across his name in a column I wrote while managing editor. It doesn't have a date, but I see from the masthead on the back that the late John Pitts was on the Enterprise staff. That would have been during my second term as managing editor, in the mid-70s.
You may recall that Cecil Cothrun was county commissioner for Precinct 4 before Bernardo Martinez came along and dethroned him. He made my column that particular day because he was roaming the halls passing out campaign cards for the late Wendell Faulkner. Streaking was much in the news those days, and the photo shows Wendell, clad only in a helmet, streaking down the street on his tricycle.
Bill Youngblood tried for Wendell's commissioner post that year, on the Republican ticket. His daughter, Kathy Paschall, told me recently that Bill still lives in Monahans. His health is not the greatest.
Now I have a new question for you this week. Since Texas A&M has been making the news by negotiating for the test track southeast of Pecos, my curiosity has been stirred. I know Smithers was the last owner of the track (they donated it to the Pecos Economic Development Corporation), but who was the first owner?
If you want to know something about A&M's plans, you might want to check out the PEDC website at . Go to the bottom of the page and click on a link to "Southwest Center for Transportation Research and Testing." It is a .pdf document, and may take awhile to load if you have a telephone hookup to the Internet.

Mike Burkholder has played a large part in attracting this venture, and I am so glad he is piloting the PEDC. I can tell from reading the document that negotiations are complicated. Mike is just the guy who can handle it.

Pecos has been in the pits, and this is one step up. Our prayers are being answered.

"He redeems my life from the pit and crowns me with love and compassion." Psalm 103:4, NIV
Your View
A few remaining days in Pecos
We have few remaining days in Pecos. I could thank some for their kindness, or further castigate any number of folks for their foolishness. However, freshman Congressman Mike Conaway, of the newly outlined 11th Congressional District, inspires me to pass along a more constructive comment.

According to Mr. Conaway, lawmakers cannot read every bill that comes before them. He explains that, "Some of these bills are thousands of pages long".

I would remind Mr. Conaway that, once those thousand-page bills become law, WE must comply with every word of them.

Our problems are not Democrat versus Republican or conservative versus liberal. It's not even religious versus secular. It's the current disconnect that exists between the rulers and the ruled. It exists from lowest local level all the way to the highest offices of the nation. It's manifest in our required subservience to a myriad of laws nobody has time to read.

Like nuclear fission, the laws themselves reproduce exponentially over time. Each word, of each new law, will impact some citizen or someone's business. Like a nuclear reactor with every control rod removed, eventually the disconnect will reach a critical mass…a society where every aspect of conduct which is not prohibited will become compulsory.

Like nuclear energy, man's desire for freedom cannot be contained. We need just laws, just as a reactor needs appropriate control rods. We allow over-regulation and confinement of our freedoms at our peril.

On December 15th, we will mark the 213th anniversary of the ratification of the first ten Amendments to the United States Constitution…our Bill of Rights. Only the Ten Commandments are more succinct. They are models of perfect legislation.

You will always be in our prayers that you will only know peace and that you will find wise and just leaders.

Dr. and Mrs. John Libbie

<!==========end copy==================>
---
---



Pecos Enterprise
York M. "Smokey" Briggs, Publisher
324 S. Cedar St., Pecos, TX 79772
Phone 432-445-5475, FAX 432-445-4321
e-mail news@pecos.net

Associated Press text, photo, graphic, audio and/or video material shall not be published, broadcast, rewritten for broadcast or publication or redistributed directly or indirectly in any medium.
Copyright 2003-04 by Pecos Enterprise
---