|
Weekly Newspaper and Travel Guide
for Pecos Country of West Texas
Opinion
Tuesday, December 7, 2004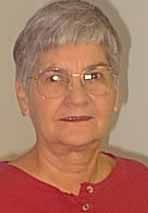 Squarely Pegged
By Peggy McCracken
<!=====paste copy here==========================>
Going through memory
lane during holidays
It's official. Christmas is on the way. I warned Postmaster Kenneth Russell that I am going to gather up my Christmas card stash and send one to everybody I know. It's OK with him, just so long as I buy my stamps from the Pecos Post Office, he said.
Buying local is one of the things I take pride in. Not only do I like to support the merchants who provide my living, I hate to drive to the big city. If I need something I can't find in Pecos, my next stop is the Information Highway.
Shopping is not on my agenda anyway. My kids are getting the annual album of photos, clippings, keepsakes and musings that have become my Christmas tradition. I am hoping to transfer contents of a four-drawer filing cabinet and various other storage drawers to organized, labeled books before God calls me home. If that happens, I should attain the age of at least 105.
What memories are stirred up as I browse through clippings and photos. Crescent Jewelers had a front-page ad in the last paper I laid out as managing editor, circa 1977. "You're invited to our fall opening," heads the ad for the store located at 315 S. Eddy. The name is familiar, but I don't even remember who owned that store. Do you?
It makes me sad to see the Cookseys close down Fonville's, our last jewelry store. Entrepreneur Mrs. Michael (I can't remember her first name) Lamka tells me, though, that she has a contact in the jewelry business. Maybe we'll be seeing another "Opening" ad before next fall.
And it might even be on the front page. So far, Smokey has resisted front page ads. But he has been known to change his mind. $$ talk.
Balmorhea native Nellie Gomez made the front page in January, 1995 when she became the executive director for the Pecos Housing Authority. She's still there, too. Way to go, Nellie. You took on a difficult task and have done it well.
Another lady mentioned on that front page is still on the job, too. Michelle Cser is a physician's assistant who works out of the Pecos Valley Clinic, now located in Reeves County Hospital. She handles more patients than most "real" doctors.
What else was happening 10 years ago? Lynda Gentry reported stock show sales hit a record $68,700. Her husband, Jackie, retired as superintendent, and Rickie Exum took the reins. Kelli Rankin and Michelle Martinez are both listed as showing the grand champion hog. I think Michelle's must have been the reserve champion. My first mistake. Jana Elkins had the top lamb, and Stephanie Armstrong led her steer to the championship title. Lindsey Exum had the best goat, and Merrie Blount's rabbits took the crown.
La Nortena Restaurant was completing 18 years serving authentic Mexican cuisine. Their restaurant at 802 South Eddy has since served Chinese dishes, and is now a popular stop for lunch and an evening buffet.
Charlotte Slack goes to sleep halfway through my column, so I am going to stop before I put the rest of you to sleep.
"When I awake I am still with you." Psalm 139:18b, NIV
EDITOR'S NOTE: Peggy McCracken is Enterprise business manager and webmaster. Contact her at peg2@pecos.net <!==========end copy==================>
---
---



Pecos Enterprise
York M. "Smokey" Briggs, Publisher
324 S. Cedar St., Pecos, TX 79772
Phone 432-445-5475, FAX 432-445-4321
e-mail news@pecos.net

Associated Press text, photo, graphic, audio and/or video material shall not be published, broadcast, rewritten for broadcast or publication or redistributed directly or indirectly in any medium.
Copyright 2003-04 by Pecos Enterprise
---