NEWS PAGES

Obituaries
Archive
Photos

ADVERTISING
Commerce
Classified
Economic Development
TRAVEL
Area Papers
West Texas
STAFF
Smokey Briggs
Jon Fulbright
Peggy McCracken
Rosie Flores

LINKS
Other Sites
|
Weekly Newspaper and Travel Guide
for Pecos Country of West Texas
Opinion
Thursday, August 19, 2004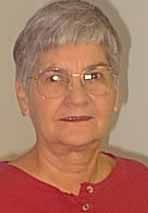 Squarely Pegged
By Peggy McCracken
<!=====paste copy here==========================>
Summer reruns
stir old memories
What's wrong with reruns? Classic movies are the best thing on television, and about the only thing I watch. Except a few food shows and re-decorating stuff on HGTV.
So why can't I just use an old column today instead of boring you with the nothing I have been able to come up with. That probably would work if I had a classic, but I can't think of one.
Speaking of classics, I lost my beloved "Lonesome Dove" videotape in a cranky VCR. For awhile the VCR wouldn't take a tape, and now it won't let go. I tried to take the contraption apart, but couldn't find the screws.
Anyone want to donate a new "Lonesome Dove" tape to a worthy cause? I have withdrawal pangs when I can't watch my favorite video of all time whenever I get the urge. Maybe I will bite the bullet and read the book instead. I have read it two or three times, and enjoy it more each time. I almost have the dialogue memorized, since it is virtually the same as the video.
Turner Classic Movies has been showing reruns of movies featuring a different star every 24 hours. Yesterday it was Elvis Presley. Now Elvis is my contemporary, and I like his music. But his movies are not the kind I would watch over and over again. In fact, I'm not sure I ever sat through one from beginning to end. Maybe Jailhouse Rock.
Humphrey Bogart was on one day last week. I saw some oldies that were new to me. They came out before I started going to the "picture show" on Saturday night. Some Bogart movies give me the creeps, and "Treasure of the Sierra Madres" (I think that's the name) is one of them. I saw it awhile back, and had no desire to see it again when it ran last week. It's about three guys who team up to mine gold and wind up killing each other over their treasure.
My daughter, Peggy Lynn, is a movie buff. When we moved her into our new house in St. Louis last month, I rescued a videotape of "Field of Dreams" from the seller's trash heap in the front yard. She tells me she watched it later and enjoyed it all over again.
Peggy Lynn has introduced me to lots of good movies. One, "The Color Purple," is now in my video library, and I watch it occasionally. Not as often as "Lonesome Dove," but maybe every five years.
I also taped a television show called "500 Nations" that is a keeper. It is about the American Indian and how we Europeans treated them after taking over their country. That and "I'll Fly Away" have made me very conscious of racial discrimination and its terrible consequences.
Ok folks, that's enough of nothing. Pray that I'll be able to come up with a topic for next month's column.
"I do not concern myself with great matters or things too wonderful for me." Psalm 131:1b NIV
EDITOR'S NOTE: Peggy McCracken is Enterprise business manager and webmaster. Contact her at peg2@pecos.net
Balmorhea library is essential to the community
Dear Editor:

The Reeves County Commissioners, with one scratch, of the pen, have removed a cornerstone of the Balmorhea community. For ages, the cornerstones of communities have been churches, schools, courthouses, and libraries. Maybe, for the first time in history, community leaders have decided that libraries are not worth funding. In these hard economic times it is understandable that cutbacks should be made, but to completely eliminate funding is wrong. A case might be made for individual communities funding their own libraries, but funding for the Reeves County Library was not eliminated. Since commissioners from all precincts have constituents in Pecos, it would have been political suicide to eliminate the Reeves County Library. The annual budget for the Balmorhea Library is three thousand dollars, probably about what the Reeves County Golf Course spends on water in one month!

The Balmorhea community does not ask for much from our county. In better financial times we were promised a community center. Land was appropriated, beautiful plans drawn up, and land cleared. Then hard time hit and all was forgotten. As the saying goes ``you can't miss what you never had". The Library is different because we do have it and is needed. I enjoy reading, even at a snails pace, and have come to appreciate our repository of the world's knowledge. The Library recently bought some bilingual books for children, which will promote pride and understanding of our culture.

A petition will be started, in the hopes of restoring funding, for the Balmorhea Library. We invite all county residents to stop by, visit, and sign the petition. Hopefully funding will be restored before the petition is presented to the commissioners.

Fellow residents, there might only be two signatures on this petition, but at least we will have stood up for what is right. Pat Brijalba <!==========end copy==================>
---
---



Pecos Enterprise
York M. "Smokey" Briggs, Publisher
324 S. Cedar St., Pecos, TX 79772
Phone 432-445-5475, FAX 432-445-4321
e-mail news@pecos.net

Associated Press text, photo, graphic, audio and/or video material shall not be published, broadcast, rewritten for broadcast or publication or redistributed directly or indirectly in any medium.
Copyright 2003-04 by Pecos Enterprise
---