|
Weekly Newspaper and Travel Guide
for Pecos Country of West Texas
Opinion
Thursday, August 5, 2004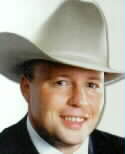 Sage Views
By Smokey Briggs
<!=====paste copy here==========================>
My class action lawsuit
against Democrats and the
Republicans for loss of consortium
Last week I ruminated a bit about the class action lawsuit pending against Wal-Mart for sexual discrimination.
That got me to thinking.
Before long, I discovered that I too am a victim. I am a victim of both the Republican and the Democratic parties specifically, and liberal philosophy in general.
As is popular in this day and time I think I will seek a remedy in the courts. I have also discovered that there are a lot of kindred souls who have been similarly victimized by the same dastardly folks.
So, I am going to file a class action lawsuit against the Republicans, the Democrats and maybe a whole bunch of other folks individually who espouse these views that have victimized me.
My injury?
Loss of consortium.
Now, loss of consortium is a legitimate cause of action in civil court.
According to Black's Law Dictionary consortium is the fellowship of husband and wife encompassing material services as well as intangibles such as companionship, guidance, society and even kissing and such.
And, I, and thousands of other like me, have missed out on a whole bunch of companionship because of the no-gooders I am suing.
Here is the deal.
A while back, I set out to build a rifle. While it is perfectly legal to do so, there are elements of two federal laws that must be navigated in the process.
The rifle I want to build is technically known as a FN-FAL. It is a semi-automatic rifle that was used by almost every member of the free world during the cold war except us.
When I was younger you could buy one for next to nothing. Of course, I did not. I was busy spending my money chasing girls and other such important things.
These days FALS are hard to find in assembled form and pretty expensive when you find one.
Thanks goes both to President George Bush and his 1989 Assault Rifle Ban and President Bill Clinton and his 1994 Manufacture Ban.
However, you can still buy what is known as a parts kit that consists of all the surplus pieces of a FAL minus the chopped up receiver. The kits are pretty cheap and a new receiver is not that pricey either.
So, I set about buying a kit, a receiver and a few tools so that I could build my own. It sounded like a fun project for a guy who likes to tinker with guns.
Getting the parts was easy. Navigating the federal laws was a joke.
Now, I do not hold myself out as the world's greatest attorney. I rarely practice. But, I did survive three years at a good law school, and did pass the bar.
You would think I could read a couple of statutes and understand the meaning, right?
Wrong.
Mix a few administrative rulings by the BATF into it and a guy needed a crystal ball to figure it out.
Eventually, after much scratching and pondering, I had what I thought was the gist of the law.
In short, I could build my rifle and it would perform just like the original.
However, to jump the hurdles placed by Bush and Clinton I found I would have to buy a goodly number of American made replacement parts and make sure that my new rifle did not have too many ugly features that President Bush and his liberal cronies decided were dangerous - features like pistol grips and flash suppressors - features that have absolutely nothing to do with the ability of a weapon to be used to wreak havoc.
The upshot of the whole scenario?
I could build my rifle. It would function and have the capabilities of the original. The only problem was that complying with my dear government's laws would more than double the cost of the rifle.
The part that chaps the most is that there were perfectly good parts in the parts kit I had already purchased.
The only rational reason I can see behind our good government's laws in this matter is that it does not trust poor people and thinks that by driving up the cost of such a rifle only well-heeled guys like Bush and Clinton will be willing to afford one.
They are wrong if that is the case because rednecks will find a way to afford one even if it means running the maypop tires on the old Ford for another year.
But, there are consequences. She-who-must-be-obeyed knows all when it comes to my fiscal follies.
I cannot buy gum without a report getting back to SWMBO.
Eventually the purchase of parts necessary to comply with Federal law went through our household general accounting office.
Anyway, I think it safe to say that once the accounting department was through with the complete audit of my project there was an absolute loss of consortium for me for no short period of time.
And, if it were not for an absolutely stupid set of laws that do nothing but drive up the price of a firearm, I would not have lost so much consortium.
And, those laws are directly attributable to the elder President Bush, President Clinton and their respective parties.
So, I think I have them dead to rights with an open and shut case.
If you think you might be a member of the class of individuals like me who has also suffered a loss of consortium because of these and other such laws, please contact me so that we can sign you up for the suit.
Thanks to the EMS Crew
Dear Editor:
Where would we the citizens of Pecos be without the service of the emergency medical service?? With so many accidents that happens 24/7, some involving elderly people. On June 24, I had to call on the EMS to help me with my husband. The Police Officers, along with Sam Lujan, started helping Danny, as did the EMS crew. From the time they arrived at the house to the arrival at the hospital, they gave it their best. Talk about someone who is dedicated to their profession, beside the law enforcement, these people are.
Please tell me, how could we do without this service?
And how do you thank these people when your life is in their hands? So, from the bottom of our hearts a loving "thank you."
May God bless each of you.
Thank you,
ELIZABETH LEOS
To the citizens of Pecos, Texas, relatives
and friends of Brenda Nicole Fuentes
Dear Editor:
On July 28, 2004, I was fortunate to attend the funeral of my beloved niece, Brenda Nicole Fuentes. It was at that time, I witnessed an emotional outpouring of the great foils that reside in Pecos, Texas.
In my opinion, it was the greatest thing I have ever witnessed. Your community has suffered great losses in the past, however, the Pecos, Texas residents are second to none. We are all blessed to have known such a wonderful young lady, she has truly touched many hearts, with her courage and selflessness. We are all better people just for having known her.
On behalf of the Jim Sparkman family, who left Pecos some years ago, I would like to extend our gratitude and sincere heartfelt thanks to the many friends and family and the Pecos community, both individuals and the City of Pecos itself who helped Oscar, Pat, Jonathan, and Brian Fuentes through these trying times.
God has truly blessed the Town of Pecos with many great people. May God be with you and yours.
Your friend and Great Admirer,
JIM SPARKMAN & FAMILY
Birmingham, AL
Control our taxes by attending the annually hearings
Dear Editor:
I was one of many to parade to the RCAD Review Board hearings. I was a member of this board for several years and do understand some of the laws under which they work. I also presently work very hard to sell real estate in our area at a market price which I believe to be "what a Buyer is willing to pay and a Seller is willing to take." Appraisals are based on CURRENT SALES in neighborhoods.
It was very important to our market for the values of our homes to be raised (which is a State law). We must join the real world outside of Pecos; especially, if we hope to attract the outside world to share our very special and unique area. We do have a lot to offer! CHEAP is not attractive nor HIGH TAXES.
SO… the place we must start to control our taxes is at the beginning - the public budget hearings which are held annually by each taxing entity - the County, the Hospital, the City and the Schools. This is where our tax rates are set in order to pay the bills THEY propose and spend. You have a voice here and a vote at the polls. PLEASE EXERCISE THESE FREE DOMS.
These boards will be holding their budget hearings within the next couple of months in order to set the 2004 tax rates to cover their 2005 proposed spending budget. Each person who complained to the Review Board should attend these hearings. SEE YOU AT THE MEETINGS! Yours Sincerely,
REECIA PIGMAN <!==========end copy==================>
---
---
Pecos Enterprise
York M. "Smokey" Briggs, Publisher
324 S. Cedar St., Pecos, TX 79772
Phone 432-445-5475, FAX 432-445-4321
e-mail news@pecos.net
Associated Press text, photo, graphic, audio and/or video material shall not be published, broadcast, rewritten for broadcast or publication or redistributed directly or indirectly in any medium.
Copyright 2003-04 by Pecos Enterprise
---