|
Weekly Newspaper and Travel Guide
for Pecos Country of West Texas
Opinion
<! date ________>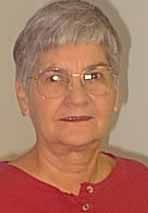 Squarely Pegged
By Peggy McCracken
<!=====paste copy here==========================>
Tuesday, October 26, 2004
Sisters in name
write and review
It was one of those frustrating days when nothing seems to go right. I couldn't find a requested obituary on our website because it has been moved to a new server, and our search engine no longer works.
There's more than one way to skin a cat, I asserted, and tried using the Google search engine. Nothing turned up for the obit so I tried "Peggy McCracken" just to see if I could find our web site.
Sure enough, up comes page after page of Peggy McCrackens, but I am number two. The first Peggy McCracken listed is a professor of French at the University of Michigan. She has written lots of papers about medieval literature, so her name was listed more than any other.
It also caused me some embarrassment when I saw my name linked with "Erotica and Erotic Fiction Online." Turns out it was some more of the professor's medieval literature papers.
My own links were somewhat more subdued. I wrote a column about droughty times hurting landowners, and reviewed a poorly-written fiction book about a New York subway mugging and an abused woman's war on subway muggers. There are also a couple of links to articles about the Benjamin Franklin Awards, listing me as one of the judges, and to my testimony on the askSam site about their database.
Another columnist and reviewer named Peggy McCracken writes for the Hamilton, Ohio Journal News. She has some religious articles that I can relate to. And the Peggy McCracken who runs the Buckskin Creek Farm in Virginia shares my love for flowers.
I can relate to Peggy McCracken, the general treasurer for a Methodist organization, but less with a registered nurse who serves the Colonial Heights Christian Church in Kingsport Tennessee.
Judy Greenwood calls me Margaret, from which the nickname Peggy derives. I found a Margaret (Peggy) McCracken in a Rogers family genealogy list from the 1800s. And a Martha (Peggy) McCracken in another genealogy list. Also a Peggy McCracken in the 1965 class at Manassas, Va. Montoursville High School.
.When I was a newbie to the World Wide Web, I entered my name in several online directories, so I am sure I could have found more listings had I continued following hits from the search. It is a little frightening for an introvert to know that anyone with Internet access and a browser can read about you and see your picture day or night.
Nothing we do is really secret, though. When we get to Heaven, everything we did, said or even thought will be on a wide screen for our perusal, or so I'm told. I'm not so sure I believe that, because God said He forgets the sins of those who believe in Jesus. They are removed as far as the east is from the west, he promised. So how can they be displayed for all to see?
I'll have to study that problem some more. Maybe the professor, columnist, church treasurer and nurse can help me. Maybe we Peggy McCrackens could hook up with a conference call or email messages to work on it.
"The Lord decided his servant would suffer as a sacrifice to take away the sin and guilt of others." Isaiah 54:10
EDITOR'S NOTE: Peggy McCracken is Enterprise business manager and webmaster. Contact her at peg2@pecos.net <!==========end copy==================>
---
---



Pecos Enterprise
York M. "Smokey" Briggs, Publisher
324 S. Cedar St., Pecos, TX 79772
Phone 432-445-5475, FAX 432-445-4321
e-mail news@pecos.net

Associated Press text, photo, graphic, audio and/or video material shall not be published, broadcast, rewritten for broadcast or publication or redistributed directly or indirectly in any medium.
Copyright 2003-04 by Pecos Enterprise
---