|
Weekly Newspaper and Travel Guide
for Pecos Country of West Texas
Opinion
Tuesday, October 12, 2004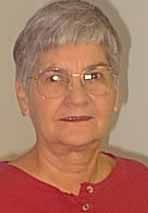 Squarely Pegged
By Peggy McCracken
<!=====paste copy here==========================>
Turn other cheek
Or go to lockup
Jesus told his followers to turn the other cheek (don't hit back) when someone hits you. That's good advice, whether you follow Jesus or not. Ask Alicia Ramirez.
Alicia is a home health nurse who has earned a passel of friends all across Pecos. She was my husband's nurse in his last years, and I ran into her across the street last week at Sylvia Sadler's house. I didn't expect to see her in my office with tears in her eyes.
Those tears came when she told me she had been arrested for domestic violence, and had spent the night in our modern city jail. Or Criminal Justice Center as Police Chief Clay McKinney would call it.
Jail wasn't all that bad, Alicia said. Instead of a cell with bars and lots of other women, she had a private room with a real door, a TV, telephone and shower.
Why was Alicia in jail? you ask. Because she fought back when her "intimate partner" turned violent during an argument fueled by alcohol. She got in one good slap, and that got her in the slammer.
Precinct 1 Justice of the Peace Amonario Ramon heard her case the next day, sentencing her to "time served," so she was released from jail. Her partner stayed another night, and police promised to escort him to Alicia's house to get his belongings.
Domestic violence is a growing problem nationwide, Chief McKinney said. His department has a zero tolerance policy regarding any family violence, and all parties involved in a fight are arrested when officers arrive on the scene.
A victim who merely defends herself or himself is not arrested, Clay said. I take it that slapping the attacker is not considered defending oneself, so better just cover your head with your arms and get out of the way if it happens to you.
To keep it from happening again, it is best to get a permanent protective order that tells the abuser to stay away or be arrested again. Researchers say women who get a protective order are 80 percent less likely to be attacked than victims who do not. Under the Family Violence Act, a victim has the right to safety in a shelter, information, and counseling both for herself and for the abuser.
Here are some clues that your partner is an abuser:
Embarrasses you with bad names and put-downs
Looks at you in ways to scare you
Controls what you do, who you see or talk to
Stops you from seeing or talking to friends or family
Takes your money or Social Security, makes you ask for money or refuses to give you money
Makes all the decisions
Says you are a bad parent
Acts like abuse is no big deal or your fault
Intimidates you with guns or other weapons
Shoves, slaps or hits you
Forces you to drop charges
Threatens to commit suicide
Threatens to kill you
McKinney said it's hard for a victim to get out of an abusive situation. Even though it is the woman who typically calls police, she often has second thoughts when her breadwinner is arrested, he said. "Most want out, but just don't know how."
Alicia knows from experience how hard it is. After leaving her home and abusive husband several years ago, she slept on the floor and went hungry to regain her self respect and make a good life for her family. She is working three nursing jobs and purchasing a Laundromat to provide a future for her third-grader.
"My kids said, 'You gotta get rid of the guy. We don't want you to get hurt. You have been through this before, and you don't want to go through it again,'" she said.
"It doesn't get better," she said, advising any woman taking such abuse to get out now. "There's always friends out there. Someone to give you a helping hand or guide you into a better life, a better place."
She appreciates so much the friends, employers and co-workers who helped her in her times of need, and she would like to help others. Give her a call at 445-8217. Or for professional help, call 800-252-5400 (Department of Human Services) or 800-799-SAFE (National Domestic Violence Hotline).
"Hear my prayer, O Lord, listen to my cry for help; be not deaf to my weeping." Psalm 39:12, NIV
EDITOR'S NOTE: Peggy McCracken is Enterprise business manager and webmaster. Her column appears each Tuesday. Contact her at peg2@pecos.net <!==========end copy==================>
---
---



Pecos Enterprise
York M. "Smokey" Briggs, Publisher
324 S. Cedar St., Pecos, TX 79772
Phone 432-445-5475, FAX 432-445-4321
e-mail news@pecos.net

Associated Press text, photo, graphic, audio and/or video material shall not be published, broadcast, rewritten for broadcast or publication or redistributed directly or indirectly in any medium.
Copyright 2003-04 by Pecos Enterprise
---