|
Weekly Newspaper and Travel Guide
for Pecos Country of West Texas
Opinion
Tuesday, October 5, 2004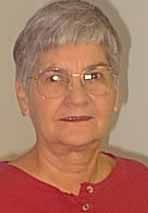 Squarely Pegged
By Peggy McCracken
<!=====paste copy here==========================>
Change of pace
de-clutters mind
Call me Squirrely Peg if you want to. It fits after a day of balancing accounts and mailing monthly statements - using a computer whose memory is as clogged up as my own.
While planning to replace this old computer with a newer and more powerful version to run my updated accounting software, I learned that the old memory may just need a little de-cluttering.
Seems there are little programs running in the background all the time, using up memory and slowing down action on the screen. Some of it is necessary, but a lot of it is just a nuisance and should be deleted. My problem is, when I start deleting stuff, I can't find a stopping place, and soon I have gotten rid of something I really needed.
Not only does that happen in the computer world, but at home and church as well. No sooner have I discarded something that's been in my way for years than I find a use for it.
I've found a de-cluttering program that might do the job on the computer. But where do I find a de-clutterer for my house and three offices? Sometimes I'd like to call on the people at HGTV who go into people's homes and show them how to get rid of junk and organize what's left. I've noticed, though, that they don't do the work themselves; they just coach and nag. That wouldn't do me much good.
My burden has lightened up some, with a switch to half days at the Enterprise and bookkeeper-training duties at The Monahans News about completed. Some of you may have thought we moved all our operations to Monahans, since we print over there, and Smokey and I have been keeping the Interstate hot for the past year. But we didn't. Smokey runs the Monahans paper, of course, and had asked me to keep books in both places. I found that a little more than I wanted to do, and elected for semi-retirement.
Since August 1, I have worked in the yard morning and evening when weather permits; resumed my walking routine; and have joined the old ladies' water aerobics group weekday mornings. Afternoons, I nap or watch a classic movie.
For fun I work from about 10 a.m. to 2 p.m. In between I do a little furniture refinishing, piano and violin playing and reading. And oh, yes, I am learning to cook. Don't tell me you can't learn anything watching TV. Those women have showed me how easy it is to rough-cut vegetables, throw on a little seasoning and roast them in the oven. Man, you can't beat that for simplicity and tastiness.
Nothing beats a change of pace to de-stress tired old muscles and de-clutter the mind.
"I lift up my eyes to the hills-where does my help come from? My help comes from the Lord, the maker of Heaven and Earth." Psalm 121:1, NIV
Local officials react with genuine fear
Dear Editor:

According to recently obtained information, some local officials took great issue with my recent letter to the Pecos Enterprise. Alluding to Nazi intolerance for differences of opinion, their reaction was typified by one of my acquaintances as "a brownshirt" response.
First, there should be little doubt that my literary allegory that the mayor and entire city council should be "…impaled on pikes…" was intended as a call for bodily harm on that body. It was not only someone with diminished mental capacity would think it was. Therefore, I wish to reassure local officials (and similarly afflicted individuals) that the comment was not meant in any other manner than as a metaphor and not intended to be taken seriously.
Second, some of the local police commanders are upset with my comments about their departments. So, I'll direct the direct the following comments to their officers, the ones without secretaries, desks, or titles.
I don't doubt your dedication or courage. I doubt that you have been given the benefit of proper training to do your jobs in a manner that assures that you fulfill the first general order of law enforcement… "to go home alive at the end of your shift?" Your leadership has substituted spurious paramilitary equipment and minimum standards of training for the requisite training that will ensure that you go home to your families at the end of the day.
Your world is much more dangerous than mine when I wore your shoes. Today, you face dedicated opponents who could destroy your poorly trained SWAT teams using only century old weapons. I'm horrified to think what might happen if you were to encounter real opponents armed with real M-4 carbines, IEDs, body armor, and military training. I foresee a day when a group of (foreign or domestic) terrorists will enter a remote, small town to inflict their madness on the citizens after they've disposed of the local police. May G-d forbid this and you are in my prayers.
The real enemy of local law enforcement officers (and the citizenry), aside from terrorists and violent gang members, is your own leadership. These are the people upset with my comments. They've lived a comfy life at public expense. Instead of paying line cops well, providing the training they need to survive, and ensuring that each officers gets more than a minimum standard of training… they've bought themselves embroidered shirts, traveled on taxpayer paid junkets, surrounded themselves with consultants, like-minded minions, and squandered public resources.
I agree with the assessment that some officials have reacted to my criticism like Nazi brownshirts. The characterization is appropriate and fitting. Those officials are no different and no less a threat to our liberty than al-Qaeda, communism, Nazism, or any other tyrant. They survive politically because many of our local citizens are indebted to them or are terrified of them… many readers have told me so.
If you cower in fear or out of misplaced gratitude… you are not free. If you remain silent because oppression only affects "someone else"… you are a coward. For many, freedom is too strong a drink and they prefer a gray, semi-lifeless existence… dependent on a petty official's benevolence. I will not cower… I will not remain silent… and I like my drinks strong.
Local officials who react with a brownshirt mentality do so out of genuine fear. They fear a thinking, informed citizenry. They fear someone questioning their authority. They fear that more people will stand up and ask hard questions, accuse, and dig for answers.
Bullies never see themselves as accountable to their victims. They fear losing power over others because, if they do, they'll be reduced to being just another victim of their former associates.
Free men are fearless every day. Bullies live in dread of tomorrow. Dr. JOHN C. LIBBIE
Retired Podiatrist <!==========end copy==================>
---
---
Pecos Enterprise
York M. "Smokey" Briggs, Publisher
324 S. Cedar St., Pecos, TX 79772
Phone 432-445-5475, FAX 432-445-4321
e-mail news@pecos.net
Associated Press text, photo, graphic, audio and/or video material shall not be published, broadcast, rewritten for broadcast or publication or redistributed directly or indirectly in any medium.
Copyright 2003-04 by Pecos Enterprise
---