|
Weekly Newspaper and Travel Guide
for Pecos Country of West Texas
Opinion
Thursday, July 1, 2004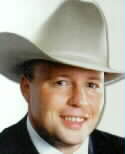 Sage Views
By Smokey Briggs
<!=====paste copy here==========================>
Mr. Kerry's $2/hour
pay cut
John Kerry's education of the American public continues. Last week's class might be most aptly titled "Vote Buying for Beginners." Vote buying?
Well, that, plus an emphasis in "now you see it, now you don't " showmanship.
The offer for you vote?
Two bucks an hour on the minimum wage.
What am I going to glimpse but never see?
A real raise in wages.
I am finally getting old enough to have experienced some bit of history in American politics. I have been through a couple of minimum wage hikes.
The first time, I was working my way through college. I had one job where I worked as a security guard and another where I did contract construction and fix-it work.
As a security guard I had moved from minimum wage to about 25 cents better. The minimum wage was about $3 then. When I needed help on a construction job I hired guys at minimum wage or a little better - whatever I could afford.
Then my friendly government upped the minimum wage.
The real result for me was a pay cut as a security guard. All the guys that had not been on the payroll as long as me, or who were not as reliable as I was, were suddenly making the same money I was.
Guess what happened to my pay?
Nothing. I was making minimum wage again.
Even better, to stay competitive, I had to pay more for help in my side-business. So, I just made up the difference by charging my customers more, right?
Yes and no. I quit hiring as much help and did more of the work myself for starters and then upped my prices as quickly as I thought reasonably.
One way or another, I maintained the bottom line.
That, is the real lesson in Mr. Kerry's class.
Business is going to maintain the bottom line. If the government imposes a new expense next year in the form of higher minimum wages businesses are going to make up the difference somewhere.
There are several ways to make up the difference -- hire fewer workers and automate more jobs, do not give raises to employees making better than the minimum wage, and charge more for your product.
The one thing that will NOT happen is business accepting thinner profit.
The final result of Mr. Kerry's genius is this -- fewer minimum wage jobs in the first place, higher prices for products, and a very real pay cut for everybody who was making a dime over the minimum wage the day the new wage went into effect.
If you are making $8/hour today, you are nearly three dollars over the minimum.
The day Mr. Kerry gets his $7/hour minimum wage you are going to take a $2/hour pay cut.
I will guarantee that the cost of goods that you need, like food, fuel and clothing, will rise to make up for the expense of the new wage. Business will make those adjustments in a hurry.
Guess how long it will be before the average employer raises you from $8 to $10?A long, long time. A lot longer than it takes the price of bread to pop up 20 cents a loaf, or the price of a pair of jeans to jump a buck.
So, what about the guys making minimum wage when the new wage goes into effect?Well, for a few months they may get a windfall -- if they're jobs are not cut. Some will still have jobs though, and for awhile, they will have unexpected wealth.
But, not for long. The economy will adjust, prices will go up and the buying power of a minimum wage worker will settle back to where it was.
In the meantime, everybody else takes a pay cut that they will feel for years.
Thanks for the education Mr. Kerry. I sincerely hope that I only have to deal with your economic policies from a theoretical standpoint and never as the actual recipient of your foolishness. <!==========end copy==================>
---
---
Pecos Enterprise
York M. "Smokey" Briggs, Publisher
324 S. Cedar St., Pecos, TX 79772
Phone 432-445-5475, FAX 432-445-4321
e-mail news@pecos.net
Associated Press text, photo, graphic, audio and/or video material shall not be published, broadcast, rewritten for broadcast or publication or redistributed directly or indirectly in any medium.
Copyright 2003-04 by Pecos Enterprise
---