|
Daily Newspaper and Travel Guide
for Pecos Country of West Texas
Opinion
Tuesday, December 16, 2003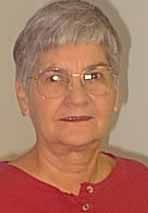 Squarely Pegged
By Peggy McCracken
<!=====paste copy here==========================>
Christmas this year
will be different
For the first time in 69 years, I will spend Christmas alone. Those first 16 years, I had four siblings and two parents to share the joys of the season. Then Leon took me to his mother's house, and I enjoyed extended family Christmases at grandma's house for years until our grown children and grandchildren came to Pecos on holidays.
Both our parents died long ago, and Leon died in May. I visited my daughter, Peggy Lynn, in St. Louis in early November when her oldest son married, and I have encouraged her to stay home at Christmas time. David's family will come for an early Christmas to celebrate great-granddaughter Cieara's first birthday.
No, I do not dread spending the holiday alone. Velma Bradley has me lined up to help with the Christmas dinner at the Reeves County Civic Center anyway, so I will be busy.
In the weeks leading up to Christmas, I am writing my late husband's memoirs to give to the kids, partly for them and partly to help me through the grieving process. Half a century is a long time to live with one person, and it is not easy to make the transition.
I was only 14 when Leon came to our farm with his friend, Bruce, to pick up my sister. He invited me to go to the movies with them, and of course I jumped at the chance. You don't meet a lot of interesting people in Flomot, Texas.
Leon and Bruce lived at Quitaque, a drive of about 15 miles from my house. Since Flomot had no movie theater nor any other entertainment, we drove to either Quitaque or Turkey (also 15 miles) on dates. Over the next two years, Leon would come over every Saturday night, Sunday afternoon and Tuesday and Friday nights without fail. When I was playing basketball, he came more often to see my games and then take me home.
We double-dated with Sister and Bruce some, but mostly with his best friend, Slug, and my best friend, Joan. When Slug bought a new Pontiac, I jokingly asked him to marry me. He refused, but Leon offered himself, so we were unofficially engaged.
Shortly before I was to graduate from Flomot High School in May, 1951, he made it official with an engagement ring, and we married in April. I didn't do much studying after that, and missed school a few times, so my grades suffered. Leon was a bookkeeper, and he did some of my bookkeeping workbook for me, but instead of the A+ I was accustomed to seeing on my report cards, I got a C. (Don't tell my boss.)
He kept books at the Paymaster gin in Quitaque two seasons, then we moved to Pecos where he kept books at the cottonoil mill for 30 years, until it closed in 1982. Then he worked for accountants J. Robert Scott and Card & Co., retiring at age 72.
You already know Leon was my cook, so besides missing him at the table, I miss those delicious meals. I froze enough leftover funeral food to last me a long time. I watch his favorite cooking shows and read cookbooks, so when the time comes for me to do for myself, maybe I can survive. I have a lineup of automatic appliances to keep me from burning stuff. (I can't boil water without scorching it. Ask Velma. She was there last week when fresh spinach on the stove not six feet from where I was sitting scorched. I ate it anyway.)
Velma told me what Leon always did. "Turn down the burner." He cooked everything slow. I don't have that much patience.
Patience was just one of Leon's many virtues. As I sort through his footlocker for photos and keepsakes, I am reminded what a jewel he was. I not only lost a cook, I lost a walking encyclopedia.
Yes, Christmas will be different. But not sad. Not lonely. Jesus, the reason for the season, is always near.
"Fear not, for I have redeemed you; I have called you by name; you are mine. When you pass through the waters, I will be with you; and when you pass through the rivers, they will not sweep over you. When you walk through the fire, you will not be burned..." Isa. 43:1-2, NIV
EDITOR'S NOTE: Peggy McCracken is the business manager of the Pecos Enterprise. She can be e-mailed at: peg2@pecos.net
Your View
Mr. Saenz has outstanding skills for city manager job
Dear Editor:
The City of Pecos is advertising for a new city manager. The people of this community are extremely fortunate to have, as an applicant for the position, a candidate with outstanding managerial skills as well as an intimate knowledge of the town and a love for it. That person is Mr. Oscar Saenz.

Oscar is known to many as the former Managing Director of the Anchor Foods onion processing plant on I-20. He oversaw the expansion of that facility from a startup operation with 32 employees to an enterprise employing 750 people. Production went from 800 pounds per hour to 17,500 under his guidance during the course of his 11 year career there.

Previous to coming to Pecos, among other endeavors, he was employeed by the Quaker Oats Company and managed a budget of $35 million with 1,750 employees.

Besides being an exemplary organizer, Oscar has displayed his committment to the community by serving as a volunteer on the school board, the tax appraisal district board, the Rotary Club, and is presently serving as Chairman of the Pecos Economic Development Corp. He was awarded the Chamber of Commerce Distinguished Citizen of the Year Award and has held many industry association posts, being elected to the Texas Food Processors "Hall of Fame" as a highlight of that career.

Oscar is a graduate of Texas A & M and a patriot having served two tours in Vietnam after which he was honorably discharged with the rank of Captain. He and his wife, Mary, are faithful members of the Catholic Church and he is a devoted family man.

I am aware of the qualifications of a city manager having served nearly three terms on the Pecos City Council. Were I in that position today my overwhelming choice for the job would certainly be Oscar. I pray that the public and the present Mayor and Councilpersons share my view.

Certainly, in this time of crisis in the community, the occasion for the employment of a senior executive with Oscar's outstanding leadership capabilities cannot be overlooked.

In closing I wish to state that Mr. Saenz neither solicited my endorsement nor does he have knowledge of this letter.

Thank You,
MIKE A. BURKHOLDER

<!==========end copy==================>
---
---
Pecos Enterprise
York M. "Smokey" Briggs, Publisher
Division of Buckner News Alliance, Inc.
324 S. Cedar St., Pecos, TX 79772
Phone 915-445-5475, FAX 915-445-4321
e-mail news@pecos.net
Associated Press text, photo, graphic, audio and/or video material shall not be published, broadcast, rewritten for broadcast or publication or redistributed directly or indirectly in any medium.
We support Newspapers in Education
Copyright 2003 by Pecos Enterprise
---