|
Daily Newspaper and Travel Guide
for Pecos Country of West Texas
Opinion
Tuesday, December 9, 2003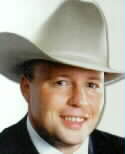 Sage Views
By Smokey Briggs
<!=====paste copy here==========================>
Rays of hope at the
gates of socialism
Our species' ability to happily cook and eat the proverbial goose that lays golden eggs never ceases to amaze me.
But, just when I begin to think that mankind is a hopeless experiment doomed to beat its own brains out on the rocks of stupidity a ray of hope shoots through the dark sky.
One such ray of hope flashed by the other day.
Freedom is what built this nation. As far as I'm concerned it is the ultimate golden goose.
Not just freedom to speak your mind and live where you choose but economic freedom.
That is the ultimate freedom - the freedom to build, to try, to fail and to try again.
The freedom to build wealth.
Like it or not the pursuit of wealth is the universal characteristic of man.
Without economic freedom all other freedoms begin to shuffle toward the gates of uselessness.
You cannot be free if you are not economically free.
For the past 70+ years we have been hedging our bets on economic freedom.
It started with the New Deal and each year since we have marched a few steps further down the path that ultimately leads to full-blown socialism or worse.
We have done it with laws and regulations that slowly suck the life out of our economy and our freedom like ticks on a dog.
The funny thing is that each new law and each new regulation is ushered in with the promise that it will make our life better.
From what I have seen the promise is rarely kept.
At best it is a short-sighted promise kin to the promise of a full belly for the family sharpening the knife and eyeing their goose.
Today we do business in a world our grandfathers would barely recognize. The briar patch of government requirements and rules that has grown up in the past half-century would amaze and dismay the men that built much of this nation.
No two areas of regulation better illustrate the point than health care and the relationship between employer and employee.
By most reports the healthcare industry is an industry in trouble.
Make no mistake - it is an industry. Good old-fashioned greed drives folks into healthcare. Most people don't spend a decade in school to be doctor so they can drive a Hyundai.
The result of all this greed is the best health care system in the world. Citizens of socialist nations in Europe come to America when they are really sick rather than waiting on the substandard care they can hope for at home.
Unfortunately, we are strangling this wonderful goose with a noose made of regulations and rules and red tape created by Medicaid, Medicare, insurance companies, government mandates, and a jury system gone haywire.
It seems certain that we will eventually kill this goose.
Then again there is the occasional ray of hope.
The November 6 edition of The Wall Street Journal carried an article about a doctor with a novel idea - charging cash for his services.
Honestly, he will only accept cash money for his fee. No Medicaid, no Medicare, no insurance. Just cash.
By doing so, he is able to charge far less than doctors who maintain the support staff necessary to battle the minions of the government and insurance companies for payment.
Regular folks who cannot afford insurance are going to him when they are sick. He treats them and charges a price they can afford.
He reported that he is still making a good profit.
What a concept.
I also have a friend that recently started his own business.
When he told me what it was I was amazed that anyone would pay for his product.
Then the genius of it dawned on me.
What he used to do was run a temp agency - a company that would send you a temporary receptionist in a crunch, or send you a couple of extra folks to help load trucks during the Christmas rush.
What he does now is a bit more in depth - he does the hiring and firing for companies big and small - from dock workers to vice presidents.
He is their Human Resources department.
By using his service companies can cut their own human resources department and better yet he runs most of the risks since he is the actual employer. He hires, he fires, he cuts the checks and pays the unemployment. As a specialist it is cost effective for him to keep up with each year's new crop of rules and regulations and pitfalls the bureaucrats and courts dream up.
For the individual business the cost of such keeping up is a healthy chunk out of the bottom line.
The client just cuts him a check for the service and sleeps better at night without having to deal with the endless red tape and hassle that begins when an employer hires his first employee.
The doctor and the employee provider are different solutions to the same problem, but they are solutions.
The doctor has simply found a way to bypass the briar patch.
The human resources company wades through it for you for a fee.
Both are rays of hope - small promises that the golden goose of economic freedom may be harder to kill than I thought.
Maybe.
EDITOR'S NOTE: Smokey Briggs is the editor and publisher of the Pecos Enterprise whose column appears on Tuesdays. He can be e-mailed at: smokey@pecos.net
Our View
Political candidates - making the country better for all
If you have ever grumbled about how those "dad-blasted politicians" are messing everything up in the country, now is your chance to do something about it.
That's right. Filing began last week for the March 9, 2004 Primary Election and for a small fee, you may sign up with the party of your choice to run for any of the offices on the ballot.
Those offices include County Commissioners, the Sheriff, the 143rd District Attorney, Reeves County Tax Assessor, and Constables.
Of course, the act of filing for public office is a big stumbling block for lots of people. It is literally the point at which a person has to "put up or shut up."
When a person seeks political office and wins election, they become the target at which all the gripes and complaints are directed.
There's no longer anyone they can pass the buck to - they are the person who is supposed to have all the answers.
With that in mind, it is worthwhile now to thank those who are offering themselves for these important political offices during the March 9 election. It takes more than just a little political courage and commitment to step forward and offer yourself for public office. They are all deserving of our appreciation.
Filing for political office is "going whole-hog" in politics. There are other ways to get involved in the political process - working in the precinct and county political conventions, supporting a particular candidate by helping put out signs when the time arrives or doing other work such as working telephone banks to get your candidates message out.
It is all important and, when you get down to it, part of our civic duty. Let's all do our part to make our political process and our country better for everyone.
Your View
Citizen glad community came together to achieve project
Dear Editor:


I had the privilege of having a small role in the annual lighting of the Christmas tree, which is sponsored by the many businesses, individuals, and organizations of our community. The entertainment, the beautiful lights, and the community coming together were sights to be seen.

This ceremony started with the Rotary Club having an idea, as to how they could send a message to the travelers on 1-20, to have a safe trip and to demonstrate the warmth of our community and its residents. Little did they realize what it would do for the people of our town, and how it would be the start of the holiday season for so many of us here in Pecos. Over the course of the past four years this event continues to grow, not only with decorations, but also with generosity of so many volunteers and donors.

I had the chance to visit with two of the Rotarians, who continue to play a key role in this annual event, Leo Hung and Jean Winget. They shared with me the vision that started this annual event. As they spoke to me, I could hear in their voice, the passion they have to see this community work together, to achieve a common goal of prosperity.

I came to the conclusion after visiting with these two fine individuals, that once we as a community set our minds to doing something, it can be achieved. If we are willing to work hard, nurture and care for a project, which has been started, the project can grow to be something very powerful and very beautiful.

I am hopeful that once the holiday season is over and the lights are turned off, we do not forget how to work together to keep Pecos a very special place for visitors to visit, and a very special place for so many of us to call home.

Sincerely,
JIMMY DUTCHOVER

<!==========end copy==================>
---
---
Pecos Enterprise
York M. "Smokey" Briggs, Publisher
Division of Buckner News Alliance, Inc.
324 S. Cedar St., Pecos, TX 79772
Phone 432-445-5475, FAX 432-445-4321
e-mail news@pecos.net
Associated Press text, photo, graphic, audio and/or video material shall not be published, broadcast, rewritten for broadcast or publication or redistributed directly or indirectly in any medium.
We support Newspapers in Education
Copyright 2003 by Pecos Enterprise
---