|
Weekly Newspaper and Travel Guide
for Pecos Country of West Texas
Opinion
Thursday, September 16, 2004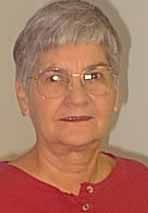 Squarely Pegged
By Peggy McCracken
<!=====paste copy here==========================>
Cancer hasn't stopped
bright and cheerful woman
You remember Ruth Wells, my predecessor in the Enterprise office. I visited her the Friday before Labor Day on the first leg of my brief vacation.
Ruth has been Mrs. Alpine since moving there a few years ago. She volunteered in the Hospital Auxiliary and the Chamber of Commerce, among others. Because of her involvement in community activities, she was named "Citizen of the Year" last year.
Cancer has stopped her community activities, but Ruth is as bright and cheerful as ever. She is in the Alpine Valley Care Center (432-837-3343), where her good friend, the director of nursing, keeps an eagle eye on her and grants her every wish.
Although Ruth doesn't have a phone in her room, she does have a cell phone, and returns calls left for her at the desk.
When I went in, she was lying back watching television, but quickly sat up and began an enthusiastic dialogue that lasted more than an hour. Rosie Flores and her family had just been there, and they stayed over an hour also. I'm sure Ruth was tired out, but she didn't show it.
The cancer started in her lungs and moved into her brain. She had some seizures and blackouts before they found the culprit. One eye has already succumbed to the pressure, and she has decided not to fight a losing battle, but to live as fully as possible her last days.
Before coming to keep books for the newspaper, Ruth managed the Sunday House, both here and in Fort Stockton. She spent a lot of time creating beautiful painted ceramic pieces when she was working here. I admired her for her diligence and creativity.
You may remember the two grandchildren whom she raised: Carey and Kevin Gradel. They were active in West Park Baptist Church's youth department back when I was pretty young myself. Kevin died of complications related to diabetes a year or so ago. Carey is managing a store near Houston. She has two beautiful sons, and they have been the light of Ruth's life these past few years.
If you know Ruth and want to give her a call or a visit, I know she will welcome it. She loves people and holds up her end of the conversation very well.
"Blessed is the (woman) who walks not in the counsel of the ungodly…She shall be like a tree planted by the rivers of water, that brings forth its fruit in its season, whose leaf also shall not wither; and whatever she does shall prosper." Psalm 1:1a, 3 NJKV
EDITOR'S NOTE: Peggy McCracken is Enterprise business manager and webmaster. <!==========end copy==================>
---
---
Pecos Enterprise
York M. "Smokey" Briggs, Publisher
324 S. Cedar St., Pecos, TX 79772
Phone 432-445-5475, FAX 432-445-4321
e-mail news@pecos.net
Associated Press text, photo, graphic, audio and/or video material shall not be published, broadcast, rewritten for broadcast or publication or redistributed directly or indirectly in any medium.
Copyright 2003-04 by Pecos Enterprise
---