|
Weekly Newspaper and Travel Guide
for Pecos Country of West Texas
Opinion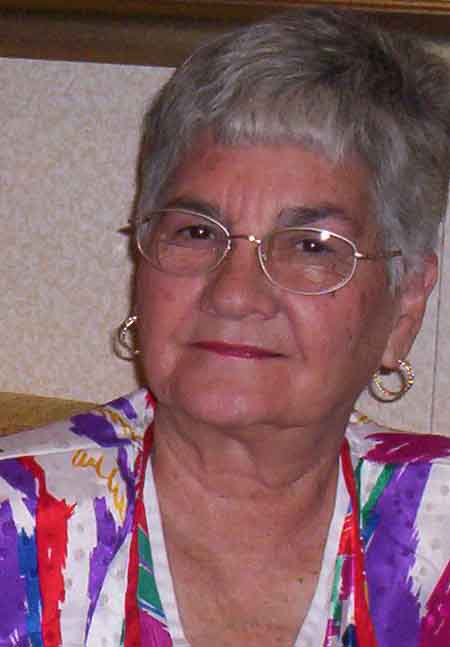 Squarely Pegged
By Peggy McCracken
<!=====paste copy here==========================>
Tuesday, May 27, 2008
Horse sense helps
in round corral
Growing up the tomboy daughter of a locally-famous bronc rider who believed horses are smarter than people, I thought I knew something about riding and training horses. Kate Vignaron showed me some new tricks last Saturday and renewed my childhood love for the beautiful animals.
Kate runs a horse breeding and training ranch west of Balmorhea. She specializes in Tennessee Walkers, which look and perform differently from the quarter horses West Texans are most familiar with.
My visit to her spread was purely a fun outing, tagging along with Kim Ewing and a group of her youth. I watched as they learned to put a halter on a horse, lead it to a stall for grooming, ride both bareback and with a saddle, and communicate from the heart with the intuitive beasts.
"I'm just an observer," I told those who urged me to get involved. I didn't want to take time away from the eight teenagers, most of whom had never been around horses and were fascinated with the proceedings. And I cannot afford to break a bone at my tender age by falling off a horse.
I itched to help them with the haltering process, because I have done it many times. Or more accurately, I have put on a bridle (with a bit) that gives the rider control. I knew to approach the horse from the left and to stand just behind his head, slipping the nose piece on first. But when Kate demonstrated the most efficient method of buckling the headpiece, I realized my knowledge was a little scanty.
Kate uses a combination of methods to train the horses to obey commands communicated primarily with hands, posture and eye contact. She can make a horse step sideways with his hindquarters just by looking at one side or the other. Two waggling fingers make him back up. Arm motions make him circle the ring, first walking, then trotting and loping on command.
She demonstrated how a touch with finger ends tickles a horse and make his hide shiver, but a hand laid flat on his side calms him.
To make a horse lower his head, she touches the top of his head, then releases. It is the release that conveys the command, she said. If you do not release, but continue to put pressure on the horse, he will resist and move toward your hand.
Horses are prey animals, she explained, and they view humans as predators until taught otherwise. You should approach a horse confidently, but in a non-threatening manner, letting him smell your hand and feel gentle pats on his neck and head.
Kate had the kids practice the proper riding posture by pairing up as horse and rider. The "horse" felt discomfort when the rider sat too straight up or slumped back. The best position is in between, with head held high and torso upright.
Then it was on to the riding arena, the highlight of the trip. Joseph had never seen a horse close-up, but he couldn't get enough. His bareback ride appeared to be pure joy.
Josh chose the saddle. Heather had some experience with horses, and she rode both bareback and with a saddle. Kim choked back her fear of horses to take a few turns.
Linda shed a tear before daring to enter the round corral to pet and talk with an especially intuitive horse. She said it was a moving experience.
This old cowgirl was moved, as well. Maybe someday soon I will get back in the saddle and let the wind blow my hair as mane and tail fly in the wind.
"I will put my hook in your nose and my bit in your mouth, and I will make you return by the way you came." 2 Kings 19:28b, NIV `
EDITOR'S NOTE: Peggy McCracken is Enterprise columnist and feature writer. Contact her at HYPERLINK "mailto:peg2@pecos.net" peg2@pecos.net <!==========end copy==================>
---
Pecos Enterprise
York M. "Smokey" Briggs, Publisher
324 S. Cedar St., Pecos, TX 79772
Phone 432-445-5475, FAX 432-445-4321
e-mail news@pecos.net
Associated Press text, photo, graphic, audio and/or video material shall not be published, broadcast, rewritten for broadcast or publication or redistributed directly or indirectly in any medium.
Copyright 2003-04 by Pecos Enterprise
---