|
Weekly Newspaper and Travel Guide
for Pecos Country of West Texas
Opinion
Friday, May 16, 2008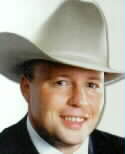 Sage Views
By Smokey Briggs
<!=====paste copy here==========================>
Expectations
are evil
Well, maybe not all expectations are evil, but many is the time expectations lead us down a rocky path.
Let me rephrase that – unrealistic expectations are evil.
The problem lies in just what is unrealistic.
For example, I have noticed that nearly 100 percent of the time, if my lovely bride, She-who-must-be-obeyed, is less than pleased with her husband, it is because she started off with an unrealistic expectation in the first place.
When I show up for work four-days-out-of-five, come home sober by suppertime, and don't stick my fingers in the press all week, I expect to be nominated for the husband of the month award.
Apparently, this is not the case, and both SWMBO and I, end up with unfulfilled expectations.
I've learned not to expect the nomination, and weeks that used to be sub marginal are now very good.
I think a lot of folks fall into this trap. We expect our day to go thus-and-such, our husband or wife to react like so, our career to advance, our colleagues to recognize our brilliance, and pork chops for supper.
Then things do not work out the way we expected, and our noses get bent out of shape.
Too many times, it's not that the day was all that bad, it's that we had silly expectations. Without our preconceived and silly expectations, the day would have been just fine.
I am the father of three wonderful girls: Ruby (10), Carson (7) and Dixie Jo (2).
They are simply the best things I have accomplished in my life (with no small help from SWMBO, I might add, if I want to live to see tomorrow's pork chops).
And you have to have expectations. Children have to know you expect great things from them.
But, I try to keep my expectations limited to the general.
I make sure they know I expect them to be compassionate, generous, polite, hard working and brave of heart.
Past that, I try to roll with the flow.
My father was very good at that.
What success I have had in my life can be attributed to not letting the fear of failure keep me from trying something new. My father's approach to life, and me, gave me that.
I hope I can give my girls that same gift.
The only time my theory of stupid expectations fell flat was at Ruby's birth.
When SWMBO got pregnant that first time, I was sure our first child would be a son.
As a matter of fact, I wanted a son. I expected a son.
I wanted one so much that the real reason I did not want to know the baby's sex before it was born was because I feared I would be disappointed if the baby was a girl.
I was ashamed of that feeling, but I felt it.
And then she was born.
She.
And I did not care. Not even a little. I will remember how surprised I was at that exact moment, until the day I die.
"Son-of-a-gun," I thought, as the strongest emotion I have ever felt washed over me, "I really don't care."
But most of the time, expectations can be tough to deal with.
These days, I most especially envy Dixie Jo. She is almost potty trained. v Every parent out there will agree with me that there are no sweeter words than, "Daddy, I peepee'd in the potty!"
What joy and celebrations follow the utterance of those words.
High fives and applause follow those words. Dixie is hugged and carried about the house like the man who scored the winning touchdown at homecoming.
It is practically a parade as the family marches off to the bathroom to celebrate at the exact site of her victory.
Dixie, for now, has it made, and I envy her.
If she makes it to the potty four times out of five, it was a great day.
From here on out, I think that is the expectation I will start with each day – for me. Four out of five (or 11 out of 12, I'm 42) will be my goal.
So, if you ask me how I'm doing, and I tell you, "I'm having a four-out-of-five day," you know a high-five and pat on the back is in order. <!==========end copy==================>
---
Pecos Enterprise
York M. "Smokey" Briggs, Publisher
324 S. Cedar St., Pecos, TX 79772
Phone 432-445-5475, FAX 432-445-4321
e-mail news@pecos.net
Associated Press text, photo, graphic, audio and/or video material shall not be published, broadcast, rewritten for broadcast or publication or redistributed directly or indirectly in any medium.
Copyright 2003-04 by Pecos Enterprise
---